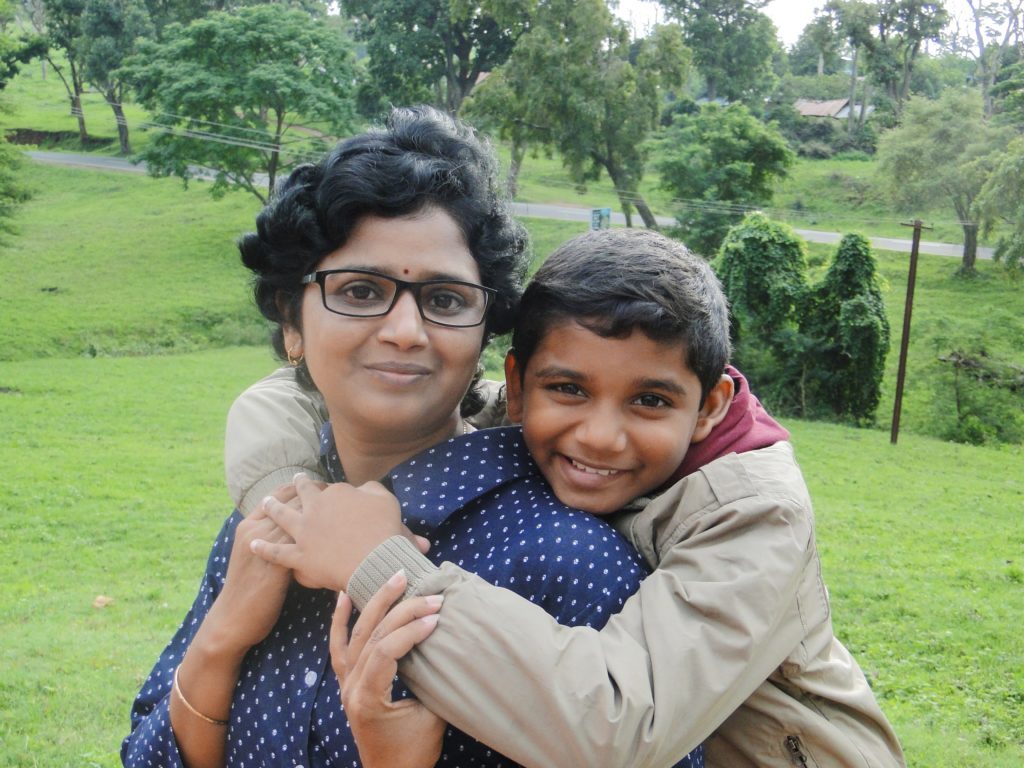 Parenting is the easiest thing in the world to have an opinion about
BUT
The hardest thing to do in the world
                                                    Matt Walsh
Namaste!
I am Menaka Bharathi, a.k.a, SimpleIndianMom
Mother of two energetic boys , mompreneur, organic food enthusiast, blogger and a parenting consultant.
Thank You for the interest in connecting with me! I am super glad you are here!
Here you will find all information to advertise on Simple Indian Mom – The Site and If you are interested in selling your products in SIM Organics – Our Shop.
You can get my Media Kit by mailing me at menaka.bhaaru@gmail.com or admin@simpleindianmom.in
I have through the years learnt that all you need for better parenting is a happy you and a little practice of mindfulness.
A small mind mapping would just accomplish the rest.
Simple Indian Mom – The beginning
Parenting is an art and I learnt it through and bettered with my children. I now consult methods of mindful parenting to moms across the world.
I am an Agricultural Microbiologist. I deal with all the good microbes that can make your food
Healthier,
Chemical free and
Nutritious 
and the earth a better place to live in.
My education as well as my interest has made we want to live as close to nature as possible.
I love all the traditions we follow in India and strongly believe they have been custom-made with deep scientific knowledge to give completeness to ones life.
I also believe in organic food and organic life is the need of the hour. Chemical residues in food are making them toxic and lethal for human consumption. The market is flooded with fake plastic food – rice, eggs, vegetables and what not.
A serious awareness to grow your own food, support local farmers and also buy locally produced organic food is required, and I take it as more of a personal duty and responsibility to spread this awareness through Simple Indian Mom and have come up with SIM Organics, my own organic products.
I want to leave our earth a better place for the future generations.
I am a columnist and a have published online and offline works.
The SimpleIndianMomis a reflection of my life, knowledge, wisdom and the learning through the journey of my life.
Work With Me
Sponsored Posts and Reviews: I am open to Sponsored Posts and Product Reviews. The Product (physical of APP) should align with my website.
The product has to be beneficial to children and parents.
It has to be natural/organic
Reach out for my rates and media kit.
Advertisements: Sidebar and banner advertisements can be availed on specific posts at special monthly and quarterly rates.
Giveaways: I am open to giveaways that bring something exciting to my readers. As said earlier they must be close to our review costs. I would give a review with the giveaway.
Guest Posts: Guest post from parenting bloggers and bloggers whose blogs that align with my interests can be considered. You can pitch with your ideas at the following contacts.
You can contact me at – menaka.bhaaru@gmail.com
Twitter – menakabharathi@twitter.com
Facebook – Simple Indian Mom
Twitter and Instagram are the quickest places where you can reach me.