If you have been following my #HappySunday blog hop you would by now known about my ecourse – Happiness A Choice
The month of November was an eye opener to me along with my Beta Tester parents.
My Modules are based on how to raise happy children. Each module consists of few practices and reassurance on how to mind map your happiness.
Happy Children – Mind Mapping Techniques
Would you want your child to be remotely controlled yet he doesn't feel as if you are Helicopter Parenting him?
Would you want your child to share everything with you without you being indulgent?
Would you want to become a friend to your child and yet have her take you seriously?
Well, all this can be done with this happy children ecourse.
Happiness A Choice
Happiness is a choice you can make. Many people keep asking how to be happy, if you think of it is quite easy.
All you need is an open mind to let your negative feelings sink down (if possible evaporate) and fill it with positive thoughts.
I can hear you saying it is easily said than done, well, yes it is easy to say! But, have you tried practicing it.
Our lives today is so complicated and tangled with so many things together that we seldom have time to think of bringing in positivity consciously.
When an effort is however done, it becomes a very easy process.
If you would like to know exactly how to go about this, join my e course.
You can Join by sending an email. to
menaka.bhaaru@gmail.com
admin@simpleindianmom.in
#HappySunday Featured Blogger Of The Week
Last there were only four links for the #HappySunday Link Party, I was all set to feature all four of them. However Romila was the first to link up and she always is enthusiastic linking up to blog hops.
Blogging as a community in fact makes you a better blogger. I personally feel reading, commenting and blog hoping has made my site more popular than it used to be earlier. Thanks to MyFriendAlexa Campaign by blogchatter team.
Read More about Romila Here
How To Participate in Linky Party #HappySunday
You can add one post per week
Add my super delightful badge(code below) in your post.
Share as many posts as you can via twitter or Pinterest
I would be commenting on all posts and sharing them.
Use the#SIM #HS when commenting and sharing for better reach.
Comment on the post of the host and one post above your post.
Link ups are about sharing and commenting so please do as many as you can
Follow me on Twitter@menakabharathi and Instagram@menakabharathi
Every week one blogger would be featured as the blogger of the week. He/She would be featured in twitter and in our 4k membered facebook group Simple Indian Moms.
The Blogger would be featured in Simple Indian Mom's Focus following Friday!
Have fun every Sunday!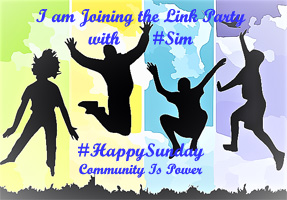 Add Your Links Below