Recently came across Himalaya's nourishing baby soap and thought would share my views with you all. One of the essentials baby products the parents need to buy as soon as the baby is born is soap. But the question also arises whether these baby products are not laden with chemicals? This is the reason why Himalaya products are good for babies in the long run and keep your baby's sensitive skin safe.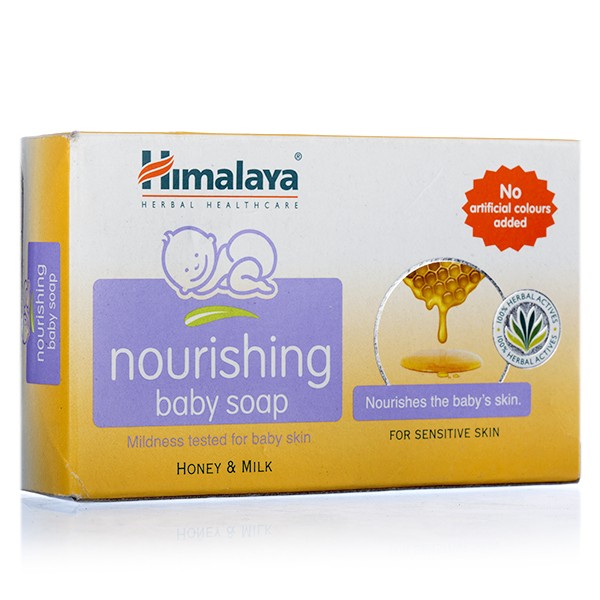 Product claims
Himalaya's Nourishing Baby Soap is an herbal product with no harmful chemicals. It is an herbal product made from vegetable origin and no artificial colours are also added.
Packaging
It is packed in a rectangular box where the soap is sealed in a transparent plastic covering. The details of ingredients, directions for use and storage are mentioned in the box.
What it contains
Honey       
It is an effective moisturizing agent used in skin care.
Sunflower oil
Rich in Vitamins A, C, D and E; sunflower oil helps in retaining moisture baby's skin.
Castor oil
Castor oil also helps in reducing itching, rashes and skin inflammation.
Milk
Himalaya nourishing baby soap also contains another natural emollients named milk.
All these ingredients in a perfect combination moisturise the baby's skin and reduces itching and inflammation.
Directions of use:
Wet baby's face and body. Apply Nourishing Baby Soap generously, gently working up a lather. Rinse thoroughly.
Pack size & Price
The nourishing pack of 75 gm is Rs 40 and 125 gm is Rs 60 which is reasonable priced.
My thoughts
Mild soap with less fragrance with no chemicals
Hypoallergic
Easy available in local market
Economical
Formulated for sensitive skin
Completely herbal
Moisturises skin and itch – free
Foams and rinse well
This particular bar of soap lasts more than a month which is better than the mild soap which melts away faster.
My Verdict
Definitely recommend this product for your little one !