Some people see things that happen and ask, why ?
George Carlin
Raksha Bharadia, asked why so much confusion in relationships? What was the reason behind this pandemonium in understanding each other in Indian community?
To find the answers and make a change in the basic understanding of relationships is what has made her Bonobology a unique platform where people share real stories of relationships that is seldom brushed away.
A Short Bio
Raksha Bharadia graduated from Loreto College, Calcutta University in Arts with History, Political Science and Economics. She got in the merit list and received the Best Student's Award for the year 1992. Raksha has authored three books which are published by Rupa & Co.:
– Me: A Handbook for Life (2006)
– Roots and Wings: A handbook for Parents (2008)
– All and Nothing (2010)
Ten on ten (2016)
She has so far edited 13 titles in the Chicken soup for the Indian Soul series for Westland. She has also worked with Star Plus for the show Lakhon Main Ek. She sourced seven stories and wrote the screenplay for one. She has been a columnist for Femina, Ahmedabad Mirror; and with DNA Ahmedabad. She has written several articles for Midday, Life Positive, Marie Claire, Femina India, Gurlz, India Today (Gujarat edition), and Ahmedabad Times.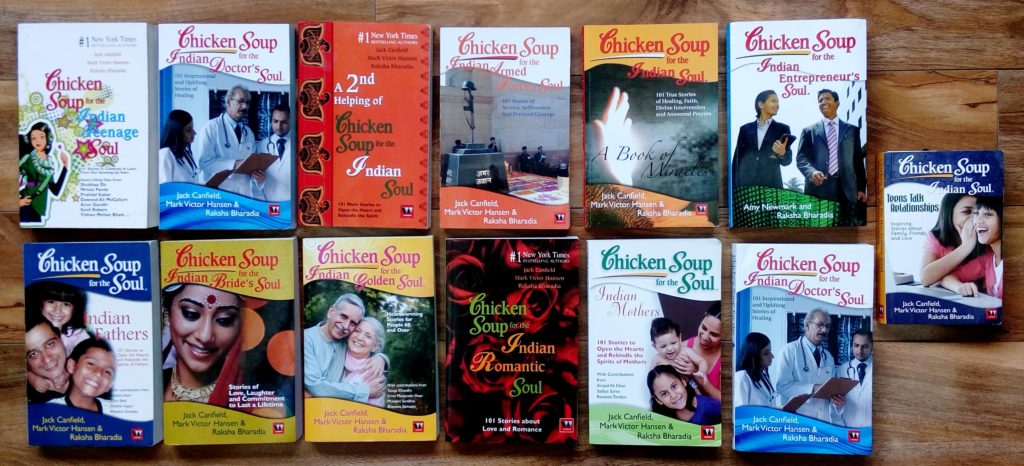 Her latest foray is an online portal on couple relationships for urban India, here is the link, http://www.bonobology.com/Default.aspx
Raksha was a visiting faculty at CEPT University; Ahmedabad, Gujarat in 2011, for the Master's program in creative writing. She is an independent director at the Media company Sambhav. She has been invited to conduct classes in creative writing in Hyderabad, Calcutta and Ahmedabad. She has also held parenting workshops in schools, like Don Bosco Kolkata, La Martinier Lucknow, AMA (Ahmedabad Management Association), YPO, EO (Kolkata), Eklavya school, Anand Niketan. On invitation, Raksha has been speaker at many conferences and seminars (TED-X Ahmedabad, AMA, Baroda Management Association, Women in Leadership Forum in India, IIM Ahmedabad etc).
Her Story
I am an author, an editor (Chicken soup for the soul series for India) and most importantly a woman on a quest. Relationships intrigue me. Love confuses me. Why do we sometimes hate the person we love? We want the security in a relationship but we hate the shackles. You know these questions really baffle me and I want to understand how our generations before us have dealt with these.
When I interviewed historians, therapists, divorce lawyers, marriage counsellors etc for this I felt that there is this big sense of chaos in understanding couple relationships. Also I felt this has to be a two-way process. We get stories from contemporary India and we give back their stories to others too. To understand that the chaos we feel is not exclusive to us.
Bonoblogy gives a space to share stories (even anonymously), it gives a panel (people with solid credentials) to ask questions on relationships which then also goes into our data and helps us understand what really is happening in India today. Also it gives a community space where people can even advice each other which operates like a forum.
The Difficulties She Faced
Difficulties were Unending! The most important to keep the integrity. Assure quality of stories being brought to the readers. We have a 4 member edit team who fight to keep the tone and yet work to bring in as much depth to the story they can through continual interaction with the contributor.
Then there was this challenge to take this voice to the readers out there. To assure them that we are all about real couples! That we do not entertain fiction.
How She Overcame These Stumbling Blocks
Hard work! Passion. I believe there is a need for a platform like this and my team believes it too. We are 9 in all, dedicated to Bonobology!
From day one I knew I would not give this up. Yes there have been days when I crashed in bed thinking have I bitten more than I can chew?   But then comes a new morning….and 🙂
Her Advice to Budding Entrepreneurs
Believe in what you do.