It has been one month since I began using PediaSure for my kids. Although I do see a good response in the weight and activities of my children, I did face some challenges too, like what PediaSure flavour would they like best.
The Initial Days
The first few days went by smoothly and my children happily drank the new flavour of PediaSure with their daily milk. I made it a point to purchase two flavours of PediaSure powder initially – the Vanilla and Premium Chocolate.
I wanted to see how well the children would come with PediaSure usage in new flavours. Well, I'm happy to say that there were no complaints whatsoever with the chocolate flavour, mainly because my children are very fond of cocoa.
However, getting them to like the vanilla flavour seemed to be more of a challenge. If your kids are easily bored, I'd recommend that you stick to what they prefer or try experimenting with different PediaSure recipes like I did below.
Check My first Post On Pediasure Here
My Experiments
I began to experiment with some PediaSure recipes; in fact, I have come up with a few new recipes of my own. Here's one you can try out:-
PediaSure Watermelon Cucumber Asian Salad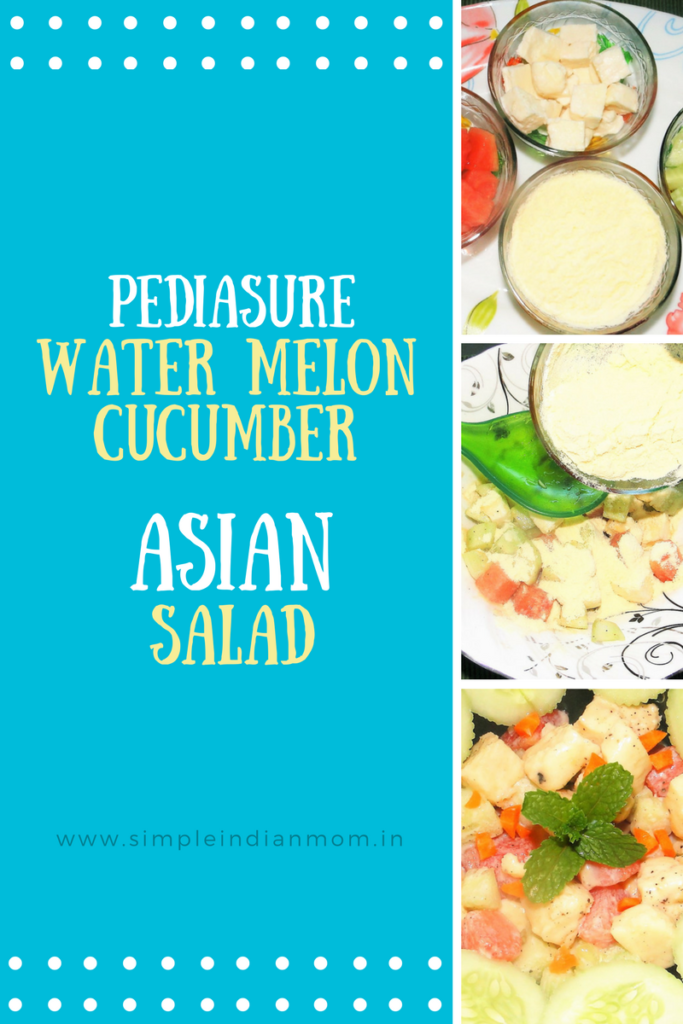 On a hot summer's day, there's no better way than a cool salad to help with dehydration. By adding a few nutritious elements to it, it could be a great source of relief if your children gobble it up.
This is a simple yet nutritious salad that both hydrates and will help boost the energy levels of your children for playtime.
Ingredients
Watermelon – ½, peeled, de-seeded and diced
Cucumber – ½ peeled and diced into cubes and a few circular
PediaSure vanilla flavour – ¼ cup
Cottage Cheese – ½ cup diced into small pieces
Honey – 1 tablespoon
Lemon juice – from half lemon
Pepper – 1 teaspoon crushed
Method
Add diced water melon and cucumber to a mixing bowl
Add the honey and lemon juice
Sprinkle the cheese and PediaSure powder on top
Mix well
Sprinkle crushed pepper
Serve garnished with the round sliced cucumber pieces
My kids love it and they finish every bit of it whenever it's on the table.
The Monthly Report
Seeing how things have been going for the past month, I can say with confidence that with PediaSure nutrition my children are looking healthier and happier. In fact, with the stress of festivals and exams coming together, I can see both of them normal and healthy. Their weight has increased a little and I think there is definitely a connection between my interesting dishes prepared with extra care and PediaSure.
I will be following-up with you all and will continue to share my PediaSure feedback over the next few weeks. If you want to try it with me, you can buy PediaSure online, from the company's website.
Word of Caution
PediaSure is NOT FOR CHILDREN WHO ARE LACTOSE INTOLERANT or who have galactosemia
So stick with me on our #90DaysWithPediaSure and follow #MyPediaSureJourney over the next month.
Disclaimer: Although I was approached by Abbott to write about PediaSure nutrition, the views, ideas and opinions expressed in my blog posts are purely my own and based on my own experiences with the product.