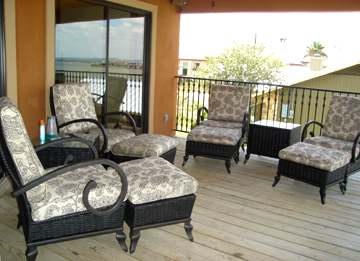 Your balcony provides you with some very important external space, which when furnished with the right furniture would give superior living space outside your house.
It is thus very important to spend quality time to choose the right furniture to furnish your balcony so that it gives exactly the right look that you had expected giving more elegance and style. Also, choosing furniture for your balcony is a onetime process and has to be done considering the changes of time and style.
Here are some ideas to furnish your balcony
The General Theme
Before choosing the furniture you have to first make a plan for the general theme of your balcony. Make sure it goes well with the interiors of your house, so that the balcony does not look like some dejected space.
You can choose from themes like modern classy, antique, flowery and contemporary and so on. Once the theme is set, choosing furniture to match it is quite easy.
You could choose furniture such as a set of chairs with a middle table, a beautiful bench with a matching long table, chaises and umbrella of a set of gazebo combined with a round table and swings one big and one small and so on.
You can make the choice according to your imagination. The marketplace is flooded with so many possibilities that any sort of necessity would be fulfilled to the core.
The Budget
Set a clear budget for buying furniture. This gives you an idea of where to buy and what to opt for, rather than going for something that would not fix into your original theme.
Make a general enquiry before the actual buying process. This saves a lot of time that you would otherwise spend at unwanted places.
Furniture Made from Natural Material
Furniture made from wood, bamboo, grass and so on, though may look costly give a special look to your balcony, especially wooden furniture.
There are large numbers of designer wooden furniture available in the market today. You can see numerous designs and varieties within the wooden furniture giving you a good array to choose from.
You can find teak wood, cedar wood, red teak, and Sal wood etc, which are quite sturdy and give long life to your furniture.
Modern Furniture Made of Other Material
Wicker, plastic, rattan, aluminum and other metals like wrought iron and so on are not inferior in any way to the natural material like wood. You can find some molded furniture more efficient that the bamboo furniture and some equal the classic wooden furniture in make and look.
The facility of getting ready-made and instant furniture that are of the required size and shape is a specialty of these new age furniture.
When you have a clear plan in your mind as to what kind of look you want to accomplish with the furniture in your balcony, you can search for them more specifically zeroing down on the right furniture without much effort.
The right furniture would successfully give your balcony the right look.