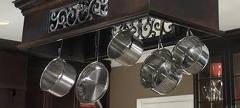 A clean Kitchen shows your true cleanliness. Yes! Most women begin trying to organizing their house with an idea of placing things all in order only to find them thrown out of their place within just hours afterwards.
This is not just done by the children but also by us ?adults? too, may be at a time of hurry or preoccupation.
Well, here are some steps that when taken would help you to keep your kitchen always clean.
First things first
Well, before you begin your organizing tour, the first thing that has to be done is little decluttering. Go through your kitchen cabinet and the pantry or the store section and remove all the items you feel are not required or are not immediately required.
This saves a lot of time and space while organizing.
Mark places for each Item
This would necessarily be your second step. Decide beforehand what are things have to be placed where. This planning process makes you more efficient while organizing and also gives you an idea about the necessity of more space (if required) earlier.
This helps you to make the required changes and add more shelves or cabinets.
Frequently Used Objects
Make a list of objects that you use frequently in the kitchen such as the cookers, frying pan, spatula, knives, vegetable cutter, and spices, salt and so on have to place closer to your reach.
Place the smaller items like the spatula, spoons, knives and egg beater and so on in a holder and place it within your reach.
There are certain objects that you use very rarely, these when placed among frequently used objects would not only make the kitchen look cluttered but also would wear off due to oil and other deposition on it during the cooking process.
They can best be stored in the closet or even in their respective box and placed away safely to be used when required.
Remember; every item in your kitchen has to earn a right to stay where they are, if at any point of time you find it not useful, never rethink about disposing them off.
Demarcate centers of activity
Clearly separate your kitchen into different centers of activity.
This is the space such as the pantry or even your freezer where food and other kitchen related material are stores. Take care to check this space and declutter it once in every fortnight.
Place your cutting board, knives, measuring cups and one dustbin for recycling waste in this area. The dustbin can be placed below the cutting area far from being spotted easily.
Your stove, utensils, spices, flours, and other regular groceries make this area. Make sure to keep your groceries in small airtight containers that need to be refilled every week. This would give you an idea of how much you use and how to plan while you shop the next time.
Keep the self raising flour, powdered sugar, essence, baking powder, icing sugar and ladles and so on that are required for baking in this area. You can place the gloves on the oven.
Keep the serving bowls as sets so that when you transfer cooked food, you would not need to search for them. Also place the plates, side plates, and small bowls and so on together at one place.
This saves a lot of time while serving food. You can have this close in your dining area.
Make sure that the area surrounding the sink is clean and dry always. Place the detergent, towel, scrub and such items a little higher than the level of sink.
The area below your sink may be used to store vessels that have to clean and to store towels to dry vessels.
Regular Cleaning
Maintain the cleanliness of your kitchen counter is very important. This can be done only on a daily basis; if not you might end up letting objects linger permanently on it leading to cluttering your kitchen.