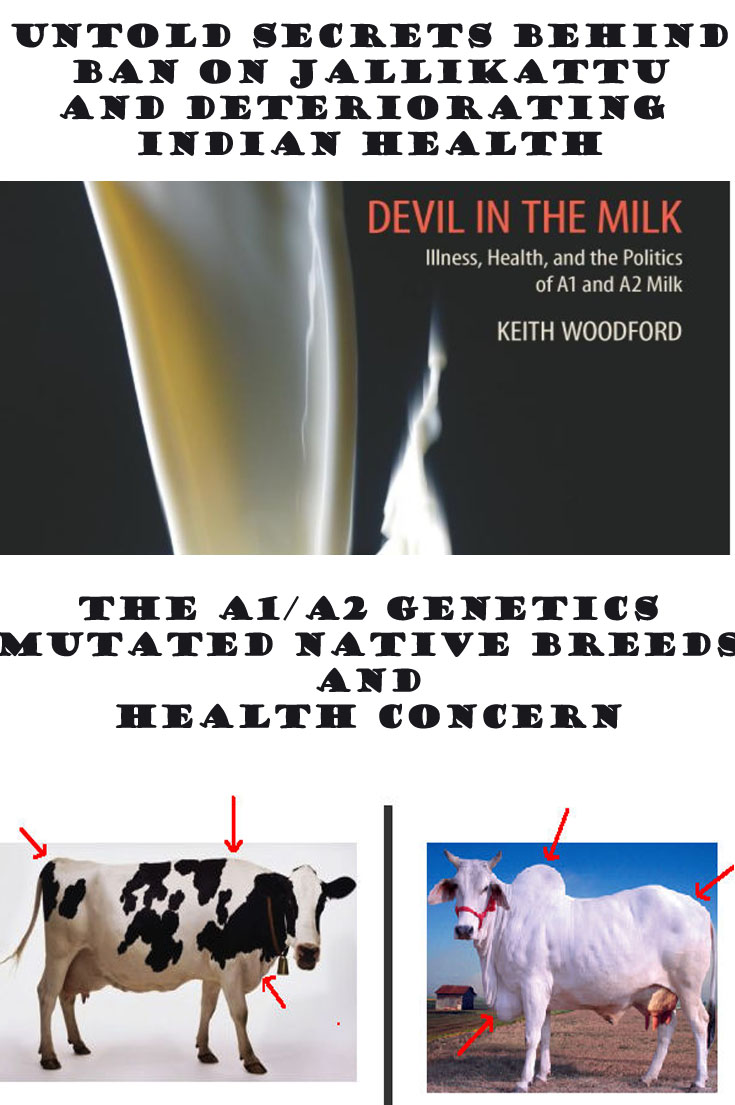 If you were even wondering why I have titled this post connecting Ban on Jallikattu and Deteriorating Indian Health, You would not be so when you are at the end of this page.
India is a country with rich heritage. And we have been pioneers where scientific knowledge is considered. However we have a very bad weakness and that is our fad following of western culture without arising any question of whether it is good or bad.
Be it the jeans you are wearing to the bottled drinks you are drinking, everything is a monkey copy of foreign culture. In globalized world it is not easy to keep any culture without being influenced by another, however, there still is a need to analyse what is good and what is bad.
The Corporatization of Agriculture and Milk
With increase in population and requirement of more food, there had been a need for increase in food production. And corporates do not let every stone unturned till they find a way to earn, when they smell a requirement unfulfilled.
This is where it all started, they commercialized agriculture, changed the agricultural inputs, chemicalised everything from fertilizers to pesticides and even changed the basic DNA of crops and GMO fied them.
In fact the present situation is so worse that, a farmer cannot grow crops without having to look up for the supply of multinational corporates for seeds to harvester.
The Dairy Industry
Similar need-supply gap was sensed in the dairy industry. Milk, is not just any other drink, it is the elixir of life, beginning from birth till the end of life, milk is consumed by humans.
No Indian ritual is complete without milk !
No Indian life is complete without milk!
Cow, is seen as a divine form in he Indian culture, and not without a reason.
So again corporate minds began smelling the thousands of crores that can be reaped here. They began devising a system where they can make people dependent solely on them for the cow – to produce milk.
This was exposed in 2009 by Keith Woodford who wrote a book Devil in the Milk, which lead to a lot of controversies. It was in this book that Keith Woodford clearly explains the what has happened to the very gene of cattle and how it affects health.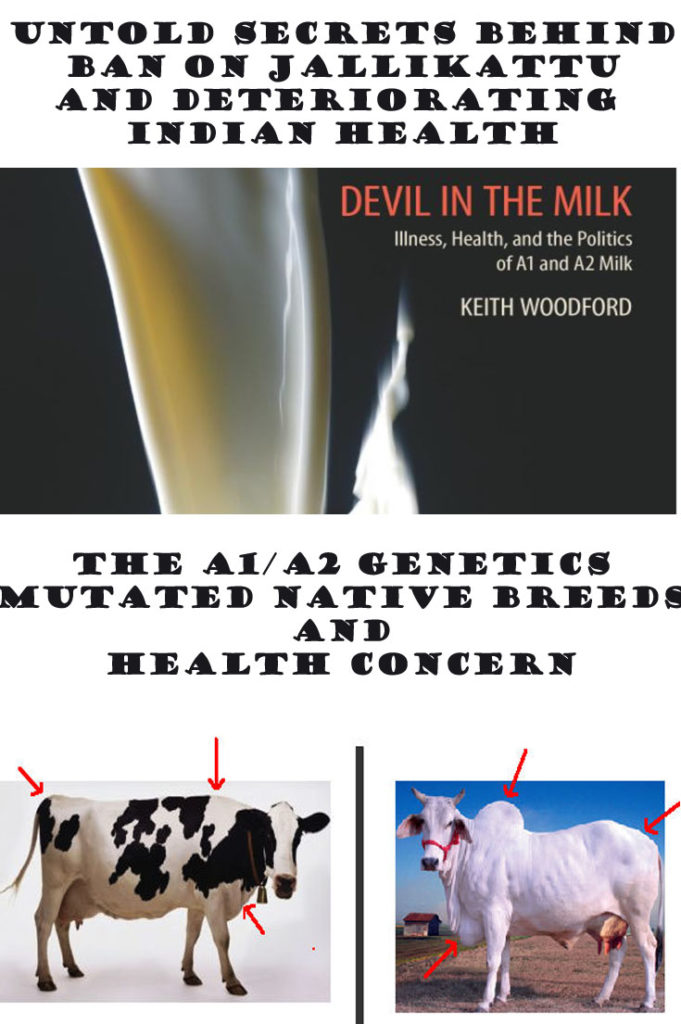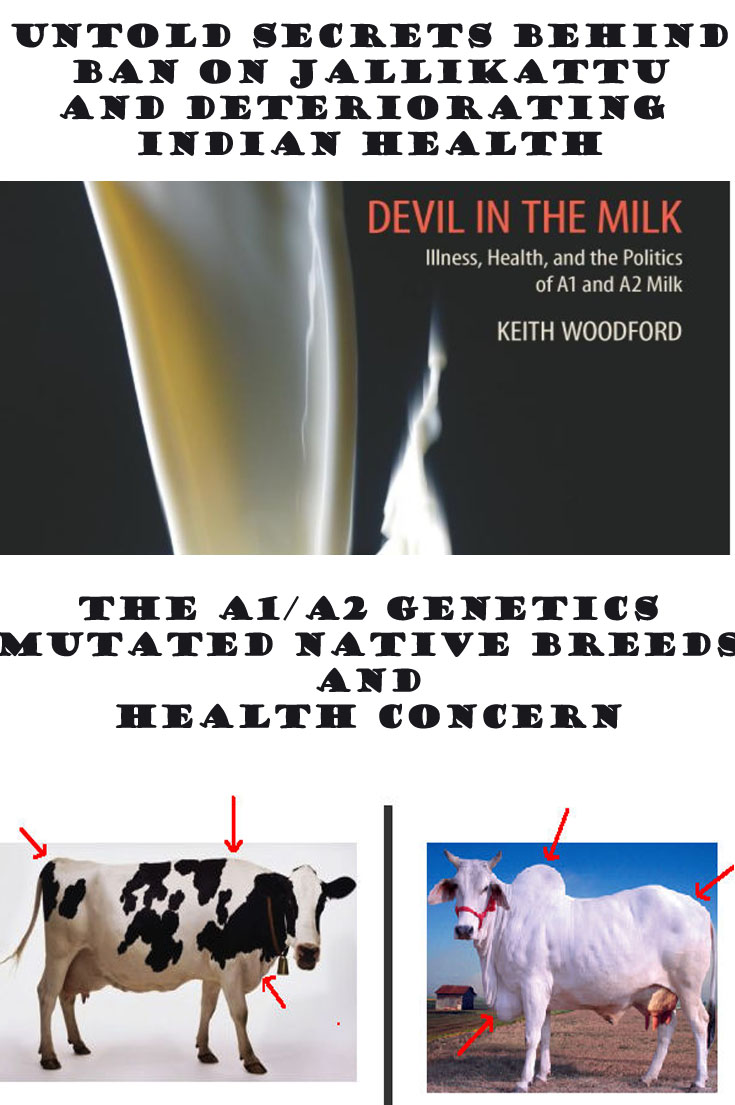 Indian Cows and Corporate Politics
India has always pioneered in cattle population in the world. It is not a secret that from prehistoric days cattle were seen as wealth and the more cattle one had, the richer he was considered.
This and many other customs had made India breed cattle proliferate and one can find India had the highest number of native breed that were indigenous to different parts of India.
However these breeds were giving less milk and their per capita maintenance seemed to be of not commercial gain. Though they do not require much expenses in terms of feed and they had inherent resistance to diseases, their milk production was a serious concern.
This is where the corporates found their chance to enter this multi billion dairy market of India. The gullible Indian government soon after independence and hence forth had no idea that it is being taken for a ride.
With promises to improve the yield of native breeds, the India grand cross breeding program began. Slowly but steadily Indian cows had been inseminated with foreign breed bull semen, and no one questioned, because where the Indian breed produced 2 to 3 litres of milk per day, the crossbreed produced 7 to 8 litres.
The Indian Breed cattle have thus been clearly removed from existence and Indian Native breed cattle are becoming extinct one by one. This was exposed in Tehelka.com in 2012.
The Mutation and Related Health Problems
Somewhere during all this increase in yield game, there seemed to happen a small scientific revolution where corporate companies began competing with each other in finding ways to bring about more and more yield increase.
Today in some western countries cattle and diary industry are treated as machines producing the white liquid which they call – MILK.
The total process is mechanized. In fact, in India, in Chhattisgarh where I live I have come across farms where the animals are kept in air conditioned sheds. The premises are so clean, you would never now they were animals.
At the time of milking the cattle are opened, with a remote control, they leave their shed, form a line and go towards the milking area. They need to pass through a shower. they enter the shower wait for a few minutes to be bathed (again mechanically, with remote controlled machines) and then climb the circular milking machine.
The vacuum milking apparatus is attached (oh! human intervention here) to their teats. The cow is milked and as soon as the vacuum apparatus falls down the cow gets down and again walks towards its shed.
It is a wonderful scene, you know, you just need to forget that the ones being milked are living creatures or they need some love and affection.
So What is The Mutation About?
The mutation has happened in the process of getting more and more yield. Look at the image below at the condition of the cow, seen just as source of milk.
It is evident how healthy the cow looks.
The mutation of a specific A1 gene, in fact seems to have started some hundreds of years ago in Holstein breed and since Holstein has been the main breeds used to improve other breeds, the mutated A1 gene has been passed to most   'improved' breeds.
It is this mutated A1 gene that is the cause of many health issues that is seen off late.
How Does The Mutated Gene Cause Health Problems
The main ingredient of milk, for which we consume it too, is the protein present in it. Human digestive system is conditioned to digest and process the natural proteins present in milk.
Milk protein or beta casein, is made of a chain of 209 amino acids. The amino acid number 67 in this chain is usually a amino acid called proline. this proline is inherent component of the chain, and hence is bound both sides. This is called the A2 milk – no mutataion A2 milk.
On the other hand the mutated A1 milk protein contains histidine as amino acid number 67. This histidine does not attach to either side of the chain and remains free. This is the A1 milk – Mutated A1 Milk.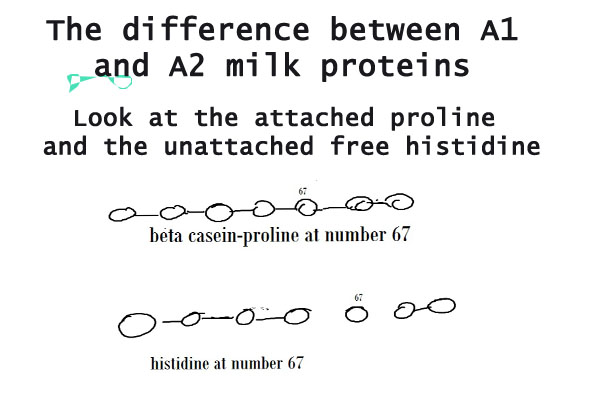 The histidine breaks off taking with it six other neighbouring amino acids forming the beta-casomorphin-7.
so in A1 milk we have beta casein plus the cut off portion beta – casomorphin-7.
Beta – casomorphin-7 is the main culprit behind all the health hazards. Beta – casomorphin-7 has opioid or narcotic which is not digested well by the human system and this is where all the health issues stem.
In July 2007, Dr Keith Woodford, a professor of farm management at New Zealand's Lincoln University published a paper titled A2 Milk, Farmer Decisions, and Risk Management that reported how "approximately 500 New Zealand dairy farmers are converting their herds to eliminate production of A1 beta-casein within the milk" responsible for "Type 1 diabetes, heart disease and autism".
If you read the full paper of A2 Milk, Farmer Decisions, and Risk Management you will come to understand that many modern diseases have been articulated by this A 1 milk which is the one mostly available worldwide.
Health issues reported are
Problems in digestive system
Type 1 diabetes
Heart diseases
Sudden Infant Death Syndrome
Autism
Connection Between this and Ban on Jallikattu
Jallikattu is some 3500 old tradition in tamilnadu, the main purpose of the sport is recognize the best breeder of the locality which will then be used to breed all the cows present in the village.
However this poses a risk to the foreign artificial insemination industry who would love the cattle breeders to look up to them as the sole sources of semen. Just like the GMO crops where you need to buy seeds at a high price and all other inputs for crops.
Also, it is seen that these very foreign corporates are indulged in the production of medicines for many of the above diseases, so they see this as a double harvest.
Hence, they have ensured to show some irrelevant reasons to the gullible government and the supreme court to bring about a ban of The Bull Sport, thereby no more proliferation in the indigenous breeds of this part of our country.
read the letter below written by a person from adjoining state Kerala in support of people protesting jallikattu.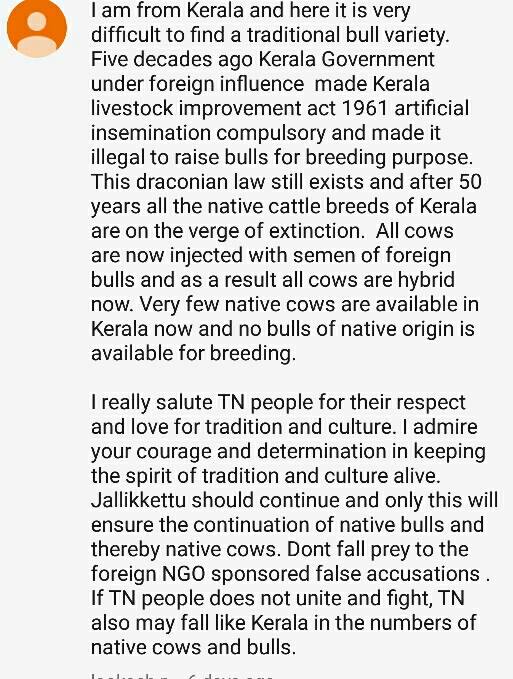 The Recent Protests in Tamilnadu
The protests in Tamilnadu is mainly to save native cattle breeds of India. This, though was a scenario for the past two years, has become an important struggle because of student population.
In fact I personally see this protest with respect, and here are the reasons for it. Subha has given reasons for the crowds joining Jallikattu from all parts of Tamilnadu.
Started by 100 students only.
Seeing the protests slowly students from all over Tamilnadu joined in.
IT employees – who we see as those who are not worried about our country or culture are completely supporting.
They were collected only through social media.
The students do not side with any political party – in fact they ask politicians to leave the site of protests (strongly)
There is no violence, no bad behavior.
Women and men are protesting side by side yet no molestations, instead women are given due respect and are safe. I can see women in organizing some protests too. There were women in the crew who went to meet the Chief Minister.
There is no caste based difference shown, though this was seen to be a way that can be used to divide these students.
People from all walks have joined the protests.
the lawyers association, retailers association, farmers association and so on have begun supporting the students – Oh! I forgot the Film Industry.
Students have shown that Tamilnadu no more needs politicians or film stars to lead them.
This is something of a revolution that is happening in Tamilnadu, students all over India need to understand the power of students, the power of Youth.
In fact this is history getting created in front of our very eyes and we all are excited!