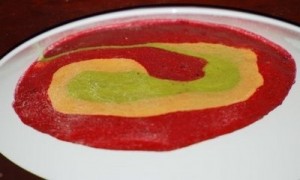 Children have to be lured to food by its color and presentation, only then do they take enough interest in them. here is one way to make your regular chappattis inviting and mouthwatering (for the kids only)
Ingredients:
Spinach: 1/2 cup
Beetroot: 1/2
Carrot: 1/2
Ginger garlic paste:1 spoon
Chilli powder:1/2 spoon
Wheat flour:3 cups
Butter : as required
Whipped cream: optional
Procedure:
Peel and finely chop carrot and beetroot.
Cook spinach, carrot and beetroot separately by adding a pinch of salt and redchilli powder and enough water.(In microwave cook it for 3-5 mins)
When they are cooked, blend each of them separately to a paste
To one cup of wheat flour add spinach paste, add half spoon ginger garlic paste, mix it well, and make it a soft dough.Follow the same procedure for beetroot and carrot too.
Now you will have 3 different colored doughs with you.
Make each of them to a long narrow string shape of equal sizes and roll them slightly in wheat flour.
Now rotate the colored dough followed by one another in wheel shape as shown in the figure.
Now make chappattis out of them by frequently dusting wheat flour over them.
Finally, take a pan add butter and cook the chappattis well by applying required butter.Serve with whipped cream to enjoy delicious taste.