Short period challenges such as 30 or 45 days challenge often promise an infallible path to a new life with healthy new habits. We can connect challenges to many health behaviors, fitness goals, productivity habits, or other simple changes that can lead to a better life.
A habit is an automatic action associated to a learned prior performance. You form habits as you pursue a goal in your life. When you repeatedly perform the same action repeatedly in a particular context, you develop an implicit association in your memory between the context and your response. And this becomes your habit.
How Long Does It Take For Something To Become A Habit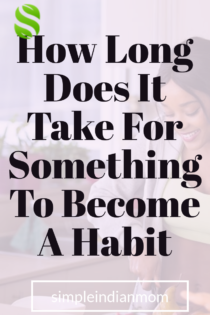 It is a general belief that 21 days is enough to make a habit. However, in a recent study by Phillippa Lally and colleagues from University College London recruited 96 people who were interested in forming a new habit such as eating a piece of fruit with lunch or doing a 15 minute run each day Lally et al. (2009). They found that for any behavior to become a habit it took 66 days.
66 days looks like a very long period and more so because of the latest 21 days fantasies we are coming across these days. Well, I for one believe that every person is different and habit formation takes different periods of time for different people.
A 2010 study published in the European Journal of Social Psychology found the time taken for a new behavior to become automatic varies from 18 days to 254 days. The authors concluded that the more difficult the task, the more time taken to become a habit.
So we at simpleindianmom have come up with a 45 days Healthy Habits Forming Challenge.
45 Days Challenge For A Healthier and Happier You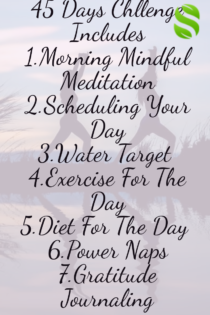 Who is this challenge for?
This 45 days challenge is for all those individuals who put their health first and know that good health is the foremost step towards a happy life. There are no age restrictions for taking this challenge. We are hosting this challenge in our Facebook group named Naturally Healthy and Mindful Living. You can join this group for regular updates.
What Does This Challenge Include?
Our group comprises highly motivated and well-qualified guides in fitness, mindfulness, natural remedies, dietician and vasthu expert. We are looking for a natural way of healing and living in harmony with nature. Expecting the nature to guide through this journey and manifest and nurture the abundance.
This challenge will run for 45 days – beginning from 15th November 2019 to 30 December 2019. Our goal is to enter the new year with a healthy and happy mind.
For this we have included a 7 step wholesome healthy habits module
Morning Mindful Meditation
Scheduling Your Day
Water Target
Exercise For The Day
Diet For The Day
Power Naps
Gratitude Journaling
Morning Mindful Meditation
I have already described the advantages of morning mindful meditation. You can read about it here – 4 Awesomely Easy Mindfulness Exercises
I shall also give you a guided meditation every morning for 5 to 10 minutes to make your mornings happier.
Scheduling Your Day
If you have a purpose, you will move towards it with better organizing and without getting distracted. This will make you feel that you have accomplished something. A feeling of accomplishment induces serotonin secretion in the brain – finally making you feel content, happy and stressfree when you retire at night.
We shall guide you on how to make plans, what plans are important and how to make smaller achievable goals for the day.
I am a person who loves handmade colourful journals; I have a cute Lauret Blanc with me so I will use that to show during the journaling prompts.
Water Target – How Much Water Should You Drink In A Day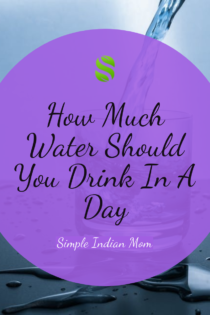 I do not have to say more on the importance of water and how much water you need to drink. However, in our busy schedules we forget to drink enough water which causes several health issues. So we will give you water prompts – at specific times each day so you will achieve your water target daily.
Keeping yourselves hydrated is very important for maintaining healthy skin, hair and also your internal organs. Let's do this together. Instead of drinking plain water you can enrich it with herbs as I have discussed in Enriched water series.
I have been using copper bottle for the past some time; it is highly advisable to store water in them at night and drink first thing in the morning. You can easily get them online. Always try to get wide mouthed copper bottles or jugs, this will help you clean easily.
Which Exercise Is Best For Weight Loss
Spending half an hour for yourself is very important, not just to keep you in shape but also to make you a better person. When you exercise your body releases chemicals called endorphins, these chemicals interact with your brain and helps it to give you a feeling of happiness, relieves pain and depression and even makes you feel elated so you would look at life from a different perspective.
You can do any kind of exercise from jogging, walking, biking, dancing and so on. In this challenge we will provide you with exercise videos to follow each day in the group https://www.facebook.com/groups/797668850750013/
In the group we will give a mix of exercises targeting different muscles in your body for 45 days, which you can replicate in future with no need of much help.
What Diet To Follow For Weight loss?
This is one question most of us have. I recently was on medication which made me gain a lot of weight, so I am looking for some diet consultation too. We will have a in-house dietecian who will give diet cosultation for weightloss.
She will help us through the journey these 45 days, we can standardise our diet and make it a habit while entering 2020.
Keto diet and intermittent fasting seem to be the norm now, so we can ask for special help in these areas. I also have hypothyroidism and hence I would be specifically for diet for hypothyroidism
In fact, I am looking forward to see why my weight-loss journey is not as easy it is for my husband, though we both spend similar times in the gym doing almost similar exercises. Oh! Did I mention I cannot do weights too – because of the thyroid imbalance causing pumping.
Dr Norma Lopez, MD, an associate professor of endocrinology and metabolism at Loyola University Medical Center says, "Hypothyroidism can cause pain and swelling in your muscles and joints." So it's always better to proper caution before exercising. That is the reason we have invited dietician and a physiotherapist among the expert panel for this challenge.
Get your diet chart here
Power Naps – Why Are Power Naps Important?
Taking short naps re-energizes your brain and makes you feel refreshed – says research. You can take a power nap for just 10 minutes and feel totally stress free and improve your productivity.
Researchers have found benefits of power naps of brief (5-15 min) almost immediately after the nap and last a limited period (1-3h). This improves memory, reduce sleepiness and improve cognitive performance.
Sleep is very important and in fact is life saving. It would shock you to know how Ranjan Das a fitness enthusiast lost his life because of sleep deprivation. So include small power naps in your day. In this challenge we have come up with the power nap prompts which will guide you towards building this healthy habit.
Why Gratitude Is Important and How To Make A Gratitude Journal?
Everyday, think as you wake up, today I am fortunate to be alive, I have a precious human life, I am not going to waste it. Dalai Lama
Regular journaling has been proven to improve your well being, in fact writing down a point makes it registered strongly in your brain helping eventually to take the experience to a whole new level.
Keeping a gratitude journal is easy and on the simplest level it involves making a note of the things that you are grateful for that day. You can decide how long your list is each day and how much detail you want to go into.
The greatest thing is that it's an easy habit to form and after a while, it leaves you with a collection of inspiring material to look back on when you need to revert from a depressing thought or mood.
Advantages of Gratitude Journaling are
It keeps you positive
Reduces stress
Improves interpersonal relationships
Lets you prioritise things
Helps to sleep better.
So this is what is going to happen in the last 45 days of this decade in simplindianmom in the group Naturally fit and Mindful living – join the fun and make sure you enter 2020 as a newer, healthier and happier person.