This is the first Post for the Simple Indian Moms (facebook group) contest and our focus is on overparenting.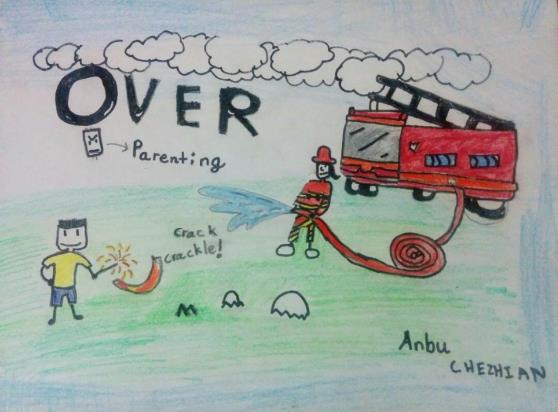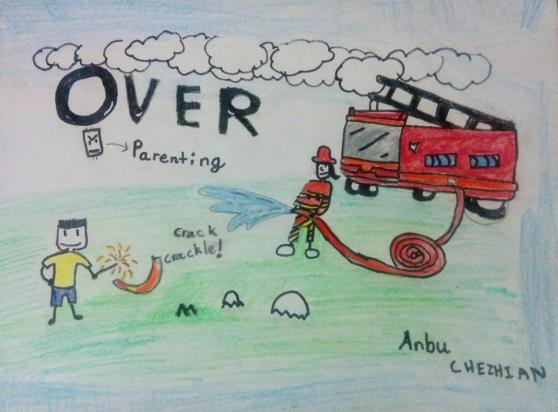 "Your children are not your children.
They are sons and daughters of Life's longing for itself.
They come through you but not from you.
And though they are with you yet they belong not to you.
You may give them your love but not your thoughts,
For they have their own thoughts.
You may house their bodies but not their souls,
For their souls dwell in the house of tomorrow, which you cannot visit, not even in your dreams.
You may strive to be like them, but seek not to make them like you.
For life goes not backward nor tarries with yesterday.
You are the bows from which your children as living arrows are sent forth.
The archer sees the make upon the path of the infinite, and He bends you with His might that His arrows may go swift and far.
Let your bending in the archer's hand be for gladness.
For even as He loves the arrow that flies, so He also loves the bow that is stable."
― Khalil Gibran
There is an increasing trend of overparenting a.k.a. helicopter parenting in the modern Indian parenting style. Every parent treasures (pressures!) their children, hence, overprotecting and directing them to take their each step since birth.
The Perfect Parent Syndrome
Being a perfect parent impels you to take serious responsibility to raise your kids, right from choosing their food, education and career till they become 'adult' kids. Nowadays, giving the best to your kids and making them successful is considered only through, the value comes from their scores and grades.
Parents think that their children find happiness only when they get the best scores and grades from the best institution and highly paid job from the countable number of the best organizations.
Consequently, children are given with a checklist prepared by the parents to mark their success in every step they should take, but not in their own time and pace. It's not the over protection or checklist decides their success, but love and support to understand their self reliance and their own life experiences do.
For example, expecting the children to do the school/college projects perfectly with all help from their parents does no wonders to their learning and success. It could bring down the self confidence or would gratify them for the time being. If they are allowed to grow on their own pace and time, then they could learn from failure as well.
"Perhaps it takes courage to raise children…" -John Steinbeck, East of Eden
Do Not Restrict Kids Within A Comfort Zone
I do not recommend moving away from your children completely, but suggest showing the right path to face the challenges ahead in this imperfect world, independently. Then the children can face the world optimistically through successes and failures.
Now, the kids are given with personalized comforts, still they have a lot of stress and are diffident to act without help.  So, give them limited guidance to involve into good things and we can be a role model to them in life.
Let's appreciate when the children put efforts to master a new skill of their own interest. It brings the best out of them, instead of struggling with forced knowledge.
Don't you agree? Our childhood memories contain purely the happy moments with parents and siblings like playing, fighting, helping amma, imitating appa, running errands, etc., even our kids love to hear those from us.
I proudly mention, 'Innovation demands freedom' – V.A. Shiva Ayyadurai (the inventor of Email), it suits to kids also, to be successful. After all, we need more inventors from our country!
'Trust your kids and let them learn and enjoy freedom'
Love Unconditionally
I believe, I give up 'overparenting' after seeing my son, who never worries about scores or grades. He remains stable and confident when all his mates got stressed or overjoyed for getting low or high scores. Whenever I worried or excited to learn his scores, he least bothered about the scores. He used to narrate only about the fun he had at school while learning and playing with his friends.
Now, my kids are learning to live independently on their own pace. They are confident and happy for what they are learning. I am also learning to live and learn by following them J .
Happy parenting! Don't be a checklist-mommy!
Illustration: Anbu chezhian, 9 years old.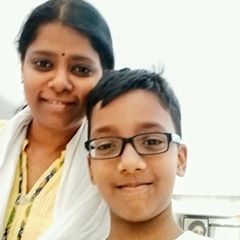 Thenmathi. N – Mother of two happy kids and an occasional blogger. She loves to read ,make crafts and writes at leisure.