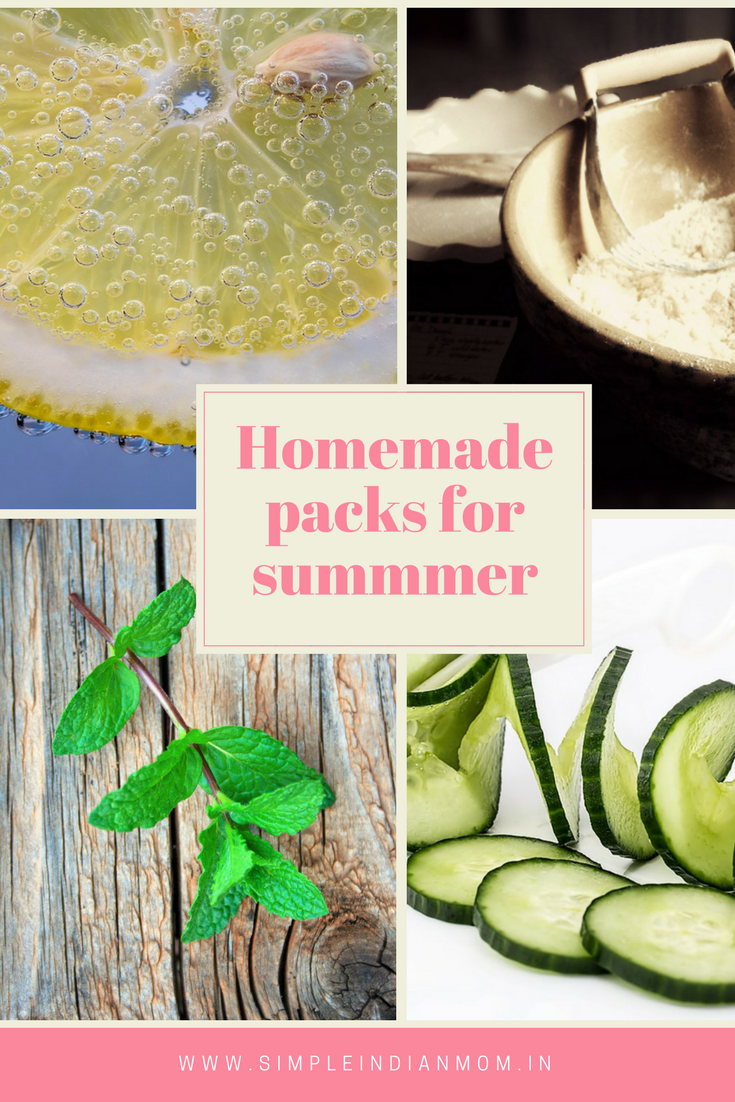 Summer has already knocked our doors and once you step out of the house and you can literally feel the heat burning your skin. Besides dehydrating the body, the extreme temperature can cause havoc on the skin and can cause tanning, pigmentation, early ageing etc. The result is dullness along with summers bring in a lot of skin problems along with it and wreck our skin! So here are a few easy to prepare homemade face packs that would help protect your skin in summers and also keep your skin hydrated
1.MINT FACE PACK
Are you looking out for something to soothen your skin?
Ingredients:
Mint leaves
Turmeric powder
Just grind some mint leaves and add a pinch of turmeric powder in it. Add this paste in some lukewarm water and your pack is ready to use! Apply it on your face and wash it off in 15 minutes.
2. LEMON FACE PACK
Do you have  greasy looking skin..Then this is a must try !
Ingredients
Lemon juice
Egg white
Honey
Just add one tablespoon lemon juice and one tablespoon honey in one egg white and mix well. Apply it on your face for 20 minutes and rinse with normal water. You'll be happy seeing your skin glow more than it normally does.
3. CURD AND GRAM FLOUR FACE PACK
Tanning being a major concern for everybody needs some extra attention! Try out this curd and gram flour face pack that helps cooling and at the same time whitens your damaged skin!
Ingredients

Just mix these to magical ingredients and apply to all the affected parts of your body. Pat dry and wash off using lukewarm water! You would be surprised when you'll see the change yourself!
 4. LEMON JUICE,CUCUMBER SUMMER FACE PACK
This pack makes the skin glowing and healthy. Cucumber tones and firms the skin whereas  lemon juice helps to  remove the tan.
Ingredients
Cucumber juice
Lemon juice
Mix 1 teaspoonful of cucumber juice and 1 teaspoonful of lemon juice. Evenly apply the face pack and wait for 20 minutes. Wash off.
5. RICE FLOUR AND CURD SUMMER PACK
Are you looking to get rid of blackheads and whiteheads? Then this is it
Ingredients:
Mix rice flour and curd in equal amount to make a smooth paste. Apply it evenly on the face and the neck skin. Keep for 15-20 minutes. Then rub with light hands applying pressure and rinse with water.
6. SOOTHING SUMMER PACK WITH ALOVERA GEL
Aloevera gel has the healing property to  soothen your the skin and heals the blemishes.
Ingredients:
In a small plate, take one teaspoonful of aloe vera gel and add half teaspoonful of besan in it. Mix both of them thoroughly and apply it on your face. Wash off.
7. AVACODA SUMMER PACK FOR OILY SKIN
Ingredients:
Get an over ripened avocado and mash it, add one egg white and mix well to get a nice paste. Apply the paste on your face and let it rest for 15-20 minutes. Wash it off when dry.
8. CUCUMBER PACK FOR NATURAL COOLING
Cucumber is one ingredient that has been used in facial treatments for decades. It is great for soothing flushed skin, while providing hydration at the same time.Thinly slice a cucumber and get your kids to take turns at arranging the slices on your face as well their own.
Leave on for about ten minutes before rinsing off with cool water.
DO's AND DON'Ts
Although all the face packs and masks are homemade, natural and have no side effects. But very rarely, some people are allergic to some fruits or some other ingredients. So if in a rare case, your skin feels itchy or irritated, remove the pack immediately. This happens in one of very rare case, so do not get scared and enjoy these face packs and masks for this summer.
Post written by Deepika!