Many people believe in using of harmful chemicals products, vigorous mechanical scrubbing and many treatments to get rid of pimples and make the problem more worse. All they want is to recover fast from the pimple. Always going with natural products is safe to the skin. Here are some natural remedies to get rid of pimples.
Ice cubes or crushed ice:
Ice is useful for soothing pimples. When ice gets contact with the pimples it reduces the redness and swelling of the pimple. It also improves the blood circulation, reduces the oil extract, dirt and bacteria in the affected area. It also tightens the skin pores.
Wrap a cube of Ice in a clean cloth and keep it on the affected area for few seconds.
It rescues the inflammation of the skin by repeating the process.
Apple cider vinegar:
Dilute one part of apple cider vinegar with four parts of water and then apply on your skin using cotton or cloth. It will help kill the surface bacteria.
Lemon Juice: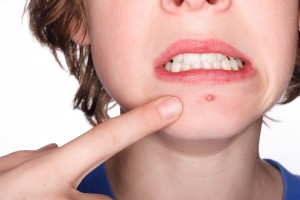 Vitamin C is another important to have a healthy skin. Lemon juice contains vitamin C which works more effectively on pimples. The citric acid acts as an antiseptic, kills the bacteria and dry up the pimple faster. Use of fresh lemon juice is advisable for good result. The lemon juice is used as multi process such as it fairer the skin, it also removes the sun tan and improves the complexion. Few ways to use lemon juice in the affected area
Take a fresh lemon juice mix with equal quantity of rose water and glycerin. Before going to bed wash your face and apply the mixture and keep it overnight. The next morning wash it with lukewarm water.
Take one teaspoon full of lemon juice and gram flour mix it with rose water to make it as a past. Apply on the face and after it gets dry up wash it thoroughly in lukewarm water.
For a sensitive skin make a paste of lemon juice and cinnamon powder and apply it overnight. Next day morning wash off.
Take a clean cotton swap and dip it on the fresh lemon juice and apply it on the cleaned face before going to bed. Morning wash it with plain water.
Garlic:
Garlic has antiseptic, antibacterial antiviral and antioxidant properties. Garlic has sulfur which heals the pimples quickly. Some ways to use garlic on pimples
Apply garlic paste on your blemish and wash it off after 5 minutes with cool water.
Having raw garlic clove daily which purifies the blood but it should not be intake too much.
Steaming:
It is more useful for the pimple face. It will open the skin pores, removes dirt from the skin. The steaming results a amazing benefits in the skin.
Take a hot water in a pot and position your face so that the steam from the hot water gets contact in the pimples. You should be more conscious that your skin doesn?t reach the hot water. After 10 minutes rinse off your face with lukewarm water and gently pat dry the face. Then apply a moisturizer over the entire face.
Egg whites:
Apply egg whites on your affected areas and wash it off after 10 minutes. They draw oil from your skin and helps prevent pimples
Honey:
Honey is very good skin purifier and a natural antiseptic which kills the bacteria in the oil glands. It acts as a good remedy for pimples. How to use honey few tips
Make a paste of honey and cinnamon powder and apply it on the cleaned face and affected area. Keep it overnight. The next day morning rinse off with water.
Take clean cotton and dip it with the honey and apply on the pimple and keep it for minimum half an hour and then rinse off with water.
Tea tree oil:
Tea tree oil has a great skin soothing and acts as an antibacterial on pimples. These properties help to reduce the inflammation of pimples and dry out the blackheads and whiteheads also. Few ways to apply tea tree oil on the face
Take a cotton ball. Dip it in the tea tree oil and dab it on the affected area. Keep it for 15 to 20 minutes. Then rise off with water. It should be used only once in a day.
Take aloe vera gel and mix it with few drops of tea tree oil and apply it on your pimples and blemishes. Keep it for 15 ? 20 minutes and then wash off with plain water.
Baking soda:
Make a paste of one part of baking soda with three parts of water and apply it on your face in a gentle manner. Wash it off after 5 minutes. This is a fantastic facial cleanser.
Toothpaste:
Toothpaste is one of the best treatment for pimple. Use of toothpaste will reduces the swelling of the pimple faster as a follow up to icing. Always it is advisable to use white toothpaste then using gel toothpaste.
Before going to bed take an adequate amount of toothpaste apply it on the pimple. Make sure that toothpaste remains minimum an hour in the affected area. Rinse off in the morning.
It can be used during day time also.
The use of omega ? 3 fatty acid which is rich in fish and seafoods in our diet reduces inflammatory skin problems. The above said tips will help you to reduce the pimples.