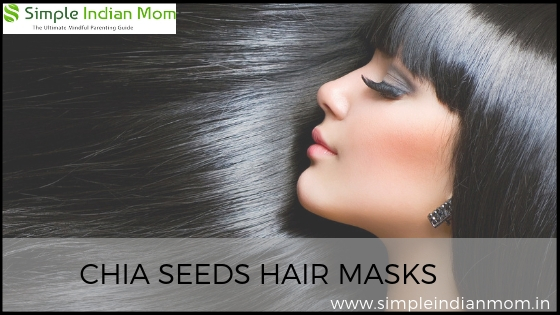 Struggling with different kind of hair problems ? Tired of spending hours in hair spa and salon? Here's the solution – Hair Masks. Now what hair mask exactly is you can think it as high powered hair conditioner with similar benefits of nourishing and healing. They are like a mini spa day for your hair. Hair masks are perfect way to reduce hair breakage and make your hair feel healthy.
Chia Seeds– the tiniest super food known to human kind is not only beneficial for physical health but also for hair health. It helps in promoting hair health. A protein named keratin is found, that surrounds hair cuticle with protective layer and also repairs the damaged hair. Also Zinc present in chia seeds helps in generation of new hair cells keeping hair shiny and healthy. Isn't amazing?
Here I am sharing some easy Chia seeds hair masks. So check it out.
DIY Hair Masks Recipe
Ingredients :
How To Prepare :
Take  coconut oil in a glass bowl and add chia seeds to it.
Then add raw honey and an equal amount of apple cider vinegar to the above mixture.
Mix all the ingredients together and your hair mask is ready to use.
How To Use : 
First apply it on the scalp and later with the help of finger tips spread it to the hairs.
Leave it for twenty minutes.
Rinse it away with normal water.
Shampoo and condition your hair with regular bottles.
How It Works:
All the ingredients work together to strengthen hair follicles, increase hair elasticity and repair damaged hair to facilitate hair growth.
Ingredients : 
4 tbsp SIM Organics Chia Seeds
1/2 cup Apple Cider Vinegar
How To Prepare :
Take chia seeds and soak it in water for 30minutes.
Strain the excess water and put the seeds in a bowl.
Add apple cider vinegar to the soaked seeds and mash it to create a paste.
How To Use : 
Apply it on your hair from roots to tips.
Leave it for half an hour.
Rinse off with Lukewarm water.
Then shampoo and condition your hair.
How it Works:
This is a wonderful hair mask that helps in strengthening hair follicles and brings back the luster.