Ganesha's favourite dish Kozhukattai or the Modhak is prepared specially for Ganesh Chathurthi. This sweet dish prepared from raw rice powder is both easy to make and is also very healthy.
Being steamed it is considered a best treat for adults and children, especially as a snack.
Here is a simple method to prepare the famous Kozhukattai
1. Pooranam Kozhukattai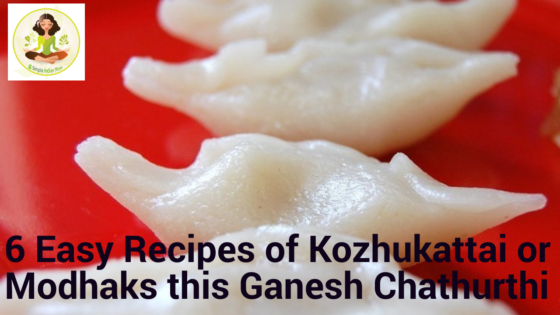 Ingredients
To make the outer covering
The outer covering is same for any type of filling, I have here explained two types of filing, you can make more types too.
Rice – 1 cup (raw rice is best)
Oil – 2 tsb
Method
Soak 1 cup raw rice in water for 2 hrs, Wash well and drain till dry.
Fan -dry the rice for some time and then make it into a fine powder in the mixer.
Strain the powder in an atta strainer so as to maintain a uniform fine powder size.
Boil 2 cups of water in a pan.
Take the rice powder in a bowl, add necessary salt and two tsp of oil then add it to boiling water little at a time and knead with a wooden spoon to make it into a pasty consistency. It should actually be a little more than your roti dough consistency but not watery.
Close the bowl for a while letting the heat to cool off and the atta to cook in the heat.
Open, cool on a big plate and knead it very well so that the dough becomes silky without any tiny lumps.
Keep the dough covered to prevent from becoming dry.
TIP- You can also use the ready made rice powder available in shops; however I would advice making it at home to maintain hygiene and to get a preservative free powder.
The Filling
Generally two types of fillings or pooranam are done namely sweet filling and a salty filling
Sweet Filling
Ingredients
Moong dhal – 1 small cup
Jaggery – one ball (it is available in the shape of ball)
Coconut – 1 (dry if possible)
Cardomom – for flavour
Method
Dry roast moong dhal in slow flame till you get that good aroma. Do not over roast it.
Let it cool for a while and then grind it coarsely.
Grate the coconut and Dry roast till the raw smell goes off.
Grate jaggery in a bowl and add all the three ingredients to it.
Mix well using a spoon. You will get a slightly sticky consistency due to jaggery.
Now your sweet pooran is ready
2. Salty Filling or the Urad Pooranam
Ingredients
urad dhal  – 1 cup
tur dhal – 1/2 cup
gram dhal – 1/4 cup(optional)
red chillies 7 nos
salt to taste
Hing a pinch
For tempering
Oil 2 tsp
Mustard
Urad dhal
Curry leaves
Method
Soak the dhals for an hour, wash drain the water and grind them coarsely adding red chillies, salt and hing (asafoetida).
Steam the ground ingredients for 15 minutes so that the dhals are cooked well. You could also microwave them.
Cool the steamed mixture, it would be in large lumps due to steaming process, crumble it and bring back to the coarse powdery consistency and keep aside.
Your salty pooran is ready.
The Final Preparation
With the outer covering and the filling ready, all you have to do now is begin the process of making your modhaks or the Kozhukattai. Generally since the sweet filling is a bit watery round (onion shaped) modhaks are made out of it. For the salty filling half moon shaped elongated modhaks are made.
Method
Take some oil in a small cup. Searing oil on your palms begin making small balls of the rice dough.
Make a small cup out of this ball so that you can place the filling into it.
Thin out the sides and Place a small amount of sweet pooran or filling into it.
Close the covering and elongate a little bit to get the modhak shape
The final modhaks would be like this
Ulunthu Pooran or urad dhal filling
For urad dhal filling make a slightly elongated shape. Close the side beginning from one end
3. Thengai Paal Kzhukattai or Coconut Milk Modhak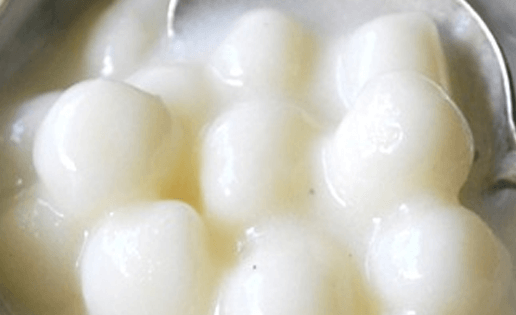 Ingredients
Rice flour- 2cups
Sugar-1 cup ( It can be reduced to 3/4 cup if one wants to reduce the sweet)
Coconut thick Milk-1 cup
2nd strained Coconut milk – 2 cups
Salt a pinch
Method
 Make a soft dough of the rice flour with required amount of water.
 Shape them out to round kozhukattais and steam them for 10 min as you do the other normal kozhukattais. (This is done to make sure the balls do not break while we immerse and boil them along with coconut milk.)
 Add a small amount of water and sugar to the second strained coconut milk and bring it boil.
 When the milk starts boiling well add the steamed balls.
 Keep them in low flame till the kollukattais are cooked.
 The kozhukattais will start floating after they cooked.
 Now add the thick milk and just wait for a boil.
 Remove from the fire and serve chilled.
4. Salty Modhak
You can use the same soft balls that have been steamed to make another version of modhaks.
Just take the steamed Modhaks and temper them with mustard, chillies and curry leaves.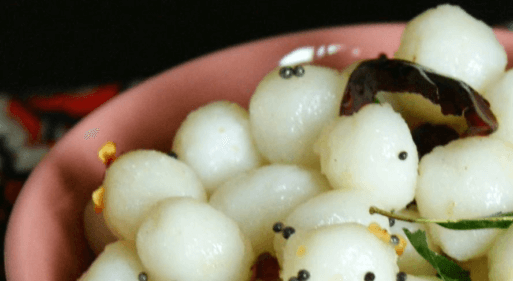 5. Ellu Kozhukottai or Till Modhak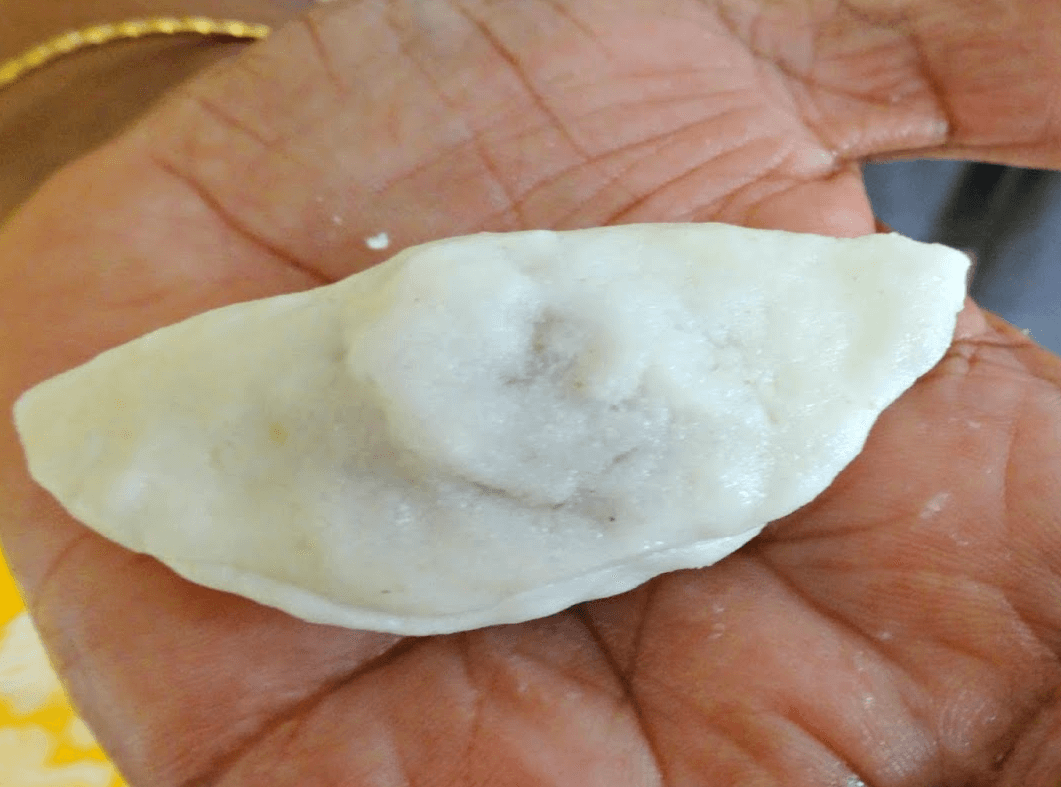 Ingredients:
For Dough
Rice flour – 2 cups
1 tbsp oil
A pinch of salt
For Filling
1 cup white sesame seeds
1 cup jaggery (powdered)
1 tbsp ghee
Method:
1. Prepare dough as you do for other modhaks or kozhukattai and keep it aside.
2. Roast sesame seeds in dry tawa.
3. Grind to a fine powder along with jaggery.
4. Add ghee and mix well.
5. Now take a small portion of dough and with greased palms, pat into a disc.
6. Put a small portion of filling in the centre.
7. Fold over the edges and make a half circle.
8. Press the edges well and steam well
6. Samai or Little Millet Kozhukattai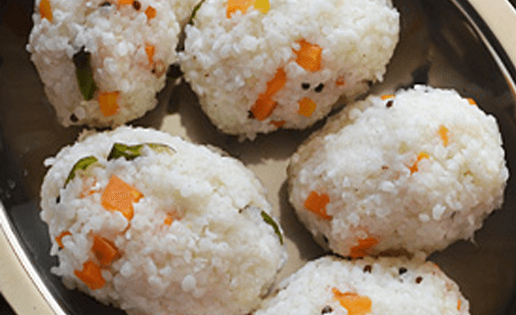 With more and more people moving towards healthy lifestyle, little millets are becoming quite popular and are almost replacing the cereals.
Samai or little millet is very easy to cook, healthy and beats every other cereal in taste too
INGREDIENTS
Samai or Little Millet – 1 cup
Toor dal – 2 tablespoon
Pepper Corns – 10
Mustard to season
Curry Leaves – few
Chana Dal – 1 teaspoon
Salt to taste
PREPARATION METHOD
Soak the little millet and toor dhal for one to two hours.
Then add them with pepper corns and run coarsely in the mixer.
Pressure cook for 3 whistles with a little more water.
Allow to get it cooled.
Temper the dough with mustard, curry leaves,chana dal, urad dal.
Add the tempered ingredients to cooked little millet.
Then steamed as small dumplings.
Serve it with chutney.
Now you are ready for the neivedyam. Wish You a very Happy Ganesh Chathurthi