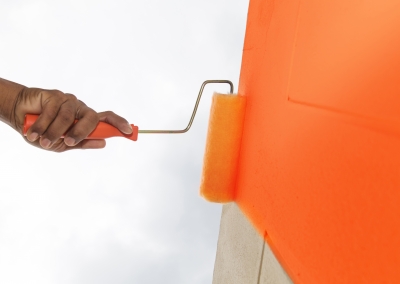 Colour have a powerful impact on our moods and also calm, stimulate, invigorate and energize each one of us. Picking out colour for one's home always leaves one confused trying to figure out which of those colors will mix harmoniously on your bedroom room wall. Colour makes a space around us cool, energetic, spacious or cozy.
Process of Colour Selection
Find Inspiration
Create a portfolio of what appeals you and take into consideration your inspiration image of whether you like a variety of colors or any particular shades.
Define the Mood
Every space in the house one would like to achieve a mood or theme for example a restful feel in the bedroom which would lay a groundwork for choosing the paint color palette.
Pay Attention to Lighting
The amount of light in a room will have a significant impact on a colour scheme as color is a reflection of light. Less day light is received in case of a room in northern exposure than other rooms in the home where a warm color palette would be effective.
Choosing Your Colours
A color wheel would help in choosing colors for your home. The color wheel consists of primary colours which are red, blue and yellow which are pure colors and cannot be created. The secondary colours can be formed when equal parts of 2 primary colors are combined such as orange,green and purple. The tertiary colors are different hues formed by a mixture of secondary and primary colors.
Creating Your Colour Scheme
With the help of color wheel there are 4 kinds of possible colour schemes.
– Monochromatic color scheme uses tone of the same color to create an effect with the addition of white or black
– Analogous scheme creates a colourful palette and uses colours that appear next to each other
– Contrast introduces more colour and energy such as yellow-orange ,green- blue
– Complementary creates a dramatic, bold and high energy color scheme.
Understand Your Fixed Elements
The fixed elements in your home include the cabinetry, flooring, wall tiles and countertopswhich automatically become part of your colour palette.
Size Matters
Consider using lighter colours when decorating a small space to make the room bigger whereas dark colours is suitable for small space.
When to Use White
White gives a crisp and clean feel and works as the perfect backdrop to everything.
Bring the Outdoors, Indoors
Incorporating nature's colours like the blue of a pool or the earthy tones would give a harmonious feel.
Mistakes while choosing an appropriate wall colour
1. Not considering light
2. Not giving the eye places to rest
3. Not considering how you actually want the room to feel
4. Getting too bright/harsh
5. Not creating a cohesive home
6. Mixing too many colours at the wrong balance
Choosing the right paint is more complicated than avoiding certain colors as blue would look as ca calm colour choice but becomes overwhelming if it is too bright. Ultimately the best paint colour is the one which you like and feels right in the room