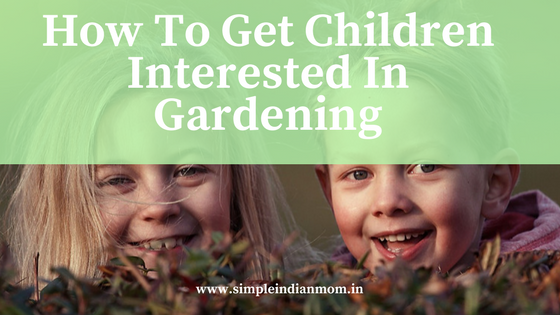 With the growth of technology we have forgotten to teach children to learn basic life lessons. Not long before there was this system of kitchen garden where the complete family used to work together growing veggies that are required by the family. Today everything seems to be a dream that had once been a lifestyle.
Well, I still remember hoeing the backyard to grow potatoes and onions as winter approached. It used to be cold back in Ooty and we would wait to get that hot cup of chocolate milk/ tea mom provided us in fixed intervals – fixed by her, probably.
But then we as children were very each other and nature. I remember the team of children running through the streets behind dragon flies- there are neither dragon flies swarming these days nor are children interested in them.
Why Is Gardening Important For Children
As an Agriculturist I feel the first thing I need to teach my kids is to grow their own food. There are a lot of advantages of actually teaching kids to garden.
Some of them are
Effective Distraction From Television and Gadgets
When you give some interesting job to kids you can easily pull them off from the ever glue-able TV. I have never let my kiddos watch TV on Sunday. In fact have never have had the need to, because we as a family make sure to bask in the sun and do some organic farming.
Know more about Nature and How To Deal With Lives
Kids need to understand the meaning and value of life and gardening is the best way to teach them that. You can teach children how important it is to leave the earth worm live and the lady bird beetle fly among crops without any extra effort.
The amount of knowledge you would be imparting is something that can never be compensated with school/formal education.
Learn Actual Growing Process
Have you noticed how children once engrossed in something try and keep it up throughout their lives?
Children make their lives based on ours (parents') and slowly you will see that they form their hobbies somewhere near your interests.
When gardening becomes a hobby – all their subjects from genetics to energy conservation is learn right there, among the plants and practically.
Builds Confidence In Children
Having a plot for him/her -self and to grow something in will make him responsible. To produce something in that little plot or some pots will make him a more self-confident person. Knowledge and self- realization improves as the child spends some time in the garden doing actual gardening.
Boosts Concentration
I know you are looking a bit quizzical here – but hey did you think about how much of concentration and dedication is needed in hoeing, planting, watering or weeding a small plot. First scheduling the work needs to be done and then it has to be prosecuted with the right equipment and then wait for the results.
Aren't these something's that will help in better character building of your kid?
Some Precautions You Need To Take
Before you let your kids out of your safe homes you need to double check of these precautions.
Keep the children covered with proper clothes.
Use mosquito repellents such as the Goodknight Fabric Roll-On. Just apply 4 dots of this 100% natural product on their clothes to keep the pesky mosquitoes at bay. It provides 8 hours of mosquito protection and it is completely safe to use on kids since it is paediatrician certified.
Use the right size gloves for kids, loose ones might make them clumsy and they will lose interest eventually.
Give kid size garden tools to them- there are many available online.
Make you plan before-hand so that you know what you and your kids are doing the day. Unplanned gardening will only let you get disinterested.
I as a routine post pictures of my kids with our harvest on social media, this not only has encouraged them to work more but also gives them the urge to do more.
Inculcate newer interests in your kids, make them versatile and prepare them for a better future!