Eco friendly has become the norm nowadays and not without a reason.
Global warming has alarmed every one of us this year, yes – the Antarctic has been damaged and a huge chunk of ice weighing some millions of kilos is slowly drifting towards the sea.
Scientists around the world are calculating on how much the sea level is going to raise and which islands are going to be seriously affected. If we do not open our eyes even now then we would never be leaving a safe earth for any future generations to come.
EcoFriendly Travel and Table Ware
We are so much concerned about the food we eat, we buy organic food, we grow organic vegetables and then we pack them in plastic ware. I have always made sure to use metal tiffin boxes to pack lunch for my kids and plates and other tableware at home.
However it becomes difficult when I have to pack for a travel, especially long travels and while I organise parties at home. I am compelled to use plastic or the thermocol table ware which though are disposable are very harmful to the environment.
The ecofriendly person in me finds it difficult to digest the food had in those plates and boxes.
Greenfare Ecofriendly Disposables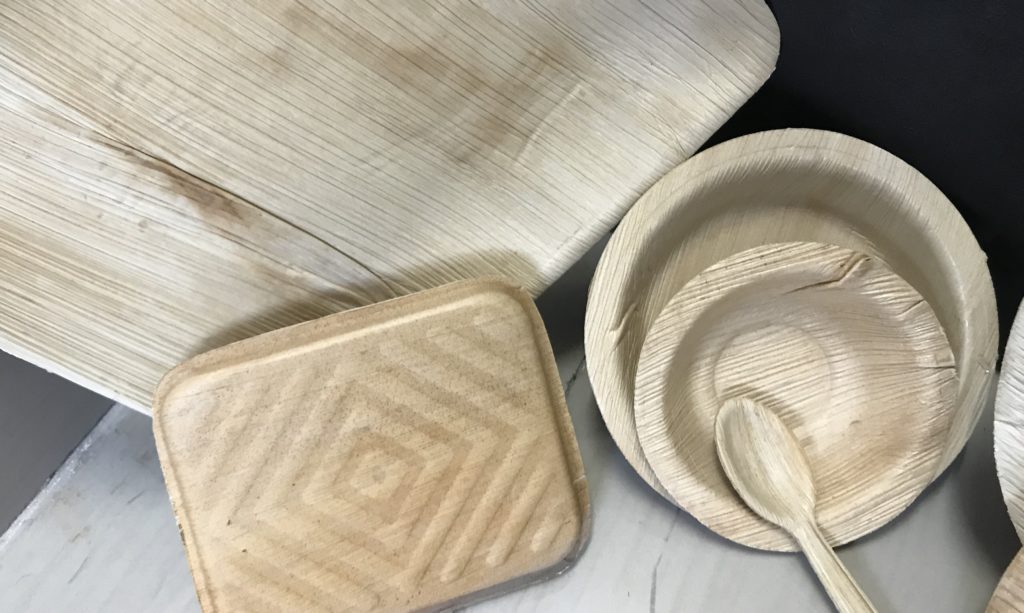 It is at this time that I came across Greenfare Ecofriendly Tableware and DIsposables. How would I exactly express my relief – really it is a relief. The wares seemed so good that left me ogling in awe.
That was the reason that I thought of trying the product so that I could share my experience wiht you all. And here dear readers is my review of Greenfare Disposables.
Made From Arecanut Leaves
While travelling from Ooty to Mettupalayam, one wouldnt miss those tall trees and their palm shaped leave (was that the reason for them to be called palm trees – smiles) so yes, you wouldnt miss them.
These arecanut trees shed their leaves naturally and these leaves are the ones collected to make Greenfare disposables.
Made from fully mature, water resistant and sturdy leaves makes the product a lot hardy and temper-proof.
I found the plates far better when compared to the thin plastic plates or the thermocol alternatives. The plates are nice and strong.
Natural And Biodegradable
These tablewares which includes Round Thali, Square Plates, Bowl, square shaped breakfast bowl, spoon and a packable food box too are 100% natural. They are not treated with any chemical ( I went through some other sources to find how the product is made, It is given shape by using heavy machines and that's it)
They are naturally water resistant and hence you do not have to worry to keep them along side your water containers while travelling.
And the best part that has brought me close to this product and in fact wants me to speak to the manufacturers to add them to my shop is their biodegradability.
If you are using trustbin or other composter at home you can easily throw these greenfare table ware into them. You are going to get great compost within a few days.
If you are interested in buying trustbin home composter you can get them here
Safe To Store And Reheat In Microwave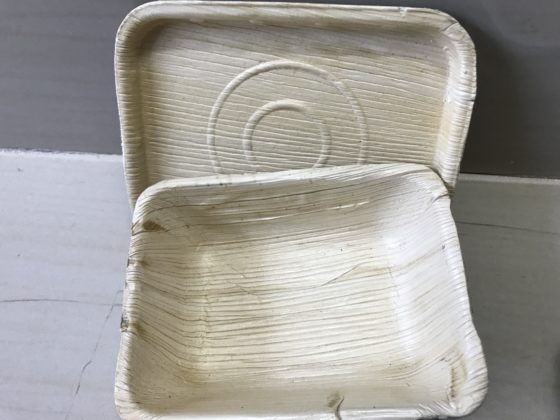 Speaking to my friends in IPTA my first description of these Greenfare Tableware was about them being microwave safe. I know you are as surprised as me but even I did not believe till I placed some food to reheat in my microwave – and ta-da – they are really microwave safe.
These sturdy disposables can be placed safely in the freezer too ( believe me I tried that too 🙂 )
The Food Box And Spoon
This is one thing I would actually buy more of this product – the disposable food box. They are not as tightly packed as a plastic box, however if you can fasten a rubber band around it I am sure there is no chance of food spilling while carrying.
The spoon is a lot better than any plastic spoon. And of course you are eating food safely from this naturally made spoon.
Some Issues That You Might Face
The tablewares are made from leaves – so I stains in some leaves are natural too. If you are a person who would feel repulsed with small stains you need to think again – not all that shines is gold and the stain in the leaf is due to environmental factors and not any disease.
Some plates may have a light crack – again as I said the process of making these plates involve pressing heavy weight on the leaves. Cracks are normal.
My Take
The price of the product is on par with plastic, however the health implications are a million times better for you and your family. I would strongly recommend Greenfare Ecofriendly Disposables.
This Review is part of IPTA Bloggers Activity