The moment we hear the words taxation it reminds us of complicated calculations, long numbers, dreadful formulae and what not. Also when someone asks you,? have you filed your tax this year?, some start panicking. It?s like someone asking if you?ve opened Pandora?s Box and you actually thing the contents in the box are much better than getting into taxation and calculations. Well! Take a deep breath and relax, for we are about to take you through simple steps that can help you file your tax making it as simple as counting two plus two.
In India if a person earns above rupees five lakh a year, then they?ll have to pay their taxes and file them electronically. There is one advantage here one can file even on the last day since you do not have to wait in queues to get the returns files. Having said that, well, there is a possibility for the internet traffic to be high if you wait till the last minute, so we recommend that you file much ahead.
Also read –Tax Saving Sections Other Than 80C
Step 1: List of Things To Keep Handy
Keep your form 16 provided by your employer, your bank statements and copy of your previous year?s return. The website that you need to log into is www.incometaxindiaefiling.gov.in.
Step 2: Log in
If you have filed last year already, you may have registered with this website. If not, then registering here is the foremost step. Mind you that after the registration you need 24 hours for this account to be activated. Normally the user if would be you PAN number.
Step 3: Cross check
Similar to form 16 is another form namely 26AS which will reflect the taxes deducted by your employer from time to time. Cross check the TDS mentioned in form 16 with the one in 26AS. This must be the same or must tally in other words.
Step 4: Choosing the ITR form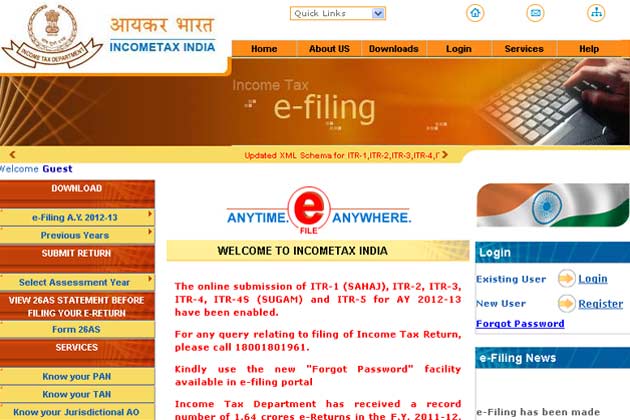 Income Tax Return (ITR) forms for various categories will be available under the download menu. Read the instructions carefully and download the required form.
Step 5: Filling the form
Once the required form is downloaded, using the form 16 given by your employer, enter the details in the respective cells.
Step 6: Calculation and Payment
There will be a calculate tax option. Click on it and it will calculate your taxes. If there is any amount to be paid, pay the amount using one of the available payment options. Once you have paid, the challan will appear. Save it for later use. Next you?ll have to fill the challan details in the return form.
Step 7: Final check
Before you click on the validate option, we recommend that you go through the entries one last time, to be sure that you have not missed or doubly entered any value. Once you are sure, click on the validate button.
Step 8: Uploading the return
On the left side of the screen, there will be an option ?Upload return?. Click on it and upload the saved file. If you have a digital signature you can use it otherwise it can be left as it is.
Step 9: Closure
After the upload a message stating the filing has been successful will be flashed on the screen. This is the final step.
As we have shown you, filing has become as easy as breathing with the online option. You can now follow our instructions and file your returns in a jiffy.