Heart and Cancer Insurance Plans – well, I did find it a little confusing when one of my friends mentioned this. Of course with all the suffering I have had to see around me these few years, I did want to know more about them.
The first thing that occurred to me was, well, don't the general term insurance plans or life insurance cover them, or even the medical insurance plans that we are all advised to take?
This is what exactly led me to dig deeper on what exactly is covered in most of the blanket insurance plans that we often opt for- especially if you were to get some sort of a disease that would require you to spend huge amounts to be cured.
Term Insurance Plans
A term insurance plan is one that most of us would already have opted for (oh don't you remember that odd uncle running behind you to get one enrolled). Although these plans seem like a great thing to leave behind to your family "if you were to die in an accident", it sure is not something to think of when you are sick and would want huge amounts of bills to be paid.
Regular Mediclaim Insurance Plans Vs Heart and Cancer Insurance Plans
So what next – let's check what the regular mediclaim plans do as heart and cancer insurance plans
Well, I did get into what's and when's of some common mediclaim insurance plans too and found some of the following being covered in a few policies.
Ambulatory patient services (outpatient care you get without being admitted to a hospital)
Emergency services
Hospitalization (such as surgery)
Maternity and newborn care (care before and after your baby is born)
Mental health and substance use disorder services, including behavioural health treatment (this includes counselling and psychotherapy)
Prescription drugs
Rehabilitative and habilitative services and devices (services and devices to help people with injuries, disabilities, or chronic conditions gain or recover mental and physical skills)
Laboratory services
Preventive and wellness services and chronic disease management
Paediatric services
So basically a mediclaim policy would limit to hospitalisation. However, diseases that seem to have become prolific these days such as cancer and heart conditions are mostly not covered.
A friend of mine was diagnosed with blood cancer, a young mom, who was very healthy and no one would have suspected of anything chronic – not cancer for sure. But she was diagnosed with it and she had to be treated for an extended period of one year.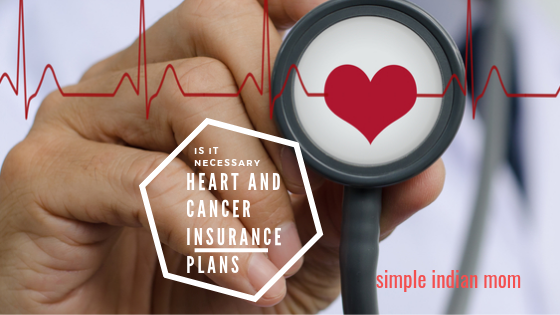 I have seen how the family suffered (even to pay bills to a government run hospital – which we consider would be the least that can be found in our country).
I calculated the cost going up till 20 to 25 lakhs. Her medical insurance was not easy to be claimed too because of the clause they had and ifs and buts the companies were asking to explain.
There was this elderly person who had to undergo an open heart surgery. He had spent quite a lot of his pension benefits (oops, with the NPC we might be losing the pension benefits too) on his regular medications and a sudden surgery meant he had to look upon someone to help. Well, there too no mediclaim insurance came in handy.
Heart and Cancer Insurance Plans
Well, you need to understand that some critical diseases such as cancer do not have any preventive vaccines or other measures.
Increase in pollutants in air, water and soil, adulteration in food and unhealthy working conditions have made life something like a roller coaster ride day in and day out.
In such a situation, a small step you can take is to make sure you have a healthy insurance plan. I sure would recommend you find out some heart and cancer insurance plans. It's a step that would make your life journey less stressful.
Is a Disease Specific Insurance Plan Needed?
When I was doing this research for writing my post, my husband asked me – how come you are getting into a negative mode?
Well, it is nothing to do about negativity, according to a 2016 study by the medical research body, India is likely to have over 17.3 lakh new cases of cancer and over 8.8 lakh deaths by 2020, as per projections by the Indian Council of Medical Research (ICMR).
Among females, breast cancer is the most common, while mouth cancer is found more among males.
The cancer survival rate in India is among the lowest in the world and this is mainly due to the fact that early diagnosis and optimal treatment is still a distant reality for majority of us. Cancer diagnosed at an early stage may not always kill but advanced medical facilities will surely burn a hole in your pocket. More so, because of the rarity of targeted cancer drugs.
The Better Equipped You Are Better Would Be Your Life
I think most of us are covered in at least one medical insurance plan and hence believe that it would support critical ailments too. However, the recent incidents and a small look up on the existing plans clearly says a big NO.
In fact, specific plans dedicated to heart and cancer insurance plans would be able to give a comprehensive cover to any kind of cost burden that might occur while under treatment for a long term. And I have found that most of these plans have very low premium.
Many of these plans do have a substitute for the income lost when a patient is under treatment.
Benefits of Heart and Cancer Insurance Plans
Unlike other mediclaim insurance policies, the heart and cancer insurance plans would cover the entire period of medication from when the disease is detected till the complete cure. You do not have to be hospitalised to get the claim. However, I would recommend you to check the following details before choosing a disease specific insurance plan.
Will the plan cover any pre-existing diseases?
When should the claim be made and what happens if you fail to make the claim within the claim period due to any illness?
When would the pay-out be made and what are the criteria attached to the same?
Would the family members be given discounts on your policy?