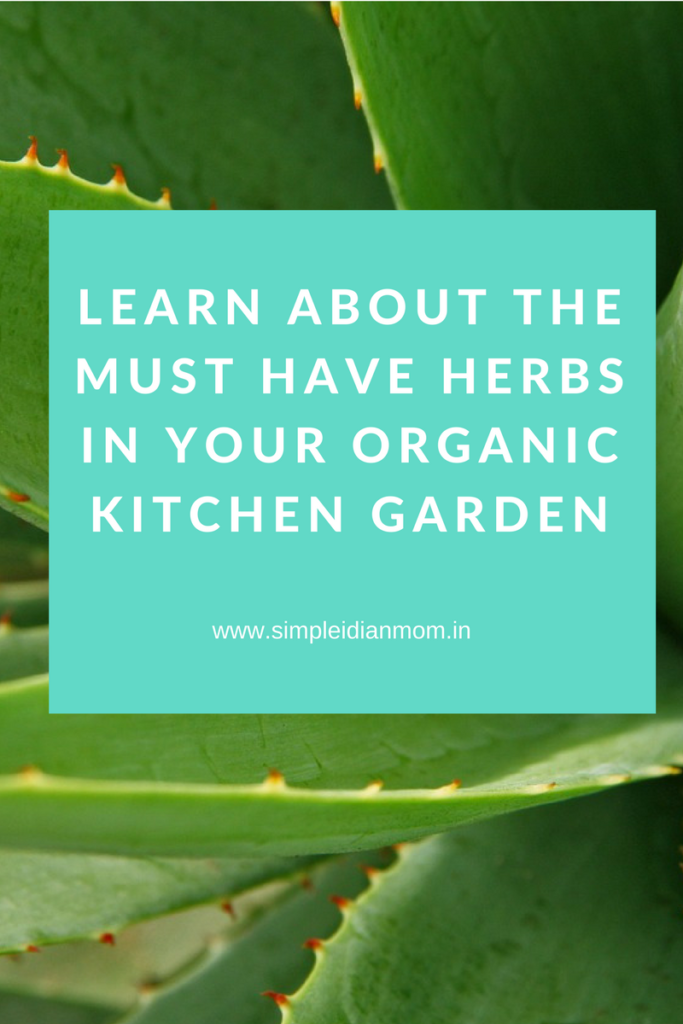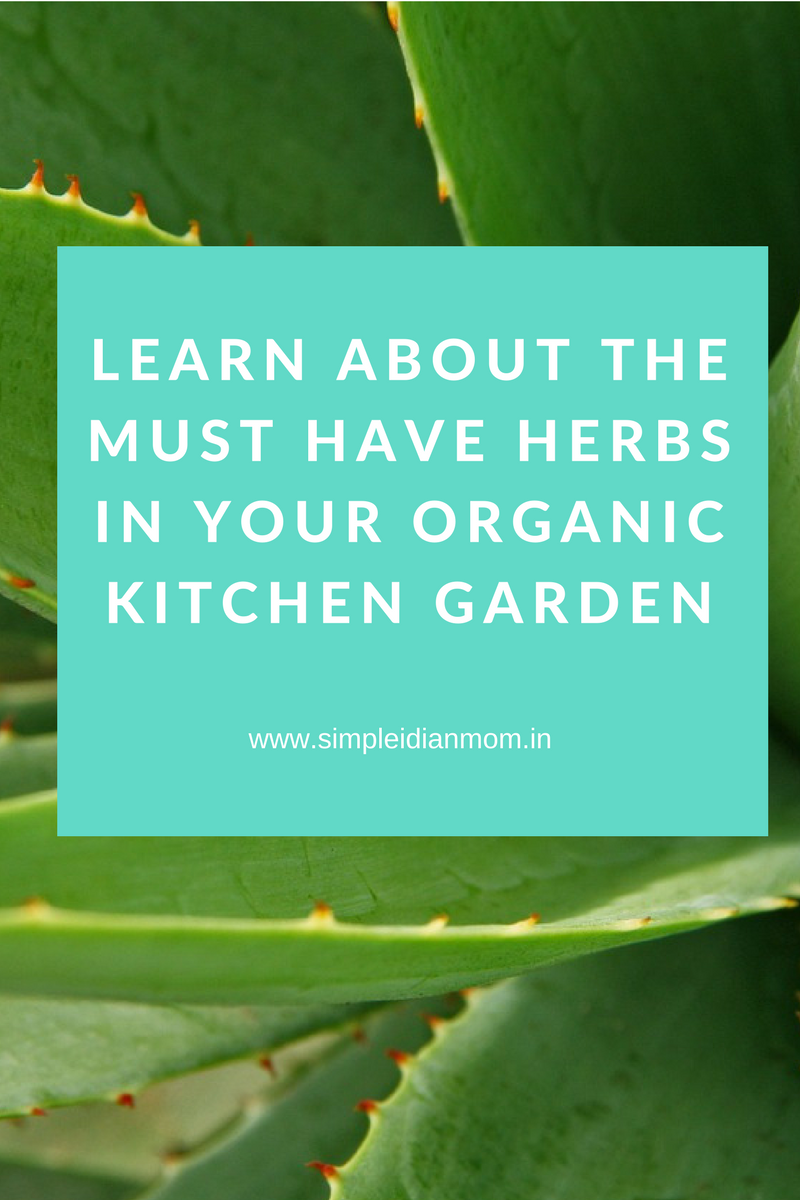 There are certain herbs that you should not be without, I would say they are must haves herbs in your organic kitchen garden.
In Indian Tradition, everything from celebrations to pooja and even your day – Begins with herbs. In fact, the early morning ritual of taking the round aroung Tulsi (Basil) plant and watching the Sun is something many cannot live without.
We even celebrate marriage of Tulsi plant (Tulsi or Basil is considered to be Maa lakshmi). That much is the importance of herbs in India.
So are you ready to know what herbs you should have in your organic kitchen garden.
Basil
Okay, so I have bragged a lot about Tulsi / Basil. Basically there are three different kinds of Tulsi varities, we call them Karum Tulasi, Nai Tulasi and Tulasi.
You would want to grow the original Tulasi in your homes, though having all the three would be recommended.
You can grow Basil/Tulsi from seeds, the plant grows almost n any environment, just show some love and you can easily have her in the washing area of your flat.
If you do not get the seeds, just break a small stalk of the plant and plant it in your pot, it will take a little longer, but the hardy plant grows well soon.
Tulsi as you must already have known has a number of medicinal properties such as anti-arthritic, topical antioxidant, anti-inflammatory, and insect repellent.  When eaten, Basil provides us healthy doses of vitamins A, K, and C, as well as magnesium, iron, potassium, and calcium.
So now you must know why our forefathers chose Tulsi to be given as prasad in the temples.
Expert Tip : Knip off the flower buds as and when they occur to induce more leaf growth.
Get seeds here

Sweet Genovese Basil Organic 100 seeds pack by Go Green
2. Coriander
I know no house runs without coriander (well, some have switched to cilantro though).
The seeds of coriander have to be broken before sowing, in fact I would recommend a brief period of soaking the broken seeds to enhance germination.
How do you break the coriander seeds?
Best is use your slippers/floaters. Hold it in your hand, spread the seeds on the ground and rub them tight and fast.You can get the seeds broken into halves. Now the broken halve is ready for germinating into a new plant.
Soak the broken seeds for a few hours and then sow them in your poly bags or earthen pots.
Make sure to sow some seeds every 15 days, this will keep your supply of coriander all the time you need it.
Coriander has very high vitamin C and is a good blood cleanser. It also has antioxidant properties and helps in reducing blood sugar levels and stress on liver and pancreas. I make sure to drink one full glass of coriander water which is prepared from coriander and jeera – boiled in water.
It not only energises, but also makes sure to detox the system. Get your seeds here
Corainder leaves seeds pack of 3
3. Mint
I can never be without mint, the aroma of mint in itself is a great alluring factor. Mint leaves can be grown in any season and any condition. Just break a small stalk of the plant and plant in your earthen pot.
It spreads well and grows giving out the minty odour to the air.
Mint is good to clear sinus congestion, soothe a headache, relax you after a hard day, or help you to stay alert without feeling wound up.  The natural oils in peppermint act as a digestive aid, help to relieve menstrual cramps.
You can use the mint leaves in all non veg preparations – of course your Biriyani will not be the same without mint leaves and also prepare welcome drink and desserts out of them.
Divya Seedsmint Culinary Imported Herb, 50 Seeds ,1 Pack
4. Lemon Grass
Lemon grass is a perennial grass and grows well in India, so once you plant this grass it is enough to let you keep harvesting for years together. The distinct aroma of lemon grass would keep you elated and de-stressed.
Lemon grass is rich in vitamin A, B complex and C. The main component of lemongrass is lemonal or citral, which has anti-fungal and antimicrobial qualities, while also providing a distinct lemony smell.
Lemongrass helps in cleansing and flushing harmful toxic wastes out of the body, as a result of its diuretic properties. Detoxification helps in better regulation of various organs of the body, including the liver and kidney, while also helping to lower the levels of uric acid. It helps in maintaining the healthy levels of triglycerides in our body and also reduces LDL cholesterol.
With lemon grass you could safely say no to the steroids used for the same. You can buy Lemon grass seeds here
Lemon Grass, 50 seeds by Seedscare ( 1 garden seeds packet )
5. Rosemary
Having a rosemary plant around is most helpful in keeping your stress levels low. The fragrance it self enhances your mood and helps in keeping you calm.
In this fast paced world and competitive work environment, it is important that you have to  have rosemary in your drawing room or your balcony where you spend some time relaxing.
The active components in rosemary are antioxidant, anti-inflammatory, and anti-carcinogenic in nature.
It also is good for stomach ailments like stomach infections and relieves pain. It is a good mouth freshner too. You also would be surprised to know that rosemary boosts the production of red blood cells in your body. It is great for many newer diseases these days caused by new viruses.
You can buy rosemary seeds here
Biocarve Herb Rosemary – Pack of 50 seeds
6. Thyme
Thyme is a good source of antioxidant vitamin A which is beneficial to eye, skin, hair, and nail health.  It  is also anti-inflammatory, antiseptic, and antibiotic.
You can make thyme-infused tea for an effective natural remedy against colds, coughs, and sore throats. Rinse your scalp with a thyme-infused rinse to treat dandruff and other scalp conditions which may cause hair loss.
You can easily blend thyme with parsely, onion, garlic and ginger.
Go Green Thyme Flower -30 Seeds
7. Brahmi – Indian Pennywort
If you don't have Brahmi at home, go get some seeds as fast as you can. There are so many benefits of Brahmi not alone for your hair, but also for your overall health.
For Hair Brahmi – Reduces hair fall, treats split ends, prevents dandruff.
How to use for hair ?
Make a paste out of fresh brahmi leaves and massage it onto your scalp. Leave it on for 15 minutes and wash it.
Make a mixture of brahmi, amla and henna powder with water into a fine paste.  Apply this mixture onto your scalp once you've had a head massage with coconut or olive oil. Leave it on for half an hour and wash well. This herbal pack is great for increasing hair growth.
See guava leaves for hair growth too.
Other Benefits
Brahmi also makes your skin healthy and fair.
Treats insomnia
treats Alzheimer
Enhances memory
GOTU KOLA (BRAHMI) LIVE PLANT
8. Aloe Vera
I am trying to keep this post short, however I really can't stop from writing about Aloe Vera.
Aloe Vera is very good for your digestive organs and soothes any difficulty in your tummy. There are so many other benefits of Aloe Vera and I am just listing them here, because I really cant write them fully here.
Has Anti aging property.
Helps to moisturize skin.
Treats Acne and lighten blemishes.
Treats sunburns and reduces Tans.
Helps to reduce strech marks
Helps hair growth
Hhelps in reducing dandruff
Is a good hair conditioner.
Aloe Vera – Plant
The list is more exhaustive, like you could grow your own curry leaves, onion, garlic, ginger, sage and so on. I shall come up with another list soon.
I am participating in #atozchallenge