Rain brings a lot of joy and memories!
I grew up among the beautiful mountains in Coonoor, rains usually was a part of almost every season, we used to have rains in summer with marble sized hailstones dropping and filling up our varandahs.
There used to be winter showers to slightly give relief from too much cold. Our springs used to have some good amount of rains too.
Rains are always special and very close to our hearts, hope its the same for you too. Tell me how you have spent your days during rain?
Well, one thing that we often do is make hot bhajjis (chilly bhajjis are popular in the hills) and pair it up with hot tea. I used to be a tea person then (changed during my college I think). Then there were these mysore bondas,onion pakodas, hot sweet suzhiyams. We children used to cuddle up around sigri (a small iron wok with coal in it) weaving stories after stories and mom would make these tasty snacks for us.
Well, none of us though had any problem with our guts! Yet now, I can hear moms telling they avoid this or avoid that for their kid because they are worried about their gut health in rainy season.
Yes! surely gut health is important, but you don't have to avoid every food, if you are mindful of how to take care of your gut, maintaining healthy gut in rainy season will be a cakewalk.
How To Maintain Healthy Gut This Rainy Season
With gut gaining importance and researches proving time and again that gut health is the major health index that you need to keep track of, gut and maintaining healthy gut has become a priority. This becomes even more important during rainy season, because rains increase humidity and also give a very conducive weather for microbes to flourish.
Rain Water washes everything from land into water bodies, which might end up enriching microbes(degrading) the food you buy such as vegetables and fish.
This is one reason why you seem to feel sick easily during monsoon.
However this is an induced condition and can easily be stopped and dealt with if you are careful and take precautions. Here are 5 ways in which you can maintain gut health during monsoon.
Start Your Day With Garlic
Garlic is a very good source of prebiotics and help and promote growth of beneficial gut bacteria while preventing the harmful ones from growing.
Keep a bottle roasted garlic handy, pick and eat one or 2 cloves in empty stomach every morning. You then do not have to worry about your gut through the day. Garlic also keeps your heart healthy by controlling bad cholesterol accumulation.
For kids you can give roasted garlic with honey or butter. Crush the roasted garlic add some honey or butter and give them, they would easily get the hang of the taste.
2. The Turmeric Shots To Maintain Gut Health
In a recent research done on the effect of turmeric and curcumin on gut microbiota, it was proved that turmeric has the ability to promote good bacteria in the gut at the same time prventing he harmful ones from growing there – basically a prebiotic
Let me tell you what a prebiotic is first – Prebiotics are ingredients that are not easily digestible and are therefore able to pass through the digestive tract into the colon to feed the microbiome there.
Turmeric is also very effective against viral infection, it acts on the points where the virus attaches to the cells in your body and makes them to move out.
How To Take Turmeric
You can make golden milk – boil half spoon of turmeric and quarter spoon of black pepper powder with a pinch of castor sugar in milk, and drink it while hot. It tastes like soup and children will get used to it. Make sure to give this golden milk every night any season.
You can also make a small shot of this same concoction with water with or without castor sugar and have it daily once or twice. give children once only.
3. Keep A Check On Water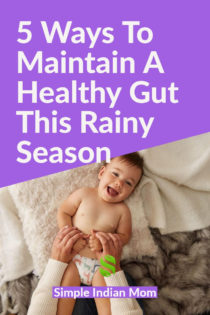 Water is the main culprit when it comes to disease spread during rainy season. Make sure to always carry your water when you are not at home.
I know it will be a repetition, but – boil the water before consuming. Try to drink at least 2 to 3 l of water every day.
Do not eat food such as gol gappa outside because the water might be laden with harmful microbes. Always wash your feet and hands when you have to return outdoors, this will keep disease causing agents at bay.
4. Make Sure To Take Probiotics To Maintain Healthy Gut In Monsoon
Probiotics are very important for your gut health. Probiotics are live microorganisms that will help you to have a healthy gut by improving digestion, fighting for space and thus removing unwanted microbes. Probiotics also have a positive effect on your heart health and mental health too (you know the gut health is directly related to many cases of depression right?)
Sources Of Probiotics
The most easily available and best source of probiotics is curd or yogurt. You can make buttermilk and take it everytime you feel thirsty too.
Idly is another source of probiotics best suited for kids especially toddlers.
Pickles especially lemon pickle is another very good source.
Other than these you can also take – kefir, Sauerkraut, Tempe, Kimchi, Miso and so on
5. Eat Cooked Food Only
During rainy season contamination on the surface of vegetables especially the green leafy vegetables is common, so its advisable to stop the salads for a few month or atleast have them blanched before consuming.
Unless you grow your own veggies, its not a good idea to intake any raw food. If you need to eat them raw, dip the vegetables in vinegar for 10 to 20 minutes and rinse with clean water and then use.
Even fruits need to be peeled of and consumed immediately. Don't let cut fruits rest on tables, they may attract bacterial growth on them. Boil milk before use.
It is very important to know that food when taken rightly is the best medicine, you just need to know how and when to eat it.
The above methods guard your gut easily making it healthy and ready with good metabolic ability. Make sure to follow them regularly.