As modern moms we keep ourselves super busy, trying to fit perfectly in every cap tossed at us – from work place to parenting, cooking to socializing. We make sure nothing is left to chance, especially when it comes to your abundant care for your children.
In this pursuit of being that super mom, most often we forget ourselves, especially where health matters!
A study reports that almost 90% of moms do not take self care as a priority nor do they prioritize their health.
Why A Self Care Regime Is Important For Moms
Mom – is the pivotal being in every household and if you fall sick, the complete home is affected. You become dependent on others to take care of your children; you no longer are able to decide upon things regarding the home, not able to check on the education or health of your children (which you seem to have always give topmost importance).
Children become emotionally weak because they are unaware of what to expect from you, it's a total mess!
What is Self Care and Why Self-Care is Important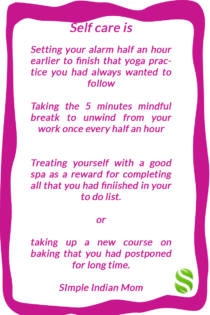 "Self-care is one's action is around our physical, emotional, relational, perhaps professional, educational, and, for some people, spiritual well-being that reflects the way that we take care of ourselves on the most fundamental levels," says Dr. Helen L Cools, Clinical Health Psychologist at University of Colorado.
Infact women, especially moms are so much self care deficient that by the time they reach their 40s their health begins to show sighs of deterioration.
Here are the reasons why a self care regime is important to you as a mom
Self-Care Makes You Healthier
The right self care for moms always begins with taking a balanced diet at the right time. This is most important thing that most of us moms lack. In fact you might be taking such large pains to feed nutritious food to your family members but when it is time for you to eat you simply brush it past.
Does this resonate with you? Mom! I hear you – we have all been there and done that, however, if you still are there – it is time to start getting into healthy food.
Once you begin taking care of yourself and your health you should see that you become more beautiful with shiny skin, you begin to better sleep and this makes you happy, also your stress reduces by half because you become strong from inside to know when and for what you need to become stressed.
Better Immune System
Exhaustion is main culprit behind sickness – says a study!
Who is more exhausted than a mom?
A well thought out and followed self -care regime will make you healthier and happier. This in itself is a great game changer for your immune system. Many diseases occur and spread when your body is not ready to fight it, this reduction in immunity is mainly because the body is so tired fighting fatigue, and exhaustion and enervation that it tends to suppress the need to fight diseases.
Self- care is the first step towards boosting your immune system and leaning towards the healthy life style you always want.
You Can Increase Productivity By Following A Good Self Care Regime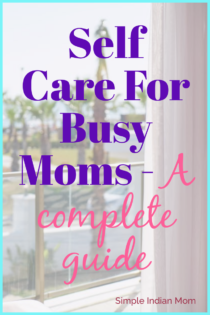 When you put yourself first, your self-esteem increases thereby giving you confidence in whatever you do. For working moms and those working from home too, organizing themselves seems an easier task since the mind is clear.
A good self care regime makes you mindful of your time and drives you to do things exactly as they were planned. Procrastination is a by-product of a confused and tired mind, with confusion being removed you sure would benefit from getting back on track.
A clear mind can give you lots of ideas to begin a work or complete one you have started.
Self Awareness Increases With Simple Self Care
When you begin taking care of yourself you slowly begin giving importance to every single detail of your body and mind. This eventually leads to the a stage where you can understand why you do things you do.
Like, why you speak in a particular manner to a particular person, why you react to heat or cold and so on.
In fact if you begin having a self care schedule things like practicing mindfulness while walking, planning your week ahead, following your schedule or even getting to spend quality time with your children will all become simple and doable.
Self awareness, especially of your mental state is very important. I have now understood speaking less makes my words far more worthy.
Self Care Regime Makes You A Positive Parent
This is the best result of self care for busy moms! Yes, with making you aware of yourselves, giving a clear picture of you and your family, seeing things as they see and getting mindfully close to your kids you become a better parent.
You begin following positive approach in your parenting rather than shouting, getting irritated or being cross with kids on simple things.
Life in not the one that is lived within 4 walls or a few homes and people surrounding, it is large, very large.
When this truth really hits you, you can see why small fights and small wins do not matter anymore.
The perspective of a larger life will change how you parent your children, you will not be bothered by their scores but with their approach towards life. Spending quality time with your children will increase slowly with you knowing that you are doing it – and doing it rightly. Isn't that exactly what you would need as a parent?
A Self Care Plan Makes You a Better Person
With a self care plan almost everything in your life covered and taken care of, you now are in a state where living a mindful life is no longer a task. Your mind is calm enough to get into a mindful state which naturally will transform you completely.
Your happiness quotient will increase, your emotional stability will improve and people around you will get that positive vibe when you are among them.
When your mind has a constant nag about a pain somewhere in the body or ill health you cannot concentrate on any better thing and this leads you to live in a plateau where all you can see is negativity and downfall.
Don't Fall Into Negativity – Start Becoming Self Aware
Its easy to get lost, convincing yourself that 'this is it and I am going to be living the remaining life like this' or 'I can change this phase into the one I want to". The call is yours to take. If you know exactly what self care activities you would want to indulge in , you not only take care of yourself physically but also make a better connect with the inner you.
Most moms face the problem of not being understood, helped enough or not being well treated in their in laws place – a common condition seen in majority of Indian moms' woes. However, waiting for others acceptance and letting others rule your happiness will reduce with a good self care regime. You will learn that others do not matter much and you simply can find happiness within you.
You Will Become A Giver
When your bucket is full, you can pour freely to others – especially your children. You do not have to be cribbing or angry mom anymore, you will become a mom who gives positive feelings and happiness to kids abundantly. You will be a mom who is organised, self disciplined , healthy and happy – a combination every mom dreams of, by following simple self care tips.
The exhausted grumpy mom is one who brings the total energy of the family down, you would no more be that – you will rather be an energized mom.
10 Self Care Activities For Busy Moms Plus A Free Scheduler
So here are 10 steps of my self care activities to make you that super charged energized mom – here is a downloadable scheduler for you so that you will not miss out on your self care schedule
Get Organised  – Begin with your to do list, it can be a journal or an app. I personally follow google keep – makes it easy to track on every device I use. Make small attainable goals and then finish them on time. Planning ahead reduces half of the burden of the total work to be done, so first plan, schedule and follow.
Practice Mindfulness – I cannot say enough on how much mindfulness is helpful to steer your emotions and health in the right path. Start your day meditating as soon you get up, practice it everyday and then it will become a part of your daily self care routine.
Practice Gratitude – Practicing gratitude has multitude positive effects on your mental health, productivity, happiness and also your social behavior. Start a simple gratitude journal today.
Wake Up Early – That extra time for yourself is the best self care you can give yourself, so start getting up early and completing your morning task so that you will begin your day with a positive note.
Have a Strict Exercise Regime – A self care regime is nothing if you do not include some kind of exercise in it. 30 minutes to 1 hour of exercise is necessary to keep you fit and healthy. Any fitness routine like yoga, walking, jogging etc will do.
Learn to Take Power Naps – A 10 minute power nap will do wonders to your health and awareness throughout the day, include power nap in your self care schedule without fail.
Spend Quality Time With Your Spouse and Children – Work will always be there, let it be, you just concentrate on spending quality time with your children and spouse. Time spent together is remembered longer than money spent. Do not use gadgets in that stipulated time, be there completely and teach the same to your kids.
Drink Lots Of Water – Keeps your self well hydrated, it makes your healthy and beautiful.
Make a Priority List – In the process of being organised and doing your work you might get overwhelmed and go out of course, just keep a handy list of priorities – for the week or month and try to keep your focus on achieving that in the long run. This way you will not move totally away from what you really want.
Read – Make sure to read more, this not only relaxes you but also makes you a better communicator, thereby keeping you grounded when you need to express anything.
Print This Free Self-Care For Busy Moms Checklist.
This post comes with a free printable checklist to help with prioritize taking care of YOU. I always have the hardest time remembering these ideas. This printable simplifies it!
Here is a sneak preview!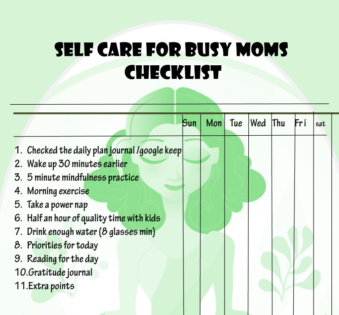 Download Your Free Printable
Download the checklist. You'll get the printable, plus join my weekly newsletter! Just click here to download and subscribe.
Print. Any paper will do the trick, but card stock would be ideal.
Place it on your refrigerator. Check things off as you go and don't forget a thing!
How To Make Time For Yourself As A Working Mom
In India, working mom means moms who work in an office along with all that they need to do as a full time mom. You are expected to think your career as something extra along with your duties as a mom.
Well, times will change, however since we are where we are now, it is always better to make sure you do not wear out in the process of performing your obligations to your family. A good self care plans comes in handy for working moms – especially if you follow the self care activities regularly with commitment.
Here are 15 self care activities for working moms which can make your life happy and meaningful.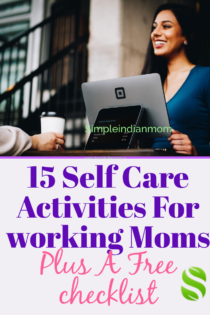 NURTURE YOUR SUPPORT SYSTEM – When you are a working mom, you need support not only for doing your daily chores but also to get emotional support since you have to manage living in two different worlds at one time. To get that emotional support find like minded dependable friends who do not judge you. Sharing and caring each other is actually self care definition.
IDENTIFY AND PROCESS EMOTIONS – Emotions have a very deep effect on your physical and mental health. If you know exactly what you feel and how you come to feel the way they are, half of your self care plan is done. Identify emotions and learn to accept them, slowly you will begin to overcome expectations from others which cause irritations and anger.
LEARN TO SAY NO! – You do not have to be the soaking sponge of your home, taking up every burden that comes in your way. Simply learn to say NO. It might be difficult in the beginning, but in the long run you will love yourselves for having taken this step.
CREATE BOUNDARIES – Yes, moms are the central pillars of every house, but do not forget that the pillar needs to be strong to hold the home together. If you need to strong make sure to create boundaries that limit others from expecting too much from you. Boundaries n fact give you that me time which you require the most. If you follow strict self care regime you will be astonished at the time you get to spend for yourself.
FIND SOLITUDE – A me time is the best thing you can do help yourselves refresh. Try to always have a small time where you can enjoy solitude. It may be a time spent well in the garden or having coffee or even some time walking alone.
PRACTICE MINDFULNESS – I cannot say how much mindfulness helps you in your self care regime, be it a early morning mindfulness practice or a 5 minute mindfulness break while in office. You can practice mindfulness while walking or before going to sleep.This helps you to plan your day better, keep yourself calm and give you the much required emotional balance.
GO TO THE SPA – When you feel really wrung out taking a self care session in a spa is the best way to unwind and relax. This not only helps you give better sleep but also increases your skin texture, which releases happy hormones within you.
DO SOMETHING FUN – If you wan to reap the benefits of self care for moms you need to be impulsive sometimes and do something spontaneous and fun. have you thought of going on a bike ride, joining some game or dance class or have you helped your kid make sand castle, try these and you sure will feel better.
CREATE A MORNING ROUTINE THAT WORKS – A morning routine is one thing that makes you want to look up to the coming day and how to spend it. Following a morning routines keeps you energised through the day. You can include mindfulness practice, exercise, plan your day in your planner or journal and so on.
READ A BOOK – Have you bought the 5 AM Club by Robin Sharma, this is my latest favourite because of the value it provides me to my outlook towards life and my career. This will be same for you too. if you are a more spiritual person you will like Life's Amazing Secrets: How to Find Balance and Purpose in Your Life  by Gaur Gopal Das. Reading books gives a soothing effect to your brain cushioning feelings and spreading warmth.
GROW A GARDEN – Research has proved that plants help in secretion of serotonin the happy hormone, dopamine the hormone which helps to keep your memory healthy and oxytocin the trust hormone. This you get free of cost by just tending to plants or simply sitting among them. Indoor plants have this effect within your homes too. Begin growing plants even in the smallest of the place you get. You not only benefit self care but also spread love to your family.
PRACTICE GRATITUDE – Practicing gratitude, maintaining a gratitude journal and thanking regularly has been proved to be the most positive thing one can do for themselves. Gratitude makes you a more understanding, compassionate, helpful, and kind person.A quality you would want to instill in your children too.
BREAK AWAY FROM NEGATIVITY – Negative feelings and negative thoughts not only brings in an emotional block within you but also is transpired to your near and dear ones. The first plan for self care is to keep you and those around you happy. Remove negativity by practicing negativity removing activities and journaling gratitude.
PLAN A VACATION – Moving away from the hectic routines gives immense pleasure and cleanses you of any kind of negativity you might harbour. Vacation is thus a very simple self care activity which you should plan once or twice every year.
DO NOTHING – This might sound weird but sometimes doing nothing helps clean away the tired and sulking feeling you might have due to too much of work. Plan to have such times once in a fortnight. You can plan to watch a movie snuggled up in your bed or lie down under the stars and watch the sky. Such nothingness makes you feel better.
5 Self Care Quotes For Busy Moms
Who doesn't love self care mom quotes, well we at SIM actually do – here are 5 self care quotes for moms you would love too.
1.Health is like money, we never know the true value until we lose it  – josh billings.

2. dear mom , an empty tank will take you nowhere, take time to refuel.

3. self care means giving yourself permission to  pause – cecilia tran

4.don't ever feel guilty of doing what is best for yourself

5. self care is different for everyone. you don't have to be vegan eating, yoga doing, meditation practicing, buddhist. self care is simply making time to do things that make your soul shine, whatever things those are – dominee.
Life sometimes seems to stop running, turn back and see what you have been doing and if you are on the right path. Every mom should take time for self – assessment and become aware of what the real meaning of this life is and what she actually needs, this surely will happen when you begin your self care regime. Start today and follow strictly!
Summary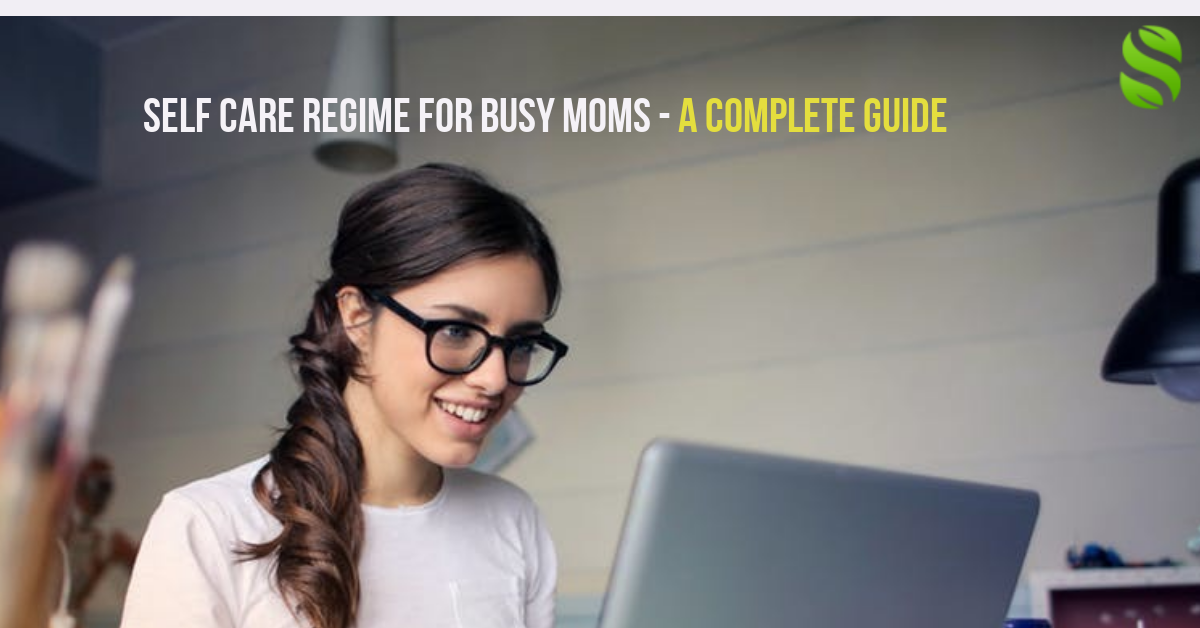 Article Name
Self Care Regime For Busy Moms - A Complete Guide
Description
A good self care regime for busy moms is the most important part of keeping moms healthy, rejuvenated and emotionally stable. Moms need to plan right self care activities so that not only they have time to take care of themselves but also spread positivity all along #SelfCare #selfcareformoms #SelfCarePlan #SelfCare Regime #MomSelfCare
Author