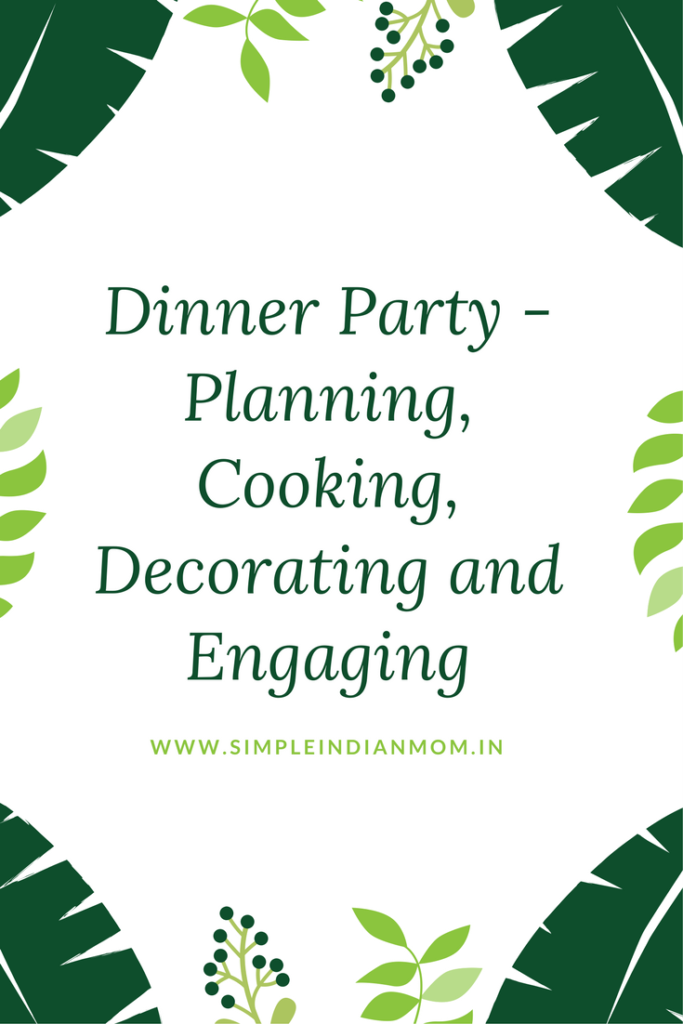 Arranging a dinner party is a great way of getting together, however the responsibility of the first three parts, namely planning, cooking and decorating the house and dining place rests on you.
If you were inviting four to five families together then all this becomes even more difficult.
Plan First
The best way to begin planning your dinner party is to sit with your husband with a pen and paper in your hand. Begin writing down the number of guests you are inviting. Part them adults and children and vegetarians and non-vegetarians.
Now begin with the starter drink for women, men and children separately. If you were planning a mock tail, it would be best to serve it as the welcoming drink. Write them down with specificities of what to give the children.
Next would be the starters, it would be better to always to prepare veg and non-veg dishes differently. You should not be making mutton cutlet and veg cutlet in similar shapes. In fact it would be perfect if you were not preparing same dish with different ingredients. You could make mutton cutlet and paneer chilly or something similar to this.
Then would be the main dish, it would be good to have more of starters and lesser main dishes. I would recommend having a roti or nan and two different types of biryanis for veg and non-veg and two gravies for each of the with some salad and raita.
Finally plan the dessert
You also have to plan for food with lesser chilly for children and some games to keep the couples and children entertained.
Collecting Ingredients
The first thing after that is buying the ingredients to cook your gourmet, list down things you need and get someone go to the market to buy them. Try to make cooking as easy as possible. You get a number of readymade masalas.
You also get cooked food such as chicken darbari, chicken chettinad and Murg Methi and so on.
Now begin with planning where to seat the guests as they enter, how to serve drinks and where to serve the food. With this done you can get someone to put things in place at these places and begin tidying up and decorating the house.
Cooking
If you have invited guests at 9 'o' clock begin cooking from 4.30 onwards. prepare the desert first, then the main dish and finally prepare everything for the starter leaving the frying part alone for the last moment after the guests' arrival.
You can buy ready made deserts such as Jodhpuri Moong Dal Halwa
For the main dish you can make the dough ready for the nan and then begin preparing biryanis, for best outcome use Hyderabadi Chicken Biryani Mix and vegetable biryani mix from kitchens of India.
You also get ready made packes of side dishes such as Mugalai paneer
All these would help you in reducing your cooking time. Finally prepare the masalas for starters and keep them aside. You can then begin getting ready.
When the guests arrive you can serve starting from the drinks till the desert. well the party would be a hit no doubt!
You might be interested in making your own sambar powder
How to Make Sambar Powder at Home ? Masala Mummy