If you are a blogger you would surely know the feeling of sitting in front of your laptop with just nothing to write – No Blog Post Ideas.
You know the post has to be done and your readers would quite expect to hear from you and yet you just sit idle. It is one of those days when you would really want to
HIT THE WALL STRAIGHT ON
And turn to god with 'kuch tho de de ' look on your face.
Sometimes you just do not get the right topic to write on, or the topics just seems so irrelevant and boring.
Well, today was one such day when some of our friends were discussing about topic ideas.
When such situation arises many stop posting, some however have a strict discipline of posting days and hence would want to post something. This at times does a lot of harm than good to your Blog.
One thing that always hurts your blog is unrelated posts, when you decide that your blog is your brand, you need to make sure you brand it well.
Today I decided to make a post that would be useful to me and my blogger friends in the long run.
Yes here are some ideas I had jotted down for times when the mind goes haywire and I still needed a post to be up.
5 Broad Blog Post Ideas For A Mind Map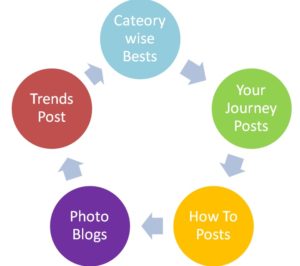 Category Wise Bests
This is by far the most useful post topics you should opt in when you are completely bored. just go through your earlier posts in each category, choose your favorite ones, wrap them into a list.
You need to write only a small one liner, you have pictures already saved in your gallery. You also don't have to search for words, just a cut and paste would do. (no copyright issues here)
This is the best way to give internal linking as well as earn some great on-site time for your readers.
NDTV Food always does this, they often post list that link to the actual recipe pages, so you mostly have to linger around to check on the recipes one after other – so lesser bounce rate.
You are a food blogger, you can write on the following topics
5 awesome desserts you would love to try

3 spicy Andhra recipes

10 soups you should not miss

Your Menu plan for a dinner party

5 recipes using xxx ingredient
and so on
You are a health blogger
10 Important Health Tips this month

7 New health drinks that you would love

4 Child Health Issues You Should Not Ignore

5 Popular posts in my blog people loved

10 pictures that were shared the most
and so on
Every blogger will have such easy and favorite posts, you can just wrap them, post easily and enjoy the extra benefit too.
2. Your Journey Posts
By far this can be one evergreen post you can write in any niche.
My journey in parenting

My journey as a blogger

How I found the passion in making crafts

Did I discover the photographer in me or vice versa

When Hell fell loose and how I recovered
This again is much like a wrap post – you would basically be telling the world how you reached the position you are in.
You can include your first posts, popular posts, how you wrote them
, How you felt while writing them and so on.
Since this is your journey you basically do not need any referring to do.
3. How To Posts
These again are some easy tips and tricks to make you write faster and post regularly.
You can write anything in your niche –
How to write an Instant Poetry

How to make a dinner when you are super bored

How to enjoy your vacation

How to create space for children

How to manage time
How to's are an all time favorite of mine. I can write them instantly and without any break.
4. Photo Blogs
In this gadget rich yug you sure are not going to have any scarcity of photos stored in your phone gallery. If you are a camera freak, even better you must have thousands of pics that lay there unused.
If it were a place you travelled, write about the travel according to your niche, Kreativemommy recently did one of these.
The motivation I got from my travel to XXX place

My Village travel

10beautiful places to visit in xxx

how people of xxx behaved
5. Trends Post
If you want to get more views and you are bored to core, here is the way to hit the day with the largest number of visitors. Check google trends, latest news, turn in around to suit your niche.
I did the Oscar post and Malala Post which got a lot of accolades to me on that day. These posts though are not too great as long timers they serve the purpose for the day.
Remember you need to write these posts as quickly as possible because they would be trending only for the day. You can take hints form twitter trends, facebook or even your news channels.
Today Virats score is trending, you could write
How hard work and Determination worked for Virat

Why Anushka was trolled durng his last loss

10 Things to know about Virat

Will you love a biopic on Virat

Why I like Virat more than Dhoni
When it comes to blogging all that is needed is just that trick of changing things according to how your blog as a brand requires.
When you know that you just would write on the go.
SO! if worlds craziest road rules is trending today, how would you make it effectively reflect in your blog yet stick to you niche?
I am taking part in the ultimate blogging challenge with blogchatter