Scars, especially on your face, sometimes seem to take all your attention when you look into the mirror. They are likely to distract you and make you feel embarrassed too. Although getting rid of these scar marks seems to be a huge challenge it is not impossible.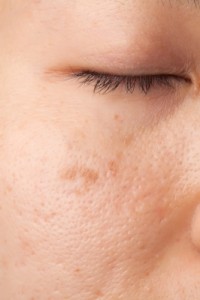 I once remember a dermatologist comparing skin to a white sheet of paper, he would say that once the paper is blotted, any number of rubbing would not be able to bring it back to the white paper it was earlier. The same principle applies to our skin, however owing to the living nature, the skin can be rejuvenated and scars removed if proper and regular care is taken,
It depends on the products used and the texture of the skin. There are few things to do it regularly to get rid of scar marks:
Shea Butter
When used regularly, Shea butter helps in reducing the scar marks very effectively. You can use the butter as such regularly or mix a few drops of lemon juice to it for added effects. Added benefits are also got by adding a capsule of vitamin E to shea butter and applying it one the scar.
Cocoa Butter
Take equal amounts of vitamin E oil and cocoa butter and apply over the marks to fade it away. Cocoa butter smoothens your skin and makes the general texture of your skin better.
Lemon with Potato Juice
Lemons are a natural source of Alpha Hydroxy Acids (AHA) which plays great role in removing dead skins as well as bringing back elasticity to your skin and also being about growth of new cells.
Usage
Clean the area surrounding scar.
Soak a cotton ball in a teaspoon of lemon juice and potato juice mixture.
Apply it thoroughly on the scarred area.
Let it for 10 minutes and wash off with luke warm water.
Tomato Juice
Tomato juice works best for those whose skin is oily. Its astringent property works on the oil producing glands and thus reduces the production of oil.
Usage
Make a paste of tomato.
Apply on the scar in circular motions.
Let it stay for ten minutes and then wash with cool water.
Do follow single method regularly to fade away the scar/mark. Never mix two methods together as this will not give the optimum results.