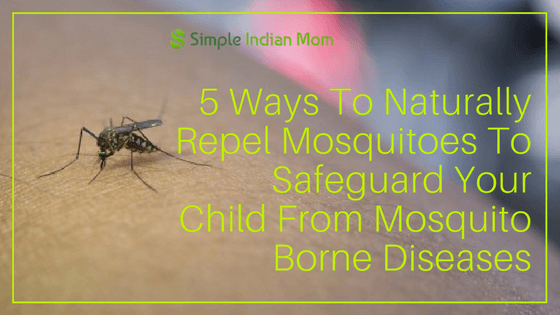 Did you know that Native Americans used different types of plant extracts combined with animal fats to repel insects like mosquitoes?
Mosquitoes have always remained a serious threat as they cause a lot of diseases. Sometimes, the sickness even leads to death. Illnesses that could arise from mosquito bites include malaria, dengue, yellow fever, Japanese elephantiasis, West Nile virus, etc.
5 Ways To Naturally Get Rid Of Mosquitoes
There are so many ways to keep the mosquitoes at bay. To get rid of mosquitoes, you need to address the problem at the environmental level. Here are some natural ways to keep the mosquitoes away.
'No' to Stagnant Water
Make sure to get rid of standing water anywhere in the neighborhood. Standing water might be anywhere – the lawn of your house, flower pots, or even in a toy or can kept outside. Likewise, ponds and kid's swimming pools are also some places that attract the mosquitoes. Make sure to drain water whenever you notice it. If swimming pools are chlorinated, then there is no need to worry about them.
Grow Mosquito-Repellent Plants
Plants are natural repellents. Growing herbs like citronella, tulsi, mint, lemon and neem trees in your garden might repel the mosquitoes in a natural way. But these plants release the repellents only when they are harmed. Hence, make sure to rough them up in a periodical manner. You can also use mosquito repellents like Goodknight Fabric Roll-On which is made from natural ingredients like citronella and eucalyptus oil. Just 4 dots of the product on one's clothes & mosquitoes will never be around!
Mosquito Nets
Other than keeping the doors and windows closed, also make sure to use mosquito nets to keep you safe from mosquitoes at night. Installation of insect screens at home is also a good option.
Engage a Pro
It is important to engage a professional to inspect for hidden spots which might become a breeding place for the mosquitoes.
Dengue and other flus are often spreading across the country and it is very important to use natural mosquito repellents which can help keep you safe. We have come up with some home remedies for you.
Follow Home Remedies
Common Salt:
Dissolve common salt in water and use it as a spray at home to keep mosquitoes at bay.
Neem Oil:
Neem Oil is an effective repellent and is also skin-friendly. When mixed in equal proportions with coconut oil and applied to the skin, the smell repels the mosquitoes.
Camphor:
Pure Camphor is made from a tree extract and is considered to be one of the most effective mosquito repellents. Light camphor at your home, close windows and doors and allow it to burn for 10 minutes. Now the home is mosquito free.
Lemon Oil and Eucalyptus:
A combination of Lemon Oil and Eucalyptus is a very natural and effective mosquito repellent.
Garlic:
By crushing and boiling Garlic pods in water, they can be used as a spray to kill mosquitoes.
Mint:
Mint Oil can be applied on the body or used as a vaporizer to repel mosquitoes.
Lavender:
Use Lavender Oil just like the Mint oil to repel mosquitoes.
Citronella:
Citronella oil is widely used by people all around the world to get rid of mosquitoes.
Take Care of the Clothing You Wear:
Make sure that you wear light clothes especially, after dusk and early in the morning (active time of mosquitoes). Dark clothes would attract mosquitoes – beware.
Conclusion
Many mosquito repellents have chemicals in them that get rid of mosquitoes however they also affect our health. Hence, it is important to try out the natural and safe ways of repelling/ killing mosquitoes and be healthy.