Zimbabwe is located in southern Africa having the most diverse wildlife and amazing landscape. Victoria Falls on the Zambezi River falls at a 108m drop into a narrow stream into Batoka Gorge which is popular for white water rafting and bungee jumping. All major currencies are accepted here and the locals speak in English, Shona and Ndebele. This place has numerous things to offer and leaves you with a lifetime memorable experience.
Victoria Falls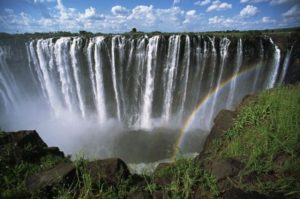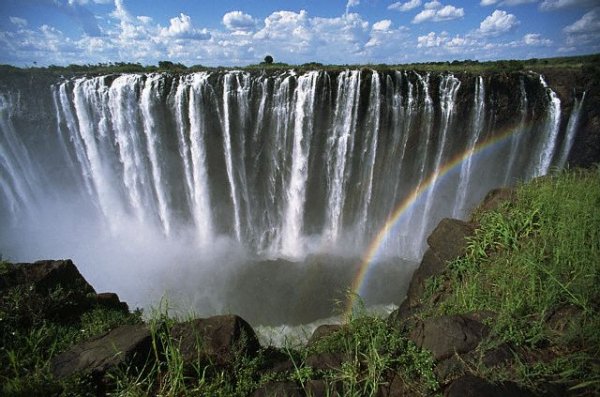 It is named after a well known explorer David Livingstone, this falls is a must to see and it attracts many tourists from all over the world. Best time to visit is during the month of July and August. Apart from the view, you can even try the Flight of the Angels which is a popular activity where you can take a helicopter ride over the falls and also indulge in Bungee jumping.
Adventurous Activities
Zimbabwe has many things to offer to its adventurous tourist. You can indulge in white water rafting down the Zambezi River just below the majestic Victoria falls and will be accompanied by a experienced guide. You can also experience catching a fighting tiger fish in the lower Zambezi River .The best time for fishing is in September to November and can choose the equipped camps near the banks.
Hwange National Park
It is the largest game reserve in Zimbabwe, especially elephants. It covers an area more than 14600 square kilometers and has 107 species of animals and more than 400 species of birds. It offers different types of safaris, giving you an opportunity to explore the large park which has many numbers of games including Big Five, taking a ride on horseback viewing different animal trails and all kind of wild life. One kind of safari you can indulge is photographic safaris.
Explore Great Zimbabwe Ruins
The great Zimbabwe Ruins is a historical site, built during the 11th century, is located close to the town of Masvingo in the Central areas of Zimbabwe. There are stone buildings and the name "Zimbabwe" came from the stone structure of Great Zimbabwe and became a World Heritage Site in 1986.They have various impressive stone structures which was all build during the ancient Kingdom of Munumatapa.
Houseboat on Lake Kariba
Any tourist who visits Zimbabwe must try this unique experience, spending days on a houseboat, parking every night at different spots to view the game in the Matusadona National Park, even allowed to get close to the wild life. You can enjoy fishing all day long.
Mutare Town
In this town, you can see art gallery, the Mzililkazi art and craft centers and buy souvenirs to take home. Other attractions here are the Rhodes museum, Aloe garden, Vumba garden and Chimanimani national park and nature reserve.
Other main attractions of Zimbabwe are the Matopos National Park, Mana Polo, Bulawayo, Chinhoyi caves and much more. Also must try the traditional food "Sadza" it's like a thickened porridge which can be rolled into ball and dipped into meat, sauce and gravy.