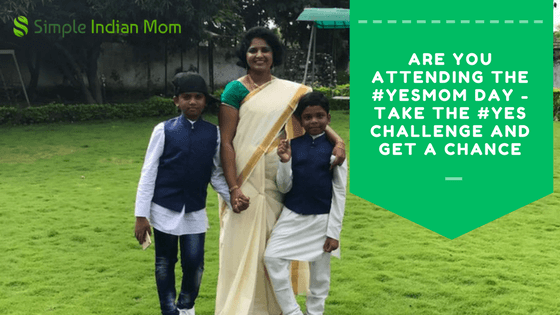 Parenting is an art that needs the mom (parent) to be patient and mindful of what you say and what you do. Parenting is also the science of approaching and analysing your child's state of mind systematically and logically and find a solution so that your reaction is taken positively by your child. Thus, this art and science of growing your child requires a lot of skill and that comes from knowing what exactly you are doing and also, not being afraid to learn and try new things.
The #YesMom – Traditional Parenting Vs. Modern Parenting
How many times did your mom stop you from playing on the ground, muddying your clothes? Well, if you ask me the same question I would immediately say "Never"! I think you would say so too.
So why are we stopping our kids from going to a crowded park or even sending that little bottle of chemicals that is meant to keep our children's hands clean from microbes?
Recently, I came across the video
Did you see how restricting your children due to fear of infections affects their overall social behaviour? It also brings about depression and anxiety in children.
I loved this concept of becoming a '#YESMOM' Oh yes- positive parenting begins with a Yes!
Are You A #YesMom?
So, do you consider yourself a #YesMom? Just take the following test and let's find out…
Do you allow your child to play in mud and dirt?
Do you allow your child to enjoy the happiness of getting drenched in rain?
Do you allow your child to enjoy different foods from outside?
Do you allow your child to walk on dewy grass in the early hours of winter days?
Do you allow your child to play Holi, Diwali or Bhogi without worrying about him/her getting a dust allergy?
Every yes to the above questions gets 10 points each and No gets 0 points
If you get above 30 Points you are a moderately Positive Parent.
Join The #YesChallenge With Mandira Bedi
The #YesChallenge is a step towards positive parenting which has been started by ActivKids Immuno Boosters by Cipla. By joining the #YesChallenge and the #YesMom group you would be introduced to a world of new age parenting.
ActivKids Immuno Boosters by Cipla is also hosting #YesMom Day where celeb mom Mandira Bedi will share her personal experience about parenting, her child's eating habits, her worries as a mother, and how she is overcoming them. There would also be a nutritionist, paediatrician and psychologist at the event who would discuss important issues such as nutrition and immunity, how the word "No" impacts your child's development.
The event will be a great insight for mothers into the nuances of parenting and will also highlight why building immunity for kids is important as well as ways to ensuring 100 % RDA for a child's balanced diet.
The nutritionist will also add her valuable knowledge on why RDA and immunity through food has significant impact on the child's growth.

The pediatrician will share experience around how low immunity can affect a child's health for life, the illnesses children can contract due to low immunity level and its severe impact on their health – physically and mentally.
These are questions, I know, every mother wants answers to – which makes the #YesMom Day something all mothers should aim to attend.
Also you will get to be part of the exclusive launch of the brand ActivKids Immuno Boosters – an immunity supplement for kids. It comes a unique choco-bite format that helps build immunity in kids.
I am personally very excited about this brand as it makes the entire exercise of giving the right nutrition to kids so much easier.
As a mom, I sure would look forward to hearing Mandira Bedi's experience with her children and how she transformed from 'No Mom' to a 'Yes Mom' and the results that she has experienced both for herself as well as for her kids.
It would be interesting to listen and contribute to individual experiences of parenting, which would mean that you are open to varied techniques of parenting and will generally give an idea of most of the things to expect – right from health symptoms to food habits.
The psychologist on the panel is an excellent addition, because we would be briefed with what exactly goes on in the minds of our kids. In fact in the recent past we keep speaking of being mindful of our speech and a psychiatrists insight on this would be of value you would want to carry from the event.  All this and much more exciting stuff on the #YesMom day.
So, are you ready to take the #YesChallenge?
Would you be that positive mom who is ready to build the immunity of your child from within and fight the common demon – The word No?
Share your #YesChallenge story with me. Register now: Let's meet at the event.