Belize is situated on the eastern coast of Central America with a shoreline of the Caribbean Sea. This place is known for its beaches, scuba diving, Belize Barrier Reef, fishing, jungles and many more.
Great Blue Hole
Located in the Lighthouse Reef Atoll is one of the UNESCO World Heritage sites which is full of calcium deposits resembling icicles and coral fringe which was developed and settled in steps developing series of offshore platforms for coral growth. It is also the world?s unique scuba diving site. It was formed almost 10,000 years ago and it is 1000 ft reef and 412 feet deep and has amazing marine life which attracts divers to this site.
Hol Chan Marine Reserves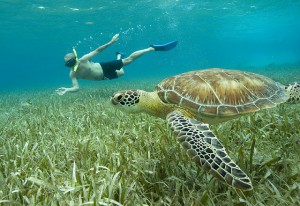 Hol Chan Marine Reserve is the oldest reserve in Belize located at the southern edge of Ambergris Caye. It is also referred as Little Channel which has a lot of coral filled gap; it covers almost 3 sq miles and is home for stingrays, eels and sharks and other aquatic creatures. The reserve is divided into four parts the mangroves, the reef, the sea grass beds and also the Shark Ray Alley. This spot has attracted scuba divers and snorkelers due to its diverse attractions and the clear crystal water.
Cayo District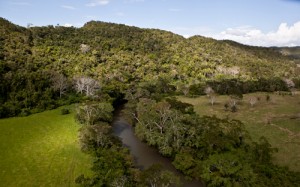 Here you will find cluster of ancient Mayan sites and the ruin Xunantunich. Along the Mopan river near the temple of Xunantunich was once the civic center of the Mayan people. El Castillo which is 40 meters in height is the tallest building in Belize, and in this structure there are two temples and the lower temple is more famous for its large stucco frieze. Near it is the Caracol Archaeological Reserve which has the largest Mayan ruin site.
Cockscomb Basin Wildlife Sanctuary
Jaguars is the ruler of this place and to get a glimpse of this wildcat the best place is the Cockscomb Basin Sanctuary. This reserve was found in 1980s to protect the endangered species of Belize. It is home for many other animals like pumas, peccaries, tapirs, king vultures, armadillos and hundreds of native birds almost 170 animals and 45 species. It stretches to 150 sq meters where the orphaned animals are rescued and cared for. They are many tours available in the Zoo and is fully accessible for all kinds of visitors.
Dangriga and Hopkins Village
If you want to know the raw form of the culture of Belize beyond the tourist destination, you must visit this village. It is said to be the birth place of the culture and the world famous Punta Rock music genre. Immersing in the local culture mainly during festivals and celebrations, though Dangriga does not have many beaches but Hopkins is smaller but has most beautiful beaches and laid back village life style. Garifuna is the main settlement in these villages. They are West African slaves and indigenous Amerindians from South America settled from 1800s. They are famous for the impromptu dance party which includes drumming and full of Garifuna culture.
Thus Belize is known for its diverse and beautiful scenery, also offering the best of water sports.
This post is part of my A to Z Challenge Participation