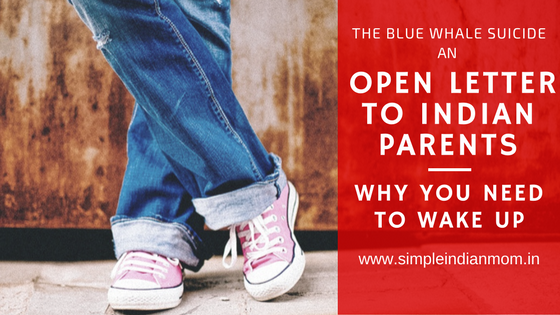 I have been meaning to write about the Blue Whale Suicide incident that was in mainstream media a few days earlier. And this prompt for day 4 from #WTFOF – Write a letter seemed the right way to do it and so parents – here is an open letter to you all.
As parents we always consider ourselves as the Paramount authorities of the family. We think we are the creators and protectors and hence deem sovereignty over everything that happens around our homes – even the feelings of our kids.
However in this process we forget to remind ourselves that our children are separate individuals. They have a life with their own ambitions, likes and dislikes. We as parents try to impart our best experiences into them and somewhere in the line some parents miss out to communicate rightly to their kids.
Blue Whale – What Is It
For you to understand why I am talking to the parents you need to know what this game is all about.
"Blue Whale Challenge", is an Internet "game" that is claimed to exist in several countries. The game allegedly consists of a series of tasks assigned to players by administrators during a 50-day period, with the final challenge requiring the player to commit suicide.
The game is based on the relationship between the challengers (also called players or participants) and the administrators. It involves a series of duties given by the administrators that players must complete, usually one per day, some of which involve self-mutilation. Some tasks can be given in advance, while others can be passed on by the administrators on that day, the last task being suicide.
The list of tasks, to be completed in 50 days, includes waking up at 4:20 A.M., climbing a crane, carving a specific phrase on the person's own hand or arm, doing secret tasks, poking a needle to the arm or leg, standing on a bridge and roof, listening to music, and watching videos sent to the challengers by the administrator.
Here you need to understand certain things – waking up early – and that too for a Teenager these days (or any day for that matter) is not a serious concern for parents. And of course Teens sleep in a different room and seldom do you find it astonishing for the Teen to be waking up early.
However some tasks such as carving on the hand, poking a needle or standing on the roof etc should be things to get worried and noticed.
And this game has mostly one task per day
The child would be under stress for at least the later half of the game – that is 25 days or so. Do you think as a parent you could be fooled off that easily.
I think there is a serious miss somewhere between buying a cell phone for your Teen and not monitoring his/her actions. I know we are all busy but a peep into the phone once a week seems doable.
The Players Are Chosen By Administrators
Okay, this is a scary part, and I really am finding it tough to comprehend too. The blue whale  game is not something you simply download and begin playing.
In fact if you never get to the real game if you were to search for the game, the admins of the game choose the player.
How Do They Choose
Facebook, Instagram and Forums are places where target players are chosen from. A person using hashtags that might point towards a depressed person seems to be a right victim.
The person is watched on different social media and then lure the teen into the game.
They give task after task and make sure the kid goes through to the final level.
A February report by Radio Free Europe/Radio Liberty, a US government-funded broadcasting organisation, said one of their correspondents who had signed up for the challenge as a 15-year old asked what would happen if she wanted to get out.
The curator replied, "I have all your information. They will come after you."
I hope you can just understand how dangerous this really is.
Discussion With Moms In SimpleIndianMoms
I discussed with moms in my facebook group SimpleIndianMoms about this game and its implications and got two different views, both of which seemed fair and justifiable.
Honey Prisha Lalwani  a blogger who blogs at Mammasaurus and Community Manager at Babychakra says  "A lot of it(the game levels) involves not letting the parents know and a lot of stages involve everyday tasks that no one notices.
I remember getting away with a lot of things as child not because my parents were careless but because my brains worked faster than theirs and I could work my way around it. Haven't we all done things our parents never got to know about? You cannot have a 24×7 surveillance on anyone.
Plus victims are naive – with raging hormones and new found tags of having 'grown up' it is easy to get carried away. Can't completely blame the parents, not the kids. The targets are set in a way that they do get trapped with ease. Errorists, druggists, everyone is targeting kids that age".
How very true, I remember a day when I had a very serious fall in a picnic and blacked out for a few seconds. My friends had no idea of what to do and somehow got me up and we all went home. I had pain in my chest because I fell full on, but I managed to keep it a secret.
Communication -The Ultimate Parenting Tool
However Ashvini Deshpande A mom of 2 kids including a Teenager and an active participant of Akashvani, Raipur said the following from her experience, " I see it in different prospect.as I am a homemaker and a mother of teenage girl.i didn't provide her a personal mobile.
Whatever she does on social media is always on my check. I told her all do's and don'ts of using social media and keep updating.I know now a days providing Mobile to kids is necessity for working parents to be connected with their kids but they should have real conversation too.
Its a peer pressure among kids to be in a group.only communication between parents and kids can stop these nuisance.kids should have that atmosphere and freedom at home so that they can share any thing with parents without any fear.parents should give that much confidence to their kids that what ever ups and downs they face parents are there to support them . But not in there deliberately done wrong deeds.telling what is wrong or right is parents responsibility".
What Ashvini says does reverberate a chord within me as a parent. Yes communication is the key and if you talk with kids they will never fall prey to such games that are in search of depressed kids.
The game does sound and look scary but if you as a parent are a little careful, patient, mindful and calm you sure can maintain positivity in the family and encourage your children to grow into glorious adults.