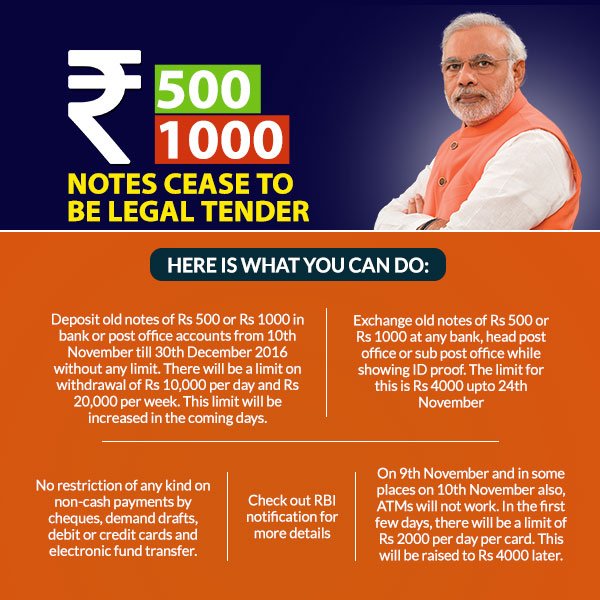 Very rarely do we find news that take us by surprise in India!
Today was one such day and I am surprised by the decisiveness of our Honorable Prime Minister, It was a clean sweep, according to me.
Just imagine a person hoarding huge amounts as currencies getting up to know they were just papers with no value! It happens only in movies right!
For once this surreal scenario is happening here, in India!
This is a move to curb corruption and restrict Black money transactions within the country.
The Highlights
Ban on Rs 500 and Rs 1000 denominations from midnight of 8 November 2016
New currency notes to be inducted for these denomiations
Rs 2000 currency noes to be introduced.
What Do You Do with The Currency Notes You Possess
From 30 Nov to 16th Dec the old notes can be submitted to your bank accounts or post offices, you can also exchange your 500 and 1000 rupees notes and get the new ones from the bank.
Government Hospitals, Train and Bus reservation counters, Air ports, Ration shops to take 500 and 1000 Rs notes.
You can use your 500 and 100 Rs notes in Petrol pumps for another 72 hours.
Mixed Emotions
My first response was to check my Facebook Page and check what reactions I was getting.
I got mixed emotions as is usual for any governmental decision, and this being so sudden and out of the blue, it is actually taking time to settle in.
Major emotions were about how a common man is going to suffer. Reactions I came across were
There are small scale vendors who do business for thousands and yet do not have a bank account, where are they going to exchange?
There will be lots of rush in banks and post offices?
What about the Gandhi Photo on note (well, the new note looks like this)
500 rupees new note
Image source
What if we had withdrawn money for buying jewels or buying land, how is that going to be dealt wit (proper documentation with Id proof has been suggested to be considered.)
Why always the common man, why not the corporates?
Most black money is hoarded in overseas banks and not as currencies (now I don't have an answer for that, but surely do expect some response for such questions)
Top Social Responses
The Twitterrati is buzzing with responses, for and against as usual. the top posts however were seen to welcome the news. Check #BlackMoney for updates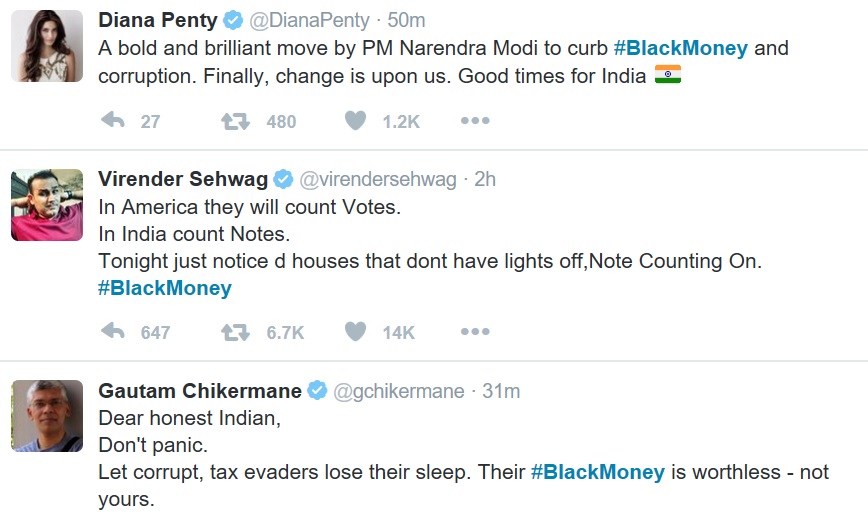 So now, lets breathe and wait for the black money to crawl out their holes and reach some bank and the government finally.
Lets finish with this retweet form Alex Paul Menon
Retweeted TheFrustratedIndian (@FrustIndian):
Good thing is that 500/1000 notes are valid in Hospitals cause lots of folks are going to have heart attack tonight.
?
#BlackMoney
Yes only hoarders need to worry, not the common people like us, lets now wait to see what happens.