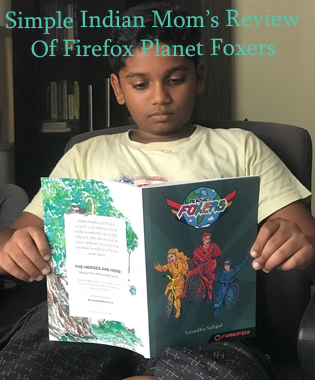 As a child I remember getting attracted to adventure stories more than fairy tales. That was the reason why famous five or secret seven series would never leave my bookshelf till date. Well, I could see the same excitement in my kiddos face when I gave him Panet Foxers to read.
I was eagerly waiting for his opinion on the book so I could write the review with both his and my view on it.
However Raksh very adamantly said he would write a review of Panet Foxers himselves – so here my kiddo debuts with his writing.
The Story
Firefox's Planet Foxers is all a child would want to keep him/her tied to a chair for a couple of hours –  I found both my kids not raising up till they competed every chapter.
Bikes, superheroes and adventures – exactly in the same order – is what entices while reading the book.
The book talks about the adventure of three best friends Zubin, Sophia and Mahir who become transformed into superheroes through the bikes they accidentally find in their Uncle Billu's pace.
They attain superpowers, new names and start fighting monsters – in this case the Smoggy Monster.
Their animal friends are in danger of becoming homeless and also their city Tilly is engulfed in smog. The superheroes, namely Zunami, Stormyum and Meteorider fight the monster and bring back normalcy in life of the people, animals and plants of the city.
What Raksh Says About Firefox Planet Foxers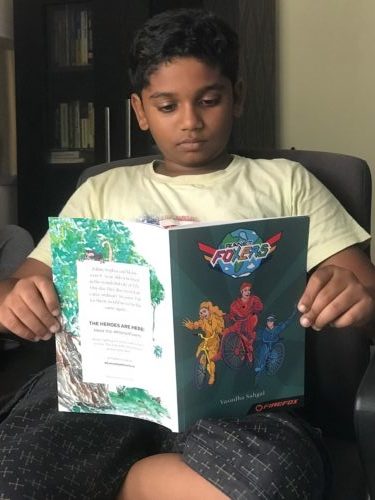 Firefox's Planet Foxers has become one of my favourite reads in the recent times. Bikes always interest me and I have totally fallen in love with Zunami and his blue bike. Its firm features are what I would want in any bike I would want.
I liked how the three of them Z, S and M have the magical power to speak to animals, I also found the characters and names of each animal interesting. For example Maddox the one eyed monkey really made me visualise him and his way of talking while still swinging on the branches.
I would anyday want to swirl above the world with my bike and return back as safe as Stormyum, how lovey the very thought is.
Apart from the characters I just fell in love with the monster. He says the world is getting destructed because of humans and not just only the monster alone. It did make me think that I need to keep an eye open for the increasing pollution and check my actions that lead to pollution.
Somehow I seem to look the world around me in a different light now – I think I could be a superhero too if I take care of the environment around me.
Simple Indian Mom's View
In the beginning I felt the book to be quite childish but as I read through I did realise that the author Vasudha Sanghal has tried to get into the minds of young children in a way that would actually make it possible to make an impression there.
The things that were close to me is that the author instils environmental awareness among children. The animals say about their need of forest and trees, children learn that felling of trees is not good for the ecological balance.
The monster actually says that what he does is not solely his deed – it is facilitated by humans and this brings about awareness on global warming.
Well, my son has begun asking for the bike though!