Himalaya Total Care Baby Pants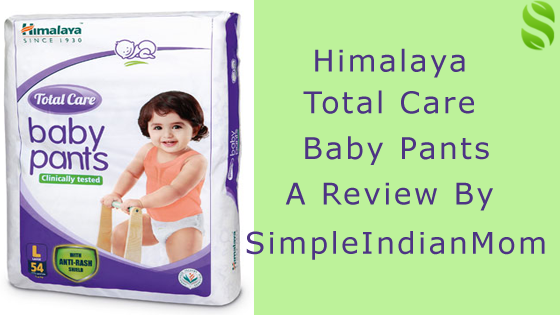 When it comes to products for children especially infants one thing I would want to know is how soft they are to the skin and what they have to safeguard the baby's skin.
For me baby happiness is a measure of any new product I would want to use on him. This time it is baby diaper.
You know I am a great fan of Himalaya and for years I have been standing together with them in their effort towards introducing herbal and safe products. Their speciality begins with ingredients that are natural in origin.
What Makes Himalaya Total Care baby pants Special
Well, for starters Himalaya Total Care baby pants uses a very natural anti rash shield. Indian Aloe which is totally safe on the softest of the soft tissues is the basic ingredient that is used to keep the baby pants safe from causing rashes.
Aloe vera also helps in keeping the skin safe from rashes or any kind of scars. It is also enriched with Yashada Bhasma to form a protective anti-rash shield that reduces the activity of harmful enzymes and prevents diaper rash.
The Easy -Fit and Silky Inner Layer
As a mom when I want to choose a diaper my first concern would be to choose a diaper that is
Not Leaky
Easy to fit on child
Comfortable and non-irritant
Best quality of material
Super absorbency
Now Himalaya Total Care baby pants with their easy fit pants is completely cool. You can put them in place with one quick move. The silky soft material on the inner layers is something would keep any baby happy. As I always say – Happiness quotient is the new trend and keeping your baby happy is where you need to begin parenting with.
Himalaya Total Care Baby Pants comes with a soft breathable fabric, now, isn't that what your baby would need exactly – air circulation.
Did I mention the Superabsorbent Polymer Layer that is specially provided so as to ensure immediate absorbance of multiple wettings and protection from even minimal dampness?
My Conclusion
I have through the years come to the understanding that children need more sleep than adults and this is exponentially true for infants. The more peacefully they sleep the more they grow in all spheres.
And to ensure this peaceful sleep they need comfort, which is absolutely provided by Himalaya Total Care baby pants.
I would surely recommend this product for children.
This is a sponsored post and may contain link to the buyers site or affiliate site