Wheatgrass, like quinoa is a power food with numerous health benefits. Wheatgrass is rich is a whole lot of vitamins and minerals. It has plenty of Vitamin A, C, B, calcium, magnesium, potassium and sodium all in one incredible form. In addition to all the good things about wheatgrass, it is also a detox agent. So where can you get this holistic food from is probably your next question. Actually one need not worry about the supply of this power food as it can be grown at home and we?ll tell you how.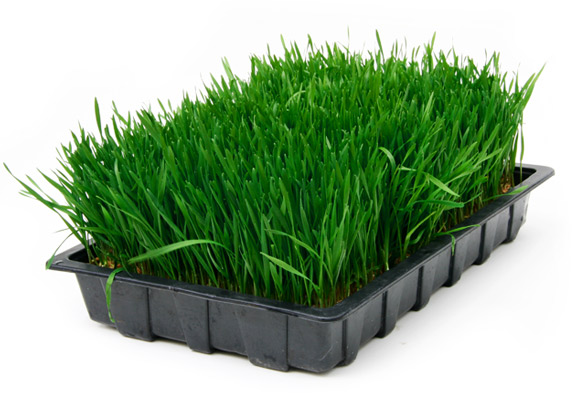 List of required materials
Wheat seeds
A pot or growing tray with small holes
Soil
Compost
Spray bottle
Steps
The most important step is to sprout the wheat grass before growing it normally
To do this, take a bowl of wheat grass seeds and soak them in about 2-3 times cool water for about 2-3 days. Ensure to change the water every 8-10 hours.
When the sprouts are about 1/8 or ? of an inch they are ready to be planted.
Next is to ready the pot or the tray. Place a unbleached paper, usually black in colour and available in the markets, at the base of the pot or tray.
Then place the soil, followed by an inch and a half of compost.
Place the sprouted seeds on the soil and push them gently such that they are into the soil.
Sprinkle or spray some water over the pot or tray. The seeds have to attach to the soil and it?ll take a day or two for this to happen.
Ensure to place the pot where you do not get direct sunlight. The plant needs air and some natural light to grow. Direct sunlight may kill the plant.
From the time you have sowed the plant, it has to be watered twice a day. By doing this, the roots may be able to fix strongly to the soil.
Ensure not to clog the soil with too much water. This is why we have added spray bottle in the requirement list. Just spray water to keep them moist and soft.
At about day 5, the wheat grass would have grown to about an inch in height and from then on watering them once a day would work fine.
After the first inch of growth, the wheat grass will start growing at great speed and in 10 days you can expect a 5-6 inch grown wheat grass.
This is when the harvest begins.
Cut only as much as wheatgrass you need to make an ounce of juice. Once done, let it grow again by watering it once a day.
Make sure that once in 3 months you change the soil.
An ounce of wheatgrass can detoxify your body and enrich it with all the required vitamins and minerals for a day. With your own plant at home, you can continue to have wheatgrass everyday.