Children sometimes become stubborn and do not want to eat fruits, for days like this you can instantly make a Cucumber Asian Salad sprinkle some cheese and a lot of love.
Well, if you could add some nutrients to it, wouldn't it be the greatest of all happiness to you.
Here is a simple yet nutritious salad that both hydrates as well as boosts the energy of your children for further play.
Ingredients
·       Watermelon – ½ a melon, peeled, de-seeded and diced
·       Cucumber – 1/2 peeled and diced (1 cup into cubes and a few circular ones)
·       Cottage Cheese – ½ cup diced to small pieces
·       Honey – 1 tablespoon
·       Lemon juice – From half lemon
·       Pepper – 1 teaspoon crushed
How to Make
·       Take a mixing bowl
·       Add diced water melon and cucumber
·       Add honey and lemon juice
·       Sprinkle the cheese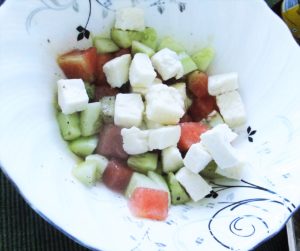 ·       Mix well
·       Sprinkle crushed pepper
·       Serve garnishing with round sliced cucumber