By the Ninth month of pregnancy, preparation must be going on in full swing to welcome the new bundle of joy.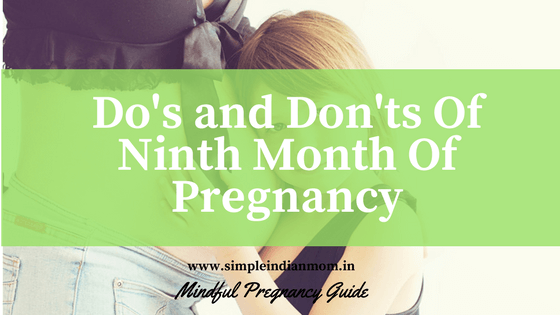 Though you experience a lot of discomfort, the bond between you and your child will grow stronger and it will make you more beautiful and strong.
Also Read about 8th month dos and don't's here
Dos And Don'ts Of Ninth Month Of Pregnancy
Here are the list of Do's and Don'ts during the ninth month of pregnancy to keep you more comfortable than ever!
DO'S: What Should You Do in The Ninth Month Of Pregnancy
1. Taking A Warm Bath
As your body starts aching due to lack of proper sleep, a warm bath will help you to relax. It would even induce a good sleep. Make sure to keep yourselves calm. Your child can understand your moods.
2. Continue With Mild Pelvic Exercises
Continuing with the mild pelvic exercises will keep your pelvic muscles stronger during labour.
3. Hobbies
If you have a hobby, this is the right time to indulge in them. You will not find time to do these activities after the birth of your little one.
4. Educate Your Elder Child
If you have an elder child, this is the right time to educate him/her. Talk to elder one about the arrival of the little one.
Also, let them familiarize with the person who is going to take care of them during your absence  (when you are at the hospital).
Express your love to them so that they don't feel insecure.
5. Keep Things Ready:
Keep a bag ready with all essentials required to take to the hospital. As you can go into labour pain anytime, it is very important to keep things ready.
6. Stay Strong and Happy
Keeping a positive and strong mind will help you a lot during your labour.
7. Posture
Sitting posture should be maintained as in previous months. Sit straight. Always sleep on your left side till delivery. Do not make sudden changes to your sleeping position. Avoid lying on your back. It puts more stress to your back.
8. Diet:
Eating four to five smaller meals every day makes you feel better. Avoid spicy food. Also, try to have food high in fiber, rich in iron, calcium, vitamin C, vitamin A and Folic acid. The doctor might also prescribe supplements such as a multi-vitamin, multi-mineral supplement, calcium, iron and/or folic acid supplement, if necessary.
If you have read my guide about pregnancy month by month you sure would have known the importantce of taking superfoods. See what they are
I would suggest you to take sunflower seeds, chia seeds, moringa powder and wheatgrass powder regularly.
You can head to our shop to get these products
http://www.simpleindianmom.in/shop/best-organic-wheatgrass-powder/
9. Stay Hydrated
Staying hydrated is as important as following a diet as the body requires adequate fluid.
DON'TS:
No-No to Stress
Throw away negative thoughts. Getting tensed over the baby's arrival and preparation is not going to help you. Stay relaxed and take adequate rest.
Practice mindfulness daily. This will help your child also to become emotionally stronger person. You can guide him/her from the womb using mindfulness. Join my mindfulness e-course using the subscription box to learn how to practice mindfulness.
Sudden Movements
DO NOT make sudden movements while trying to sit or stand. You may get cramps and also your sugar level will lower suddenly.
Minimize Physical Activity:
No strenuous physical activity. Any kind of pressure in body is not good for you at this moment.
Diet
Avoid taking alcohol, moderate caffein and avoid saccharin totally.
Listen to your body. If you think you need rest, then do so. If you think you can do something active, carry on with some work but with more care. Connect with your child and stay happy throughout!