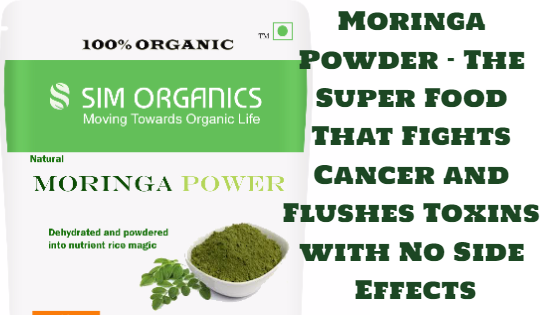 The Benefits of Moringa Powder can never be describe or understood till you know what Moringa tree is and how it has been used for ages as a superfood.
Drumstic or Moringa is an all time favourite of people of all ages – especially in South India. You can never miss that unique flavor and taste when Drumstics are added to Sambar – a South Indian Delicacy that is popular world over.
However little is known about the various benefits of the other parts of the tree – especially the leaves.
Moringa  – The Wonder Drug You Were Not Aware Of
Cultivated in Asia, Africa and many other parts of the world, Moringa derived its name from the Tamil word – Murungai – a word depicting its twisted pods.
Moringa plant as a whole is often termed the Kalpatharu because every part of the plant is used.
The fruit, leaves, seeds and flowers are consumed for their nutritional value.
Whereas its bark, sap, seeds, oil, leaves and roots are used in making traditional medicine in many countries.
Moringa Powder – Nutrients
Since we are discussing here about the leaf powder it is more relevant to talk about the nutrients available in the dried leaves alone.
However you would be astonished to know the amount of nutrients in other edible parts too.
Moringa powder is made from naturally – dried moringa leaves and has a spinachy green flavour and contains
Source – wikepedia
Moringa Powder also contain huge amounts of antioxidants. It is a well known fact that antioxidants are most required to fight cancer. did you notice the amount of calcium present in 100 gms – well that is something women need to look for.
Basics of Nutrition and Natural Ways to Replace Chemical Supplements to Acquire Nutrition ?Part 1
Health and Beauty Benefits of Moringa
So what do you think the benefits of Moringa powder are? I have summarized some here, In fact I could write a long series on this, which I shall do soon.
Reducing Tiredness and Fatique
Research indicates that 1 in every 5 people are unusually tired or have prolonged fatique. A single serving of Moringa Powder provides
Iron – 46.8% of NRV
Magnesium – 19.1 % of NRV
Vitamin A – 32.5% of NRV
Here Both Iron and Magnesium are essential for the reduction of tiredness and fatique in the body while Vitamin A supports the metabolism of Iron. It is also idea for people suffering from anaemia.
SKIN
Moringa powder is jam-packed with vitamins for your skin too. It includes
Vitamin A : 32.5 % of NRV
Vitamin E : 16.9% of NRV
Antioxidants too
For a healthy, radiant skin one needs Vitamin A whereas to protect cells from oxidative stress and to fight from ageing Vitamin E is required. With an ORAC value of 157,000 3 
Moringa is one of the highest antioxidant of any food which is 6 times the antioxidant of goji berries.
Immunity
We all need to maintain a healthy immune system which is required for our bodies to stave off infections and illnesses. The Moringa power are extremely rich source of:
Iron : 46% of NRV
Vitamin A : 32.5%
Both of these are required for a normal function of the immune system
Muscle Growth
Moringa leaves contains 25% of protein which is something really high and unique for a plant. It contains the 9 essential amino acid which gives a complete growth and maintenance of muscle mass.
A high protein content for vegetarians and vegans who struggle to a get a sufficient protein supply.
Anti Stress
Magnesium is important for a normal psychological functioning of the nervous system. And one of the key moringa benefits is its high magnesium content which serves as a remedy for
anxiety,
apathy,
depression,
insecurity,
restlessness.
Digestion
A rich source of calcium (29%) which contributes to the functioning of digestive enzymes and 31% fibre which helps in healthy bowl regularity. Helpful even for weight management as it helps you feel fuller for longer and supports healthy metabolism.
Energy Release
An energy yielding metabolism which is a rich source of iron (46.8%),calcium (29.8%) and magnesium (19.1%) which will keep you energised all day !
Vision
We all love to have healthy eyes and normal vision but does it require the right nutrition to maintain it. Moringa a rich source of Vitamin A (32.5) also contributes to normal vision
Teeth
Magnesium is essential for maintain strong and healthy teeth and moringa containing magnesium 19.1% helps one to keep their teeth nice and strong
Bones
Healthy and strong bones can be maintained by having the moringa powder which are a rich source of Vitamin K (213.3%),protein (23%),calcium (29.8) and magnesium (19.1%) which contribute to normal bones
Being a super food you can begin with taking half a spoon of Moringa powder with your green smoothies, buttermilk, or chutneys. It's recommended to start talking half a teaspoon of moringa powder daily for three to five days and slowly increasing its intake such that you get accumulated to its effects.
If you are allergic to Moringa (which one of my friends said she was) please avoid this powder.
Skin Benefits of Moringa Powder
Moringa powder can make an excellent face pack. It is common knowledge that any nutrient when given externally through the skin are absorbed more than what you take internally.
This is the reason that Ayurveda treats ailments through skin.
Moringa face pack can be used for the followinf benefits
For Glowing Skin
Mixed with honey and cinnamom, moringa face pack can make your skin glowing with health and removes blemishes. It smoothens your skin and makes it look fresh instantly.
2. Delays Aging Of Skin
Laden with antioxidants, vitamins A,C and E, moringa powder is capable of blocking oxidation of tissues and increase oxygen supply to cells. This delays the aging process successfully and also removes wrinkles and fine lines.
Hair Benefits of Moringa Powder
They say your health shows in your hair. Hair problems begin with nutritional deficiencies in your body, making it look dull, brittle and damaged.
Moringa powder contains good number of essential nutrients especially iron which is very important for hair growth.
 Helps in Hair Growth
Let me tell you exactly how Moringa powder helps in hair growth, well when we say hair fall or hair growth the first vitamin we think of is biotin, then vitamin B6 and Folic acid (yes the same one which you were prescribed during pregnancy)
All these nutrients are available in moringa powder in bounty amounts. in fact moringa contains vitamin E which increase blood flow to the hair follicles.
Hair Growth Stimulation
Moringa leaf powder helps in hair regrowth due to presence of zinc. ZInc has the property of enhancing immune system and thus stimulates hair growth.
You can make a hair pack with moringa powder and coconut oil or any other oil.
Thus Moringa the super food and beauty and hair friendly powder not only makes healthy from inside but also beautiful on the outside