9 Easy Recipes For Summer Drinks To Beat The Heat This SeasonSummer has arrived and the time to drink countless glasses of water and summer drinks has begun. At home, you drink water; when you go out also you take a bottle of water. Even at work you spend a large amount of time refilling your water glass. But here the question arises don't you get bored of drinking water?
That's why our desi summer coolers are not only refreshing but also energy –boosting and healthy too. So here we bring you some refreshing, healthy options of Indian summer drinks to combat the heat and stay hydrated.
Nimbu Pani – The Most Popular Summer Drink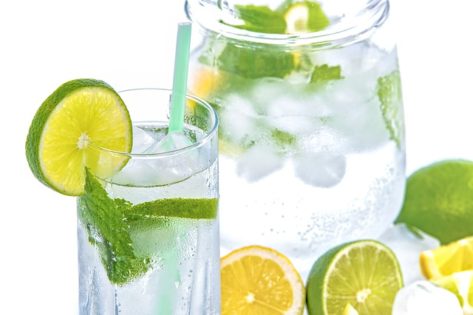 A rich source of Vitamin C and B this beverage is popular for its refreshing quality and an excellent energy source. You can make lemon juice with salt, sugar or a combination of both. I would say just make some lemonade and put it into your refrigerator for the day. Not only will you finish you days quota of 8 glasses of water, you would also end up having little hassles.
Chaas And Lassi – Nutritious Summer Drinks
Known as buttermilk, curd is blended with some water and spices and stored in an earthen pot for a cooling effect. It is a popular coolant that is a thirst quencher as well as aids digestion. Buttermilk is rich in calcium and is also enriched with good bacteria found in curd. I add corriander and a pinch of moringa powder just to make sure my kiddos get the goodness of some iron and selenium too.
Lassi
Lassi is a protein-rich drink which is made with fresh curd and can be sweet or kept salty. This yummy summer cooler is a drink thicker compared to chaas. You can add different flavours to this wonderful drink adding fruits such as strawberry, banana and apple.
Jaljeera
Jeera is one spice I could never stop praising. It has so many health benefits especially for women and weightloss too.  Jaljeera is basically a mix of water and cumin (Jeera) and is mostly tangy on spicy depending on the spices (black pepper and fennel) added to it. This popular beverage is famous for its cooling properties and also acts as an appetizer.
Read the Benefits of Jeera Water for Weightloss Here
Watermelon Juice – The Filling Summer Drink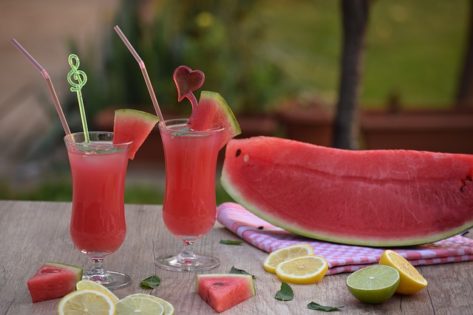 Why would one miss out on the fresh juice of Watermelon. In fact all melons have their good days in summer. Watermelon and muskmelon are the most loved juices my children love in summers. In fact the colour they give to the juice is so attractive that the kiddos would not want to let it go without completing the glass.
Expert Tip : Never make watermelon juice for future consumption – it is easily affected by microbes due to its sweetness.
Aam Ka Panna
What do you do to all the mangoes that are falling off due to wind at this time, well just boil them, add sugar, jaljeera powder or chat masala and enjoy a cooling summer drink.
A popular summer drink made with fresh, raw mangoes which you would get abundant this season. A rich source of vitamin C, this sweet and sour drink has an assortment of spices that enhances its flavour.
Badam Milk and Thandai
This cooler is prepared by mixing together milk, almonds, rose water, and cardamom powder and has a fantastic cooling properties.
Almond milk are rich in minerals, fibre and Vitamin E. These are made from grinding the almonds.
These are some of the Indian Summer Drinks one would simply take to increase their fluid intake
Summary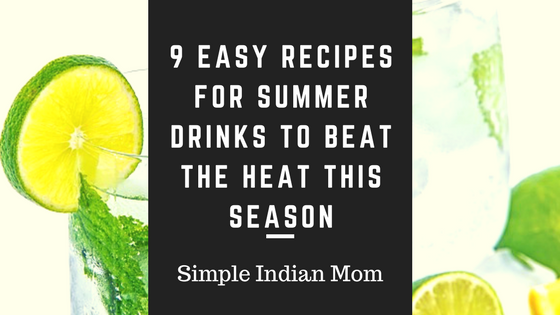 Article Name
9 Easy Recipes For Summer Drinks To Beat The Heat This Season
Description
Summer effectively dehydrates you - especially the Indian summers are very dry and devoid of any moisture at all. Summer Drinks make it easy to keep you hydrated and ward off health issues arising due to heat
Author