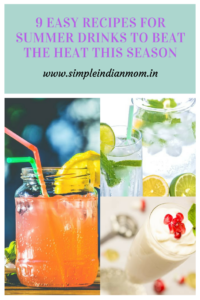 Summer has arrived and the time to drink countless glasses of water and summer drinks has begun. At home, you drink water; when you go out also you take a bottle of water. Even at work you spend a large amount of time refilling your water glass. But here the question arises don't you get bored of drinking water?
That's why our desi summer coolers are not only refreshing but also energy –boosting and healthy too. So here we bring you some refreshing, healthy options of Indian summer drinks to combat the heat and stay hydrated.
NIMBU PANI
A rich source of Vitamin C and B this beverage is popular for its refreshing quality and an excellent energy source.
CHAAS
Known as buttermilk, curd is blended with some water and spices and stored in an earthen pot for a cooling effect. It is a popular coolant that is a thirst quencher as well as aids digestion.
LASSI
Lassi is a protein-rich drink which is made with fresh curd and can be sweet or kept salty. This yummy summer cooler is a drink thicker compared to chaas.
JALJEERA
This is a basically a mix of water and cumin (Jeera) and is mostly tangy on spicy depending on the spices (black pepper and fennel) added to it. This popular beverage is famous for its cooling properties and also acts as an appetiser.
THANDAI
This cooler is prepared by mixing together milk, almonds, rose water, and cardamom powder and has a fantastic cooling properties.
AAM KA PANNA
A popular summer drink made with fresh, raw mangoes which you would get abundant this season. A rich source of vitamin C, this sweet and sour drink has an assortment of spices that enhances its flavour.
KOKUM SHARBAT
This tropical fruit used as a souring agent in place of Amchur is also used to make delicious cold beverages. To help beat the blazing summer heat Kokum Sharbat is a popular drink.
BADAM DOODH
Almond milk are rich in minerals, fibre and Vitamin E. These are made from grinding the almonds.
SUGARCANE JUICE
Ganna or sugarcane juice is budget-friendly and available thought the year. A cold ganna juice awakens your sense and helps you go through the day with ease.
This summer quench your thirst with these desi thirst quenchers.