Are you petrified with the idea of making Easy Wheat Grass Smoothies? I do understand that Wheat Grass has a strong and distinct taste but one can certainly make great smoothies when suitable ingredients are added.
Wheat Grass is found to have so many benefits that when ingested as part of our everyday diet, one gets lots of nutrients like vitamins A, B6, C, E and K, minerals calcium, potassium, magnesium, iron, zinc, selenium and Copper. Other than the above, it also contains lots of enzymes and amino acids.
Wheat grass has great benefits like managing the thyroid gland, aiding digestion, boosting energy, detoxification of liver and so on. However the grassy taste and limited knowledge on how to make it interesting to consume often keeps people away from consuming wheat grass regularly.
It is to be noted it is highly beneficial if one uses fresh wheat grass juice in the smoothies. As usual juicers cannot blend grass properly, so I recommend using wheat grass powder that is readily available. Check SIM Organics wheat grass powder here.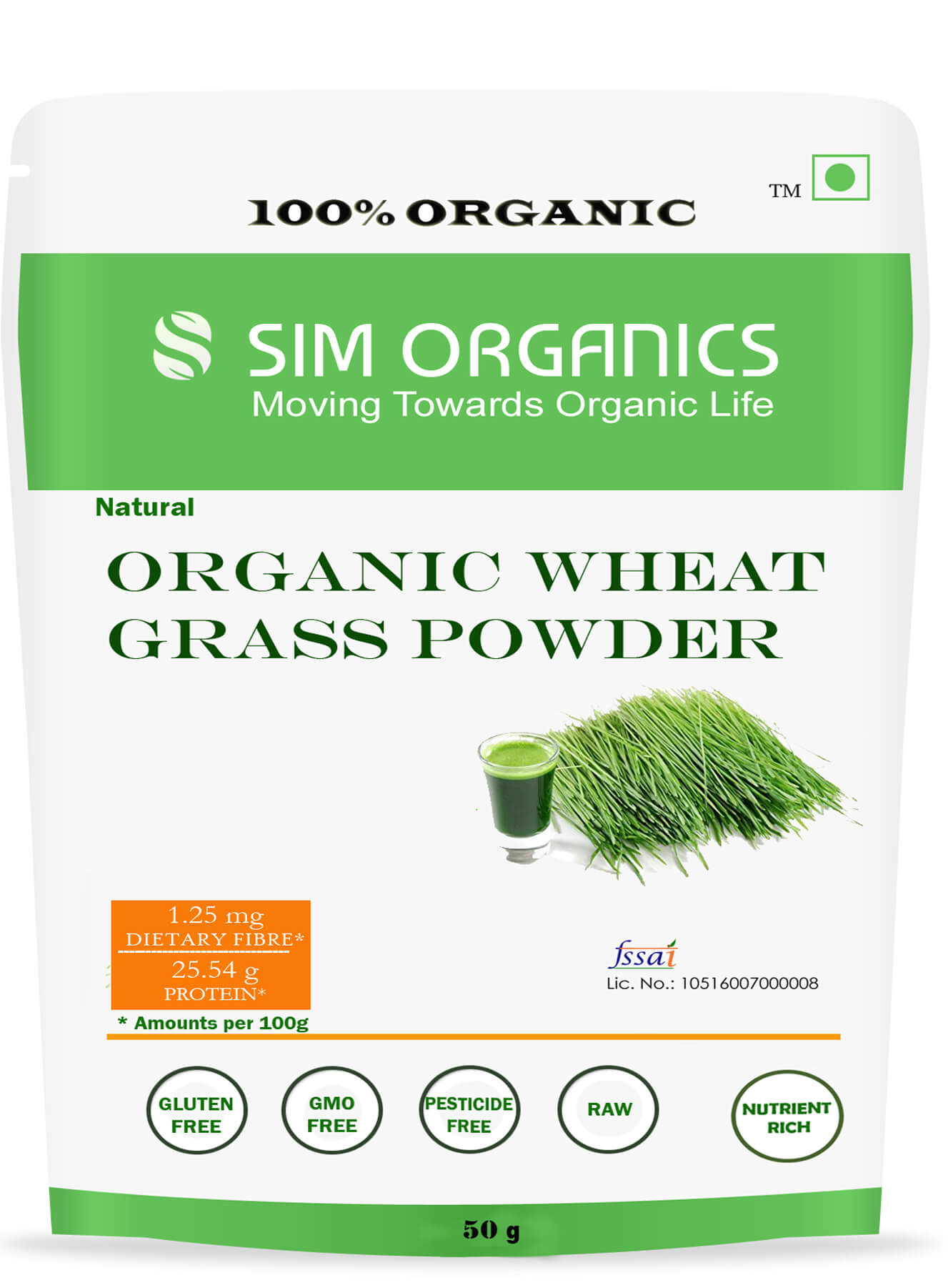 Wheat Grass Strawberry Smoothie
This is a favourite smoothie that my children love. The intense flavour of pineapple and strawberry mellow down the typical grassy odour of wheat grass and hence makes it easy to consume.
Required Ingredients:
 1 teaspoon wheat grass powder 
Cut Pineapple pieces – 1/2 cup
Strawberries – 1 cup
Fresh Grated Coconut – 4 teaspoons
Method: Add all the ingredients together and use a blender to make the smoothie. This Smoothie is very helpful in the detoxification of liver.
Green Smoothie -Easy Wheat Grass Smoothie Recipe
If you ask me to tell the recipe for a smoothie that would get you up in the morning with full dose of energy and also aid in keeping your overall health in its best – my first choice would be this easy wheat grass smoothie recipe.
Required Ingredients:
Wheat Grass Juice or 1 teaspoon wheat grass powder 
Brewed Green Tea – 1 cup
Kale – 4 pieces
Medium Sized Banana – 1
Berries (anything of our choice) – 1 cup
Almonds – 10 nos
Dates (pitted) – 2
Ice
Method: Blend all the ingredients together until they turn smooth and just drink it. Make sure that the tea is cooled after it is brewed. It is also better to blend the kale first along with green tea before adding other ingredients. Certainly, an energizing smoothie!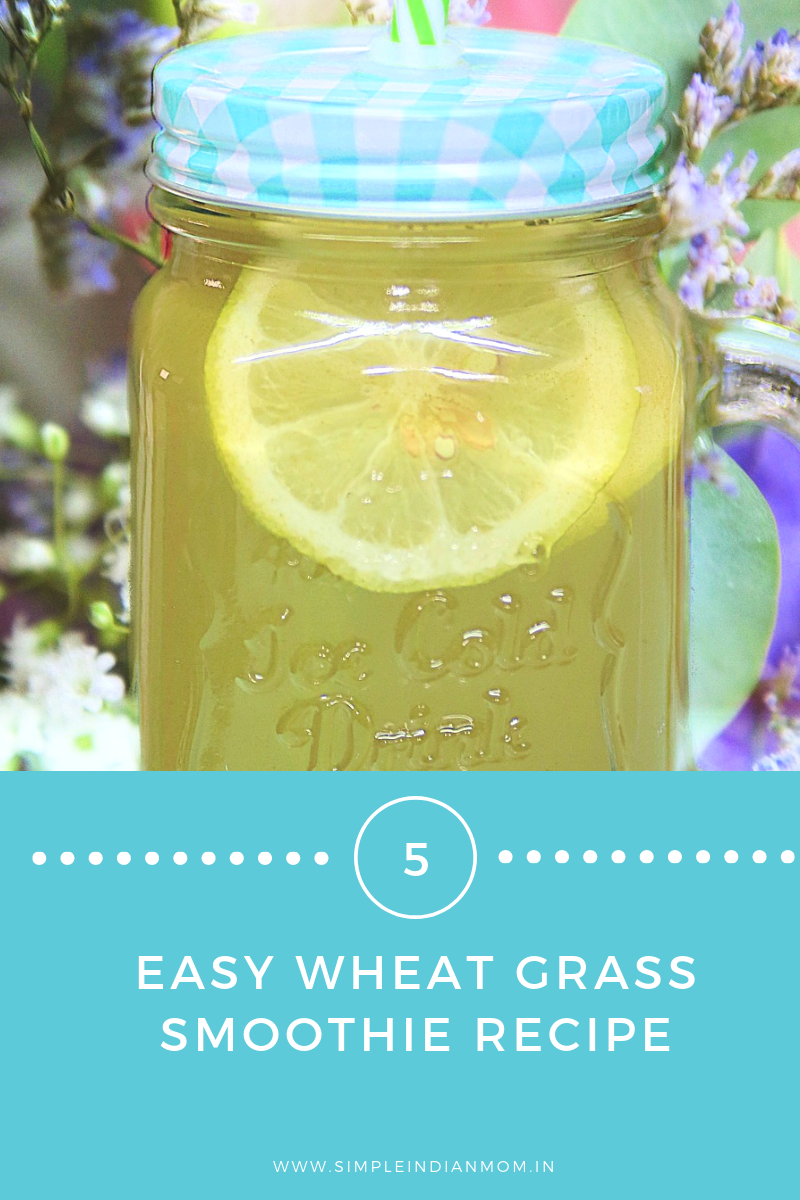 Simple Easy Wheat Grass Smoothie Recipe
This is one recipe I have always found to be the most simple yet effective for a busy day. while you are on the go and still do not want to miss our on your daily smoothie this is the go to easy wheat grass smoothie recipe
Required Ingredients:
1 teaspoon wheat grass powder 
Medium Bananas – 3
Apple Juice – 1 cup
Method: After blending the banana into a paste, add the other two ingredients, mix well and drink. A very simple recipe for the tired body!
Coconut Wheat Grass Smoothie
For those of you who are following a keto or paleo diet – this is the one of the most easy wheat grass smoothie recipe which is both filling, energising and totally keto.
Required Ingredients:
Wheat Grass Juice or 1 teaspoon wheat grass powder – 60 ml
Coconut Milk – ½ cup
Plain Yoghurt – ¼ cup
Ice cubes
Method: This smoothie is for people who love creamy texture in smoothies. The yoghurt and the coconut milk gives a creamy and sweet taste to the smoothie. Just blend all the ingredients together and enjoy the smoothie!
Ginger Wheat Grass Smoothie
I would let the mango out of this, its winter now and mango is not available, so add mango only when it is available otherwise its fine to go with the other ingredients. well, one thing I wanted to let you know is that the ginger wheat grass smoothie has a lot of immuno booster enhancing property which is very important to fight diseases. If you have been following me you must have known by now that wheat grass is great when it comes to fighting cancer.
Required Ingredients:
1 teaspoon wheat grass powder – 60 ml
Extracted Ginger Juice – 2 teaspoons
Ripe Mango – 1
Lemon Juice – 2 teaspoons
Berries (any berry of our choice) – ¼ cup
Method: Use a good blender to blend all these ingredients together and drink to get a punch of ginger, mango and lemon. A real tasty and healthy drink! You can even dress it on the top with flax seeds or chia seeds.
I simply could keep going on with the easy wheat grass smoothie recipes, however I would wait for another longer list after the response I get from you to know how exactly the recipes have been useful and what you liked in this list.
What are you waiting for? Go and try it out.