How to cook yam? exactly this is what you seem to ask yourself when you see these hard looking tubers.
Yam roast (Senaikizhangu and Karunaikizhangu in Tamil) would kindle anybody's appetite and it goes as an excellent accompaniment with all the three courses of South Indian meal like Sambhar, Rasam and Curd Rice, as yam does not become mushy quickly and also retains its form; hence it is one of the suitable vegetables used for Avial or Vegetable Stew. But the most endearing dish with Yam is Yam roast only
Making yam is very easy… One needs to clean the dirt on the peel by showing it under water, slice off the rough peel, wash again to get rid of the dirt and cut into slices.
Coat the slices with a masala mix of turmeric, chilli powder, ginger garlic paste, flour, salt and shallow fry them. I am sure you would have sensed a bungling in the procedure?
Just treat yam like any other vegetable, you would end up with an itchy tongue and yes it is an annoying itchy feeling and it gives one a prickling sensation.
Taming Yam
However you would have observed your grandmother taming the yam by cutting the yam into slices and soaking them in tamarind extract or buttermilk. Keep them aside for an hour and then rinse the slices in water and continue with the rest of the preparation steps. We are trying to neutralize the fine calcium oxalate crystals (raphides) in the tuber with an acid solution.
But if you have skipped the taming process here are some of the tips which one can also follow :
Why Does Elephant Yam Cause Itching?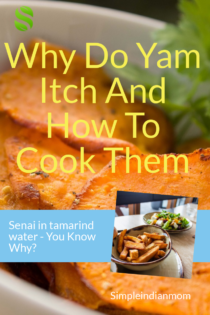 The Yam peels contains calcium oxalate / saponins juice when comes in contact with the skin starts to itch. This is known as Contact Dermatitis. It causes redness and itching for some time and is irritating.
The peels from Elephant foot yam contains tiny crystals of calcium oxalate and saponins. These are found abundantly in the peels and inner vegetable tissues. They ooze out on cutting and cause allergic reaction like skin itching and oral toxicity (itchiness in throat and mouth) when consumed. Washing suran slices in tamarind water or butter milk can reduce itchiness in throat and mouth.
Here are few tips that can be used to avoid the itchiness.
Firstly before you peel the yam, make sure you don't wash them, because when you wash them the juice will flow in while cutting and cause itchiness. Thus do not wash them.
You can use a rubber gloves while cutting them.
Apply Coconut oil in your hands before cutting.
Baking the yam helps to peel the skin faster.
By mistake if the juice falls in your hands, you can apply the red palm oil or peppermint oil immediately to stop the itching.
Elephant foot Yam /Senai Nutritional values and Recipes
Elephant foot Yam or Suran is a vegetable tuber grown in tropical regions of the world mainly Africa, South East Asia and tropical Pacific islands. Yam has its origin in India and spread out to other parts of south East Asia and tropical pacific islands.
Their Nutritional Value for 100 grams of Elephant foot yam
Carbohydrate 27.88 g
Protein 1.53 g
Fat 0.17 g
Fibre 16% of total carbohydrate
Vitamin C 12.1mg
Vitamin A 122 IU
Vitamin K 2.3 mcg
Thiamin 0.1 mg
Niacin 0.6mg
Vitamin B 60.2 mg
Folate 16.0 mcg
Pantothenic acid 0.3 mg
Choline 16.2 mg
These also contain trace elements like
Zinc 0.3mg
Potassium 911 mg
Manganese 0.5 mg
Calories -118
They are widely called as Suran or Zimmikand in India. But they do have different names in other regions of India. Like in Tripura they are called Batema, in South India they are called Chena in Kerala and Senaikizhangu in Tamil Nadu. Yummy Elephant foot Yam is known for its nutritional and medicinal values.
What Vegetable is Elephant foot Yam ?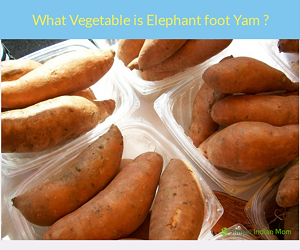 It is a tuberous root vegetable. It needs a tropical climate, hot and humid kind like India. Botanical name of yam is Amorphophallus paeoniifolius. They have corm (modified stem) or tuber which grows underground is edible as vegetable.
Generally you get to see more of these veggies during winter months (January to February).
How is Elephant Foot Yam Different from Sweet potato, Taro and Cassava?
Elephant foot yam are very much different from other vegetable root tubers (Sweet potato, Taro, Cassava) by nutritional values and taste. Primarily yams are tropical vegetable crop need a hot humid climate. Elephant foot Yam or Suran is not related botanically to the other tubers, and they differ in their appearance from other vegetable root tubers.
Yams are more relate to grasses and lilies and are native to the tropical areas of Africa and Asia. They spread across the world by the Portugal and Spanish travelers.
In many African countries yams are staple food because of their high starch content and shelf life which extends to months together. The size of yams/suran varies from a few grams upto 5 kgs in weight. Their dry outer skin is dry keeping the inner flesh soft.
Health Benefits of Elephant foot Yam or Senai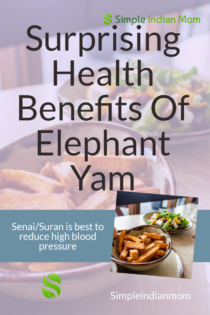 Elephant foot yam has always been considered very rich nutritionally. Here are some of their health benefits. They have been studied to contain superior nutritional value, antioxidant property, and suitability to processed products like dried cubes, fry cubes and pickles.
Elephant foot yam is used in treat constipation and promotes good bowel movement. In ayurvedic medicine they used to treat constipation and hemorrhoids. Suran is widely known for its anti-inflammatory properties.
They control blood cholesterol levels and prevent cardiovascular diseases by preventing heart attacks.
Act as anticoagulants preventing blood clots and controlling blood pressure.
Many weight loss programs include elephant foot yam or senai in their diets because of its low-fat content and more vitamins.
This vegetable has low fat content and more of fibre as carbohydrate. This fibre form of carbohydrate does not get absorbed into blood as sugars. Hence, they can control blood glucose level and maintain blood insulin level. This also prevent surge in blood sugar levels.
Suran is used in controlling and maintaining estrogen level in women. They are used in Ayurveda in treating PMS (premenstrual syndrome) like irregular periods and abdominal pain related to menstrual cycle.
They are used as in skin ailments such as issues related to aging and wrinkles. Vitamin C in Elephant foot yam help keep skin young and beautiful.
Yam increases body immunity and is anti-cancerous. They are rich in antioxidants and Omega 3 fatty acids which help body in cell metabolism and preventing cancer.
Elephant foot yams removes body of its toxins and boosts immunity. They have cooling effect on body, so they are consumed in hot tropical regions of the world. They are used in treating liver diseases by detoxifying liver.
Senai is used as Anthelminthic in ayurvedic sciences. They are used to treat diseases caused by round worm, hook worm and tape worm.
Remedy to cure and prevent gastrointestinal disorders like diarrhea, dysentery and bloating. Suran helps in growth and maintenance of probiotic bacteria in gastrointestinal tract.
How To Cook Yam
Once the major part of peeling the skin is over then, cut them into small cubes or blocks and immerse them in salt water along with turmeric and to be kept apart for half an hour. Yam has to be soaked in water immediately else they tend to discolour due to oxidation. This step is very important because yam contains calcium oxalate crystals which when consumed causes itchiness on tongue. This process of soaking the yam is called neutralizing.
In Olden day's people also use to soak yam in tarmind water or buttermilk to remove the toxins. Yam can be cooked in many ways like boiling them, roasting and frying.
In Africa and Asia people just boil the yam. In this method after the peeling the whitish starchy flesh is cut into cubes and boiled in water along with salt. The older the yam the smaller the it has to be cut, as it takes a lot of time to get cooked. These boiled yams are consumed as it is or else used in curries by Asians. Another method prepared by them is drying. In this the yam is cut into small cubes and dried under sun, then powered. This yam powder is then used in their soups.
Indians prepare the vegetable by frying them along with spices. They are also used in curries. In Japan they use yam in the grated from in noodles, they use vinegar to treat the toxins of yam.
The yam is also cut in strips and roasted with salt and pepper and consumed like chips. In European countries they use yam in desserts as well.
How to cook Elephant foot Yam or Suran?
Cooking Elephant foot yam or suran can be very simple by following these easy procedures. Peel the suran, wash the dirt off and cut it into slices. Soak the sliced suran pieces in tamarind water or follow taming process to prevent oral toxicity or throat itchiness.
Coat the slices with a masala mix of turmeric, chili powder ginger garlic paste, flour, salt and shallow fry them. I am sure you would have sensed a bungling in the procedure.
Just treat yam like any other vegetable, you would end up with an itchy tongue and yes, it is an annoying itchy feeling and it gives one a prickling sensation
3 Elephant foot Yam or Suran Recipes Your Kids Would Love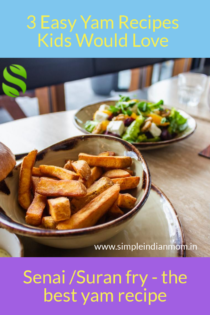 1. Suran/Senai Fry
This is simple and easy recipe.
Peel the yam and wash with water.
The washed yam is cut into small pieces and tamed by soaking in tamarind water or buttermilk to neutralize the calcium oxalate enzyme found in Elephant foot yam.
Then coat the slices with turmeric powder, chili powder, ginger garlic paste and salt.
Keep aside for 15 minutes to marinate and pressure cook or boil suran pieces.
Deep fry/ shallow fry the marinated slices.
Suran fry tastes crispy and is kids' friendly recipe.
2. Spicy Suran curry or Yam gravy
This spicy dish tastes best with rice or chappati.
Peel,wash and tame the yam slices and pressure cook them.
In a pan add oil, when the oil is hot add 1tsp mustard seeds, 1/2 tsp fenugreek seeds and 1/2 tsp of jeera to temper.
Add onion slices and saute till they turn brown
Add tomato slices and wait till the they are soft and mushy.
Now add the boiled senai pieces and stir.
Now add tamarind paste, curry powder, salt and turmeric powder, add little water.
Cook in low flame for a few minutes till the masala mixes well with the yam slices.
This curry goes well with rice, rotis or paranthas.
3. Recipe for Elephant Foot Yam Kootu
Prep time: Approx. 15 mins
Cook time: Approx. 30 mins
Serves – 3-4
Ingredients needed
Elephant foot yam – 2 cups chopped or 1/4 kg
Tur dal – 1/3 cup
Tamarind – a small gooseberry sized ball
Turmeric powder – 1/4 tsp
Salt needed
For grinding
Coriander seeds – 1 tbsp
Bengal gram/channa dal/kadalai paruppu – 2 tsp
Red chillies – 4
Grated coconut – 1/4 cup
Raw Rice – 1 tsp
For the seasoning
Oil – 1 tsp
Mustard seeds – 1 tsp
Hing – a pinch
Curry leaves – few
Preparation
Peel the skin, wash and chop the elephant foot yam into small pieces. Wear disposable gloves or grease your hands with oil before cutting yam as some varieties itches the skin.
Heat oil in a kadai (deep cooking pot), add coriander seeds, channa dal, red chillies, raw rice and saute until dal turns golden brown. Add grated coconut, fry for a few seconds and switch it off. Saute in the heat of the pan itself. Once it cools, grind it to a smooth paste.
Pressure cook dal for 3 whistles or until soft. Mash it well and keep it aside. (Soaking dal in hot water for 15-20 minutes prior to cooking saves a lot of time and fuel. The dal also gets cooked well.)
Soak tamarind in a cup of warm water for 15 minutes. Extract tamarind juice and discard the pulp.
Method
Cook senai/yam in 1 cup of water, adding salt and turmeric powder. Once the yam is half cooked, add 1 cup of tamarind water and cook until the raw flavor of the tamarind goes and the yam becomes soft.
Once the yam is cooked well, add the ground paste.
Add the cooked dal, 1/2 -3/4 cup of water and cook simmered until everything gets blended well. Check for salt.
Heat a tsp of oil, add mustard seeds, when it splutters, add hing, curry leaves and pour it over the kootu. Serve with hot steamed rice.
With plain rice and any thogayal it makes a filling meal.