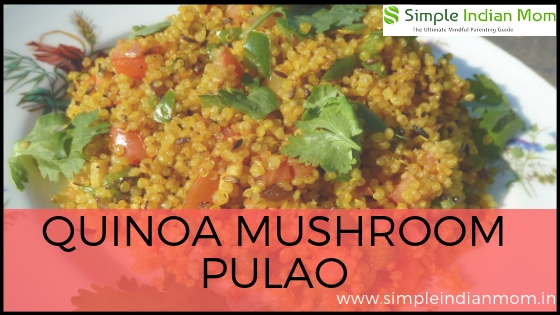 Hello Readers! Here I am again with one wonderful recipe which I tried last weekend incorporating mushroom powder in it. So here I am sharing the recipe of pulao i.e rice. It reaps a whole lot of health benefits.
Recipe
Ingredients
1 cup Quinoa
One cup chopped onion
1 cup corn
One cup chopped carrots
1 cup chopped Mushroom
Onecup chopped Bell Pepper
1 tbsp Grated Ginger-Garlic
3-4 tbsp oil
1/2 tbsp cumin seeds
1/2 tbsp Turmeric Powder
1 tbsp Chilli Powder
Few grams of Mushroom Powder
1 tbsp Garam Masala
1.5-2 cups of water
1 tbsp Lemon Juice
Pinch of salt
Cilantro/coriander for Garnishing
How To Prepare :
 Heat oil in the Pressure cooker.
Add cumin seeds. Let it splutter. Add grated ginger-garlic and saute for few seconds.
Now add onion, saute it for a minute.
Add carrot, corn, bell pepper and mushroom. Season vegetable with salt and Saute for a minute.
Now add turmeric powder, mushroom powder, chili powder and garam masala. Let it cook for a minute.
Wash the quinoa properly and add it into the sauted veggie mixture. Cook for a minute and add water.
Cover the lid. Pressure cook this for 2 whistles.
Let the pressure cooker cools down completely.
Add lemon juice and garnish with cilantro/coriander.
Pulao is ready to be served.
Health Facts About Ingredients
Quinoa – A complete protein solution which keeps the body fuller for long time. It aids in weight loss.
Mushroom Powder –  Helpful against the cancerous cells.
Turmeric Powder – Faster healing properties.
Ginger – Anti-bacterial and Anti-inflammatory properties.
Lemon – Cleansifies body impurities.
Aren't you excited to reap all these benefits? Well,then try this recipe soon and do share your views on comment section below.