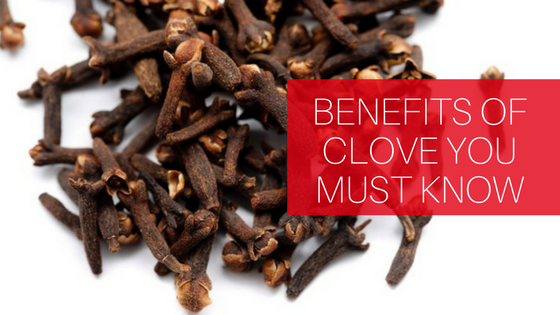 Does Clove remind you of something? No, not the taste but the importance of cloves in our life. Wondering what they are? Then keep reading this post !
CLOVE – A BRIEF
Cloves are the dried, flower bud of the evergreen tree, Eugenia aromatica. While the tree is indigenous to the Maluka Islands of Indonesia, cloves also grow naturally in India, the West Indies, Tanzania, Sri Lanka, Brazil and Madagascar.
They might be tiny, but cloves are giants when it comes to nutrition and natural health. Clove is a herb and people use the various parts of the plant to make medicine where clove oil is famous for its medicinal properties.
NUTRITIONAL VALUE OF CLOVES
Did you know that 100 grams of cloves include 65g of carbohydrate, 6g of protein, 13g of total lipids, 2g of sugars, 274 kcal of energy and 33g of dietary fibre? Minerals like calcium, iron, magnesium, phosphorous, potassium, sodium and zinc is also included. There are vitamin C, thiamin, riboflavin, niacin, folate, vitamin B6, vitamin B12, vitamin A, vitamin E, vitamin D, and vitamin K present in cloves.
Well, that's about clove. But here are some great uses for cloves, culled from an Ayurvedic tradition:
TEMPORARILY TREAT A TOOTHACHE
You can temporarily alleviate the pain by dabbing a little clove oil on a cotton ball and placing it on the sore tooth or on your gums. An added benefit is that it will also pull out any infection.
RELIEVE UPPER RESPIRATORY INFECTIONS
Ayurveda suggests making a tea to lessen, or prevent, colds and flu. It is also used as an expectorant, making it easier to cough up phlegm. Cloves are a natural painkiller and also attack germs, so they'll help you get rid of that sore throat.
REDUCE INFLAMMATION
Use clove oil to massage sore muscles; some also use it for arthritis and rheumatism.
TREAT SCRAPES AND BRUISES
Cloves are pretty strong and can sting, so the best bet is to probably make a poultice with a little olive oil.
IMPROVE DIGESTION
Cloves help relax the smooth lining of the GI tract, so they help alleviate vomiting, diarrhoea, intestinal gas and stomach aches. Just be careful; since they're strong, they can also irritate the stomach.
ENHANCE SEXUAL HEALTH
Sometimes used as an aphrodisiac, cloves can also help men from reaching orgasm too early.
CLOVE INCREASE THE WBC COUNT
This nature of clove increase the White Blood Corpuscles count in the blood. The WBC in our blood is responsible for antigen-antibody interaction  which  kills the foreign bacteria and protect our body to get diseased. By increasing in WBCs number, we increase the chance of being   more  healthy.
CLOVES INCREASES DIGESTION
The clove stimulates the secretion of larva and other enzymes of the stomach which are responsible for digestion of food and hence it indirectly increase Digestion. The Clove was listed in a regular spice due to its digestion nature, fragrance and crispy taste.
DIABETES CONTROL
For a person suffering from diabetes insulin produced by the body is not sufficient. It is said that the extracts from cloves imitate insulin and help in controlling blood sugar levels.